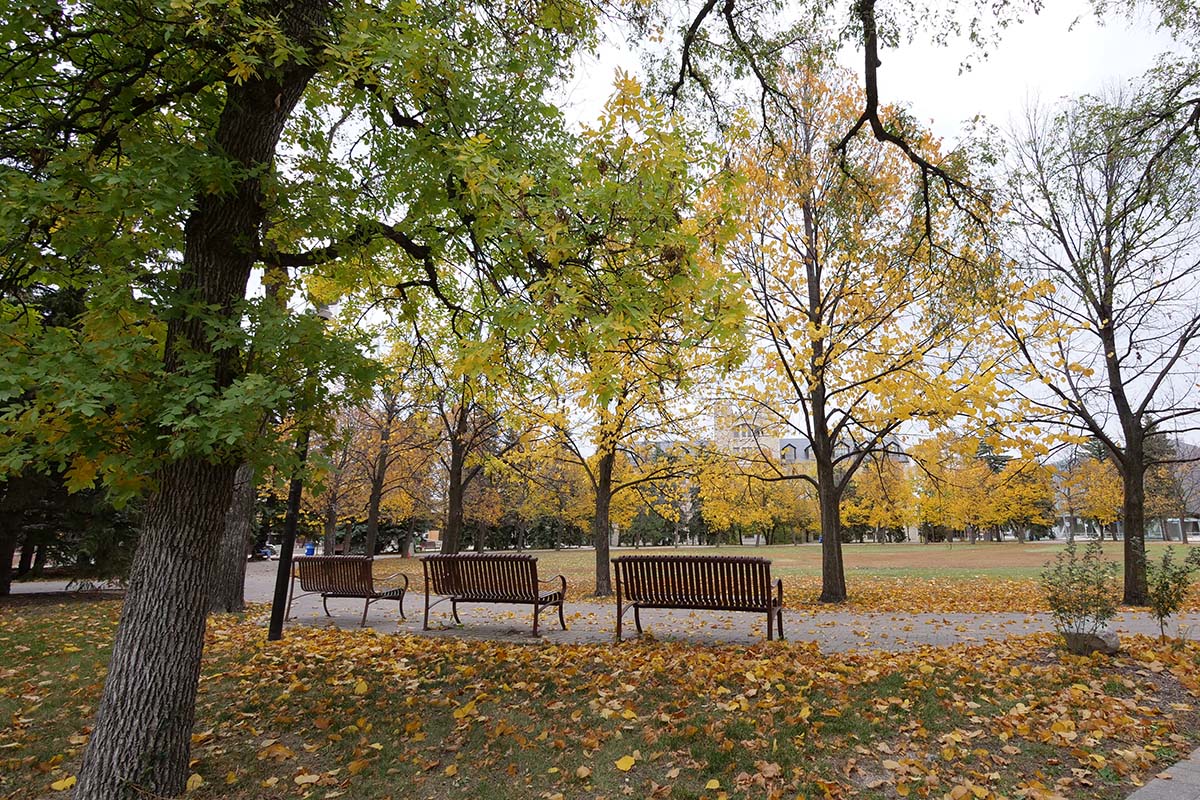 This Fall Term break build healthy habits to help support mental health and well-being
A message from the vice-provost (students), Laurie M. Schnarr
November 4, 2022 —
As you head into a well-deserved Fall Term break, I want to remind you of the many resources, programs, services and supports that are available to support your mental health, well-being and your academic success.Build healthy habits, combat stressJust a few small changes in your daily routine can have long-term effects on your overall health. UM's Health and Wellness team can support you on your journey and has some great tips and resources for self-directed improvement. They also offer some great strategies to help combat stress. Staying active promotes a variety of health benefits, mental well-being and can help relieve stress and anxiety. Through the Sport and Rec fee, UM students have access to sport and recreation facilities, casual rec use and group fitness classes at the Fort Garry and Bannatyne campuses. Students also have the option to participate in UM REC Clubs, Intramural Sports and Adult programs at an additional cost. Visit UM Recreation Services to learn more and book a tour of the sport and recreation facilities.
The Student Counselling Centre (SCC) offers free, confidential counselling and mental health support for students and will work with you to determine the best approach for your needs, including group programming and workshops targeting many of the most common difficulties students experience. Examples include:
Stress and Distress workshop

Mid-day Mindfulness Meditation

Communication and Conflict Resolution

Depression and Anxiety Management
For further information, and to register, visit the Counselling Workshops and Groups page.
If you are experiencing a high degree of distress and need help immediately, please visit the Urgent Help section of the SCC web page for a list of crisis services offered 24/7. Learners and residents of the Rady Faculty of Health Sciences can access a wide array of supports and resources through the Student Services at Bannatyne Campus (SSBC) office. Confidential intake and triage specialists are available to meet with you to explore your needs and will get you connected with resources to help you meet your personal and academic goals. Contact SSBC at 204-272-3190 or by email at bcss [at] umanitoba [dot] ca.
The Sexual Violence Resource Centre (SVRC) uses a trauma-informed approach to provide information, resources, and support to anyone in the UM community who has been affected by sexual violence. The SVRC is a place where survivors, or people supporting survivors, can find a safe space. Their doors are open to all faculty, staff, and students who need their help. Find out how to connect here: https://umanitoba.ca/sexual-violence
The Indigenous Student Centre (ISC) Elders, student advisors and staff are here for you. Weekly Sharing Circles are held for students on Thursdays and Student Counselling is also available by appointment on Wednesday and Thursday afternoons and Friday all day. ISC has weekly workshops or events as well. If you have any questions or would like to book an appointment with an Elder, student advisor or counsellor, please contact isc [at] umanitoba [dot] ca or 204-474-8850.
International students, if you missed the pop up winter clothing display the International Centre hosted this week, please refer to this article that has some good things to consider when dressing for winter. If you are a new international student, please check out the Culture and Connection Series on Nov. 17. The topic is Making the Most of Winter in Winnipeg, including how to access healthcare services, preparing for winter, and adapting to life in Canada.Academic and career supports
Reach out to the Academic Learning Centre to strengthen your study skills, get tips on time management, procrastination, or academic writing. Check out Career Month to discover career pathways, learn about an academic program, meet with industry professionals and make professional connections. Talk to an Academic Advisor for help with your degree progression. Not sure which support you need? Contact the Virtual Advising Help Centre and our student navigators will point you in the right direction. Check out the full range of student support offerings, all of which are available until the December break.
I trust that these resources and supports will be helpful to you. Enjoy the break – I hope you are able to take time for yourself.
All my best,
Laurie
Laurie M. Schnarr, MA (she/her)
Vice-Provost (Students)
Office of the Provost and Vice-President (Academic)