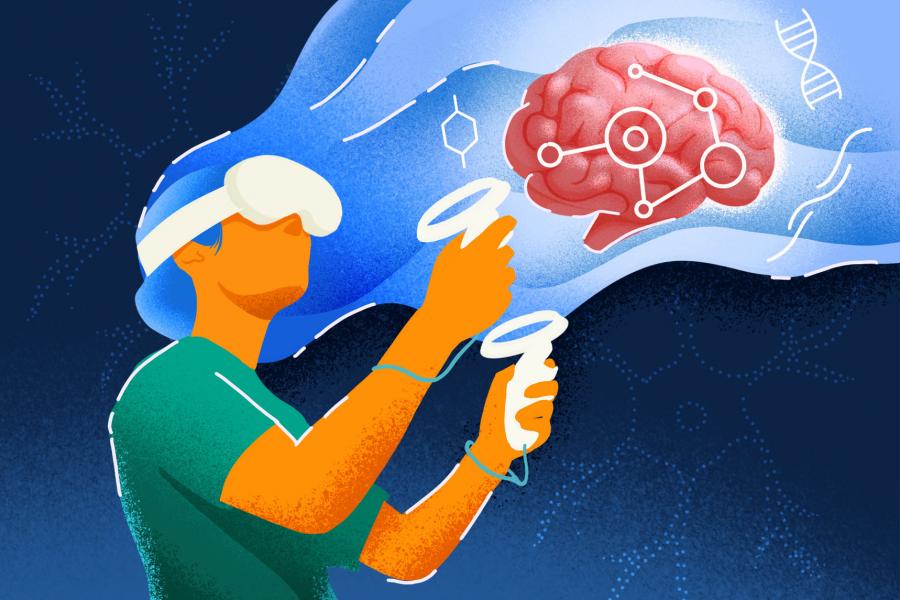 Hi-tech health learning
Using innovative technology to improve teaching and extend the reach of health care
June 20, 2023 —
New initiatives in the Rady Faculty of Health Sciences are using innovative technology to enhance student learning, improve teaching and extend the reach of health care.
At the College of Nursing, students got their first taste of learning through immersive virtual reality (VR) in September 2022.
Prior to the launch of the VR platform, students had used virtual simulations (v-sims), which are conducted using avatars on a computer screen.
"VR has some similar elements to the v-sims, but it's a completely different experience because you see a patient in front of you, as if you are at the bedside," says Jeanne San Miguel, simulation facilitator and content developer at the college.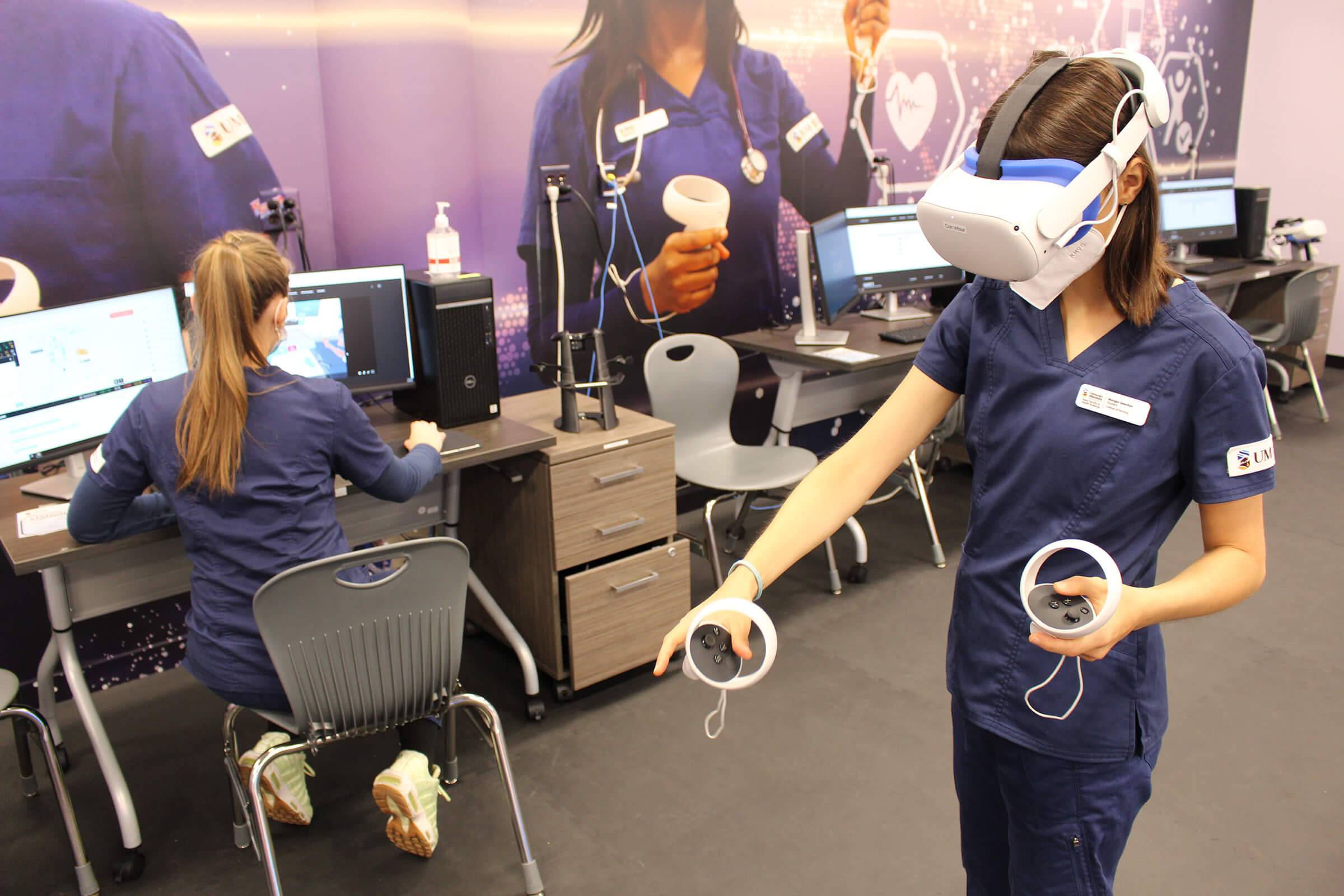 In the VR lab, students work in pairs, with one as the "active player" and the other as the "driver." The active player, wearing a VR headset and using hand controls, acts as a bedside nurse in one of several pre-programmed scenarios. The driver uses a computer to control the virtual patient's responses by choosing from pre-recorded options.
The active player is completely immersed in the 3D environment. The virtual patients – and sometimes virtual family members – watch them closely and talk to them, sometimes with amplified intensity depending on the scenario.
Third-year student Morgan Sawchyn found the biggest advantage as a learner was the ability to multi-task, as a nurse would in a real-life setting. Her first scenario involved a patient who had overdosed on opioid pain medication.
"I had to provide care, give him a reversal agent [antidote], give him oxygen and make sure he didn't suffer negative consequences," Sawchyn says. "But his daughter was also in the room, so I had to educate her on why she couldn't bring in medication from home, all while providing empathetic communication. It's very realistic."
Dr. Netha Dyck, dean of the College of Nursing, says VR provides a dynamic learning experience and a powerful way for students to acquire clinical practice, communication and critical thinking skills.
"Faculty members incorporate VR technology to make learning more engaging, immersive and meaningful," Dyck says. "Our students are excited to have the opportunity to develop their skills and apply their knowledge in this immersive and safe environment."
The technology will also help the college assess the entry-level competencies of international nurses who want to work in Manitoba, says Kimberly Workum, director of the college's Clinical Competence Assessment Centre and digital strategy.
In early 2023, Workum was part of a Manitoba delegation to the Philippines aimed at recruiting nurses to address the province's nursing shortage. Currently, she says, internationally trained nurses who arrive in Manitoba often spend much time away from the bedside, waiting to be assessed before addressing identified gaps in their competencies and becoming licensed.
Virtual simulation, Workum says, can be used to streamline this process by at least six months, enabling clinical assessments to be conducted while nurses are still in their home country.
"The candidate can be wearing a VR headset in the Philippines, and we can be in ours in Manitoba, but we are virtually together in the same space."
Nurses can then begin working immediately when they arrive in Manitoba, Workum says. She describes this new scenario as a win for both the province's health-care systems and the new recruits.
The College of Rehabilitation Sciences, which educates future physical, occupational and respiratory therapists, has also introduced high-tech tools to enhance student learning and patient care.
In April 2022, the college expanded its Physical Therapy Neuro Rehab Clinic and moved it from UM's Bannatyne Campus to Riverview Health Centre.
The student-led clinic sees patients with sub-acute and chronic neurological conditions, such as Parkinson's disease, multiple sclerosis and brain injuries, both in person and virtually.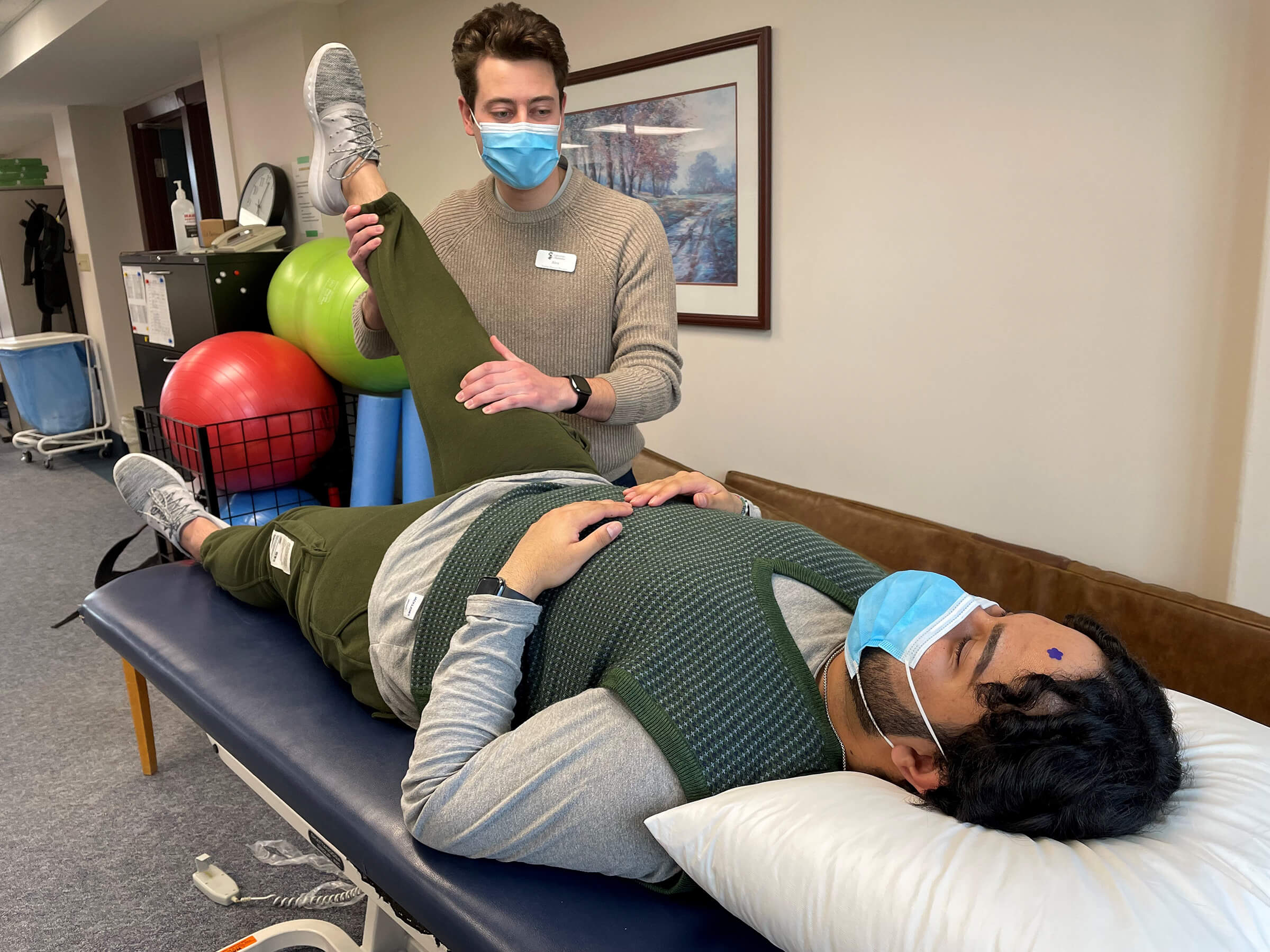 The tele-rehabilitation model, available to anyone who has internet access and a portable device, allows patients to receive treatment and interact with providers from anywhere in the province.
"Tele-rehab is an invaluable service delivery method for clients who live in geographically remote areas that lack local rehab services, or for clients who have transportation barriers," says physical therapy department head Dr. Mark Garrett.
Chloe Bergen and Alex Loewen, second-year physical therapy students who completed six-week placements at the clinic, say a major advantage of tele-rehab is observing patients in their home environment via videoconference technology. This can give the therapist insight into challenges faced by the patient.
"Sometimes patients are very different depending on the environment they're in," Bergen says. "It's nice to see them in their element and what they can do."
Loewen adds that patients often can't bring the adaptive tools they use in the home to an in-person appointment.
"I have a patient with a brain injury who has a floor-to-ceiling transfer pole at his home. He'll have his camera set up and I can watch him do his transfer from his power wheelchair to his couch. You can break it down and see where he might be having troubles, which we can't do as easily in person."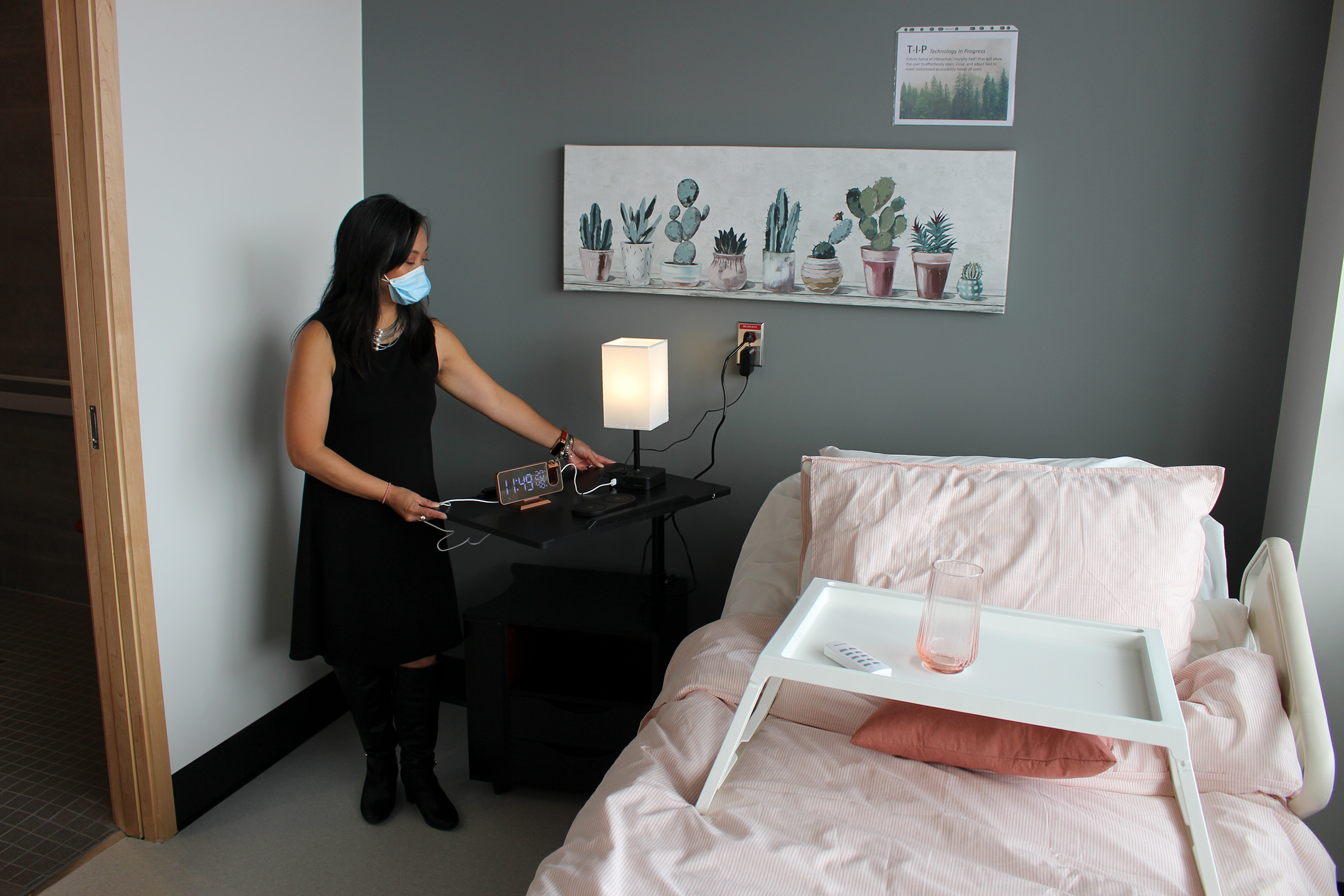 The college also recently developed a "smart suite" model apartment inside the rehabilitation hospital at Health Sciences Centre. Equipped with state-of-the-art assistive technology, the suite helps educate and train students to enhance autonomy and well-being for older adults and individuals with disabilities.
The futuristic kitchen – featuring height-adjustable counters and appliances that can be controlled with a mobile app – can be used to assess ergonomics. The goal is to support aging in place and safe independent living.
Dr. Jacquie Ripat, associate dean (research) at the college, says faculty are excited to be able to use the latest technology to support teaching.
"Students are learning to use the most up-to-date methods in providing rehabilitation services. And this technology is advancing so rapidly that faculty are often learning alongside the students."
The suite is equipped with one of the college's telepresence robots, which have been used for a project for persons with dementia and are also being deployed in rural clinics to support tele-rehabilitation.
A telepresence robot is controlled remotely via computer, tablet or smartphone. It includes a video camera, screen, microphones and speakers. This allows the person requiring care to see and hear the operator of the robot, and the operator to simultaneously monitor what the robot is "seeing" and "hearing." This connection can ease the burden on informal caregivers, such as family members.
"A telepresence robot can provide two-way communication between the caregiver and the person they are caring for when the caregiver is out-of-home, which could help them maintain a career, home and family life," says Dr. Reg Urbanowski, dean of the College of Rehabilitation Sciences. "All this technology has created possibilities to think more broadly, and that's what excites me about the future."
UM is a place where we prioritize an inclusive learning and innovative teaching environment, in order to foster a truly transformative educational experience. TeachingLIFE tells the stories of our ground-breaking educators and their impact on student success.
Learn more
Other TeachingLIFE articles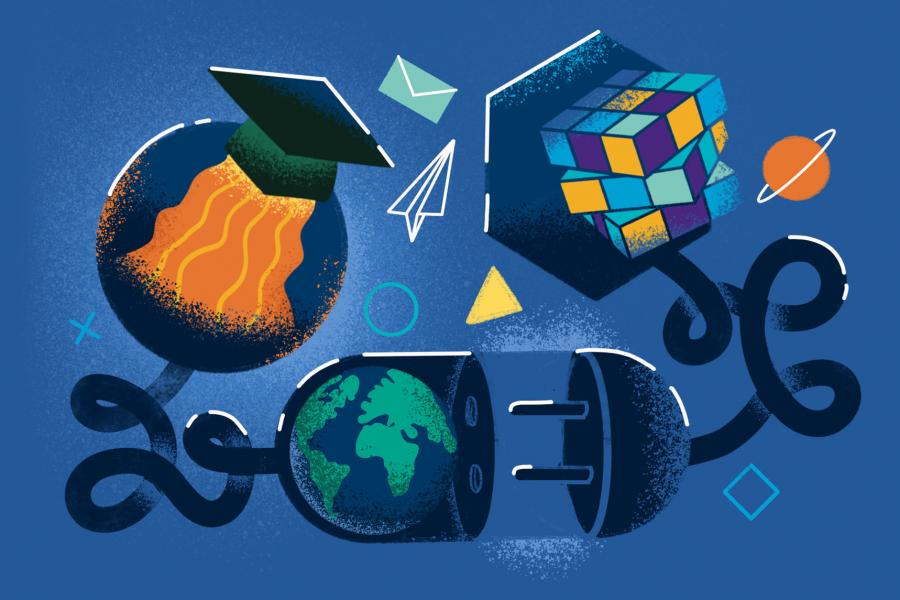 How UM is broadening the definition of 'entrepreneurship'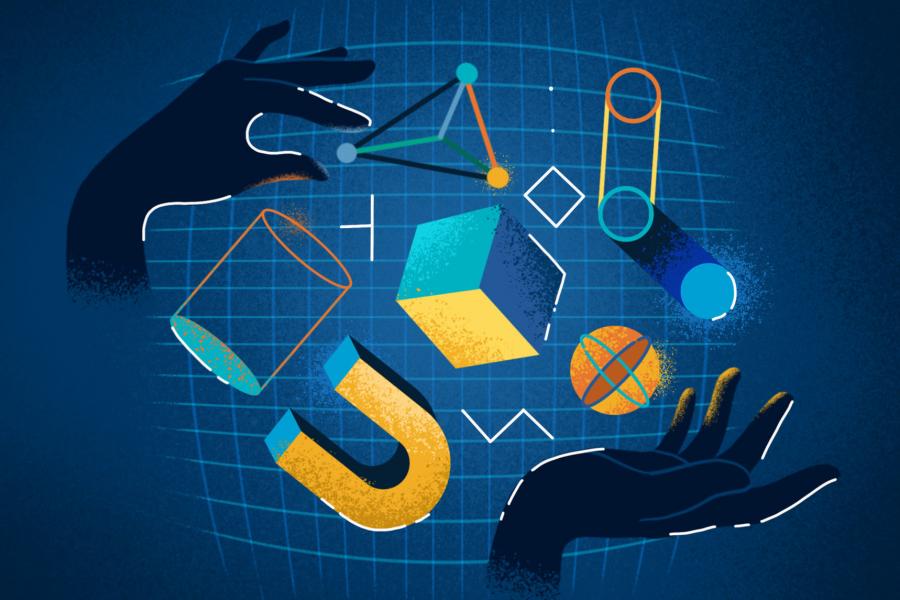 How designated 'maker spaces' are boosting student creativity in science and architecture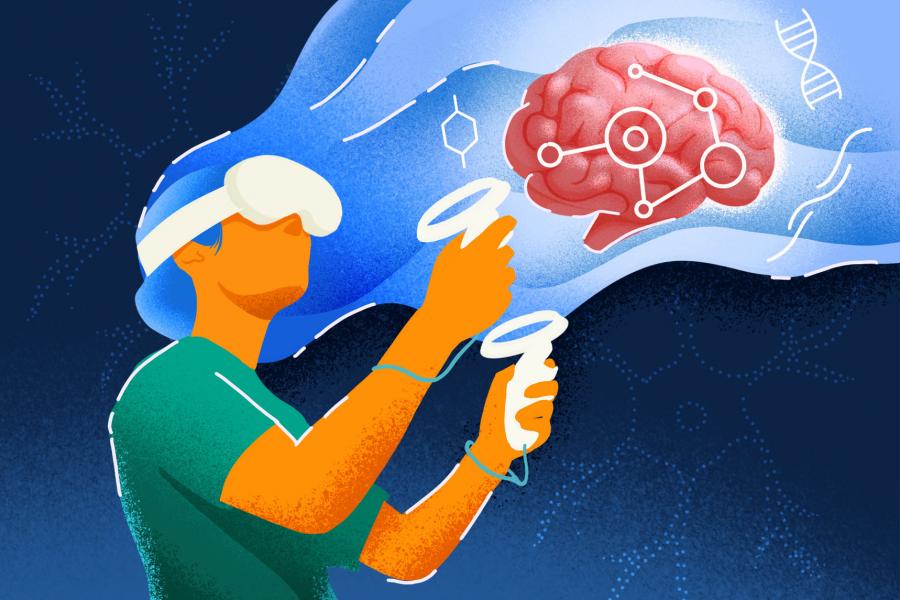 Using innovative technology to improve teaching and extend the reach of health care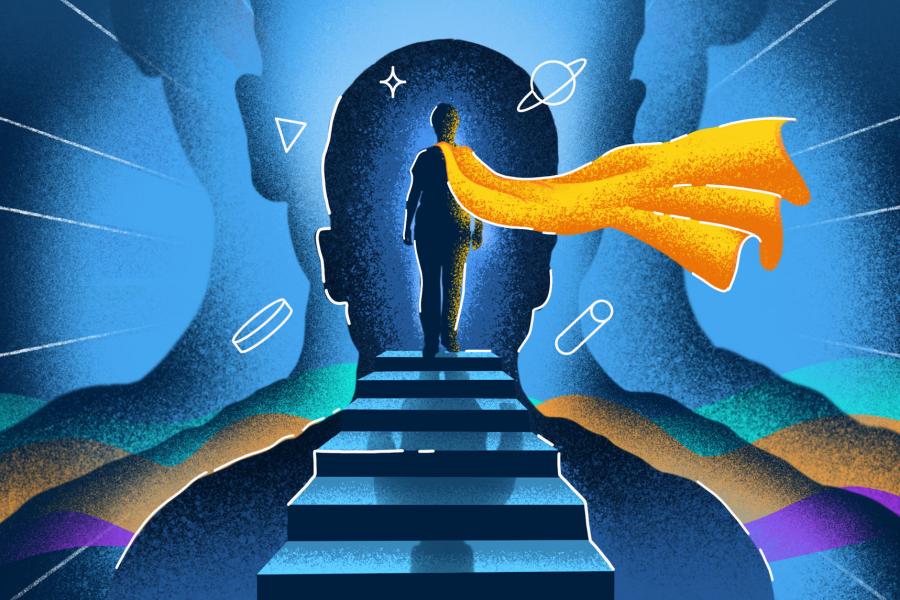 Applying a new lens to familiar topics in the classroom
More from TeachingLIFE
About CATL
The Centre for the Advancement of Teaching and Learning is an academic support unit that provides leadership and expertise in furthering the mission of teaching and learning at the University of Manitoba.
Learn more about CATL