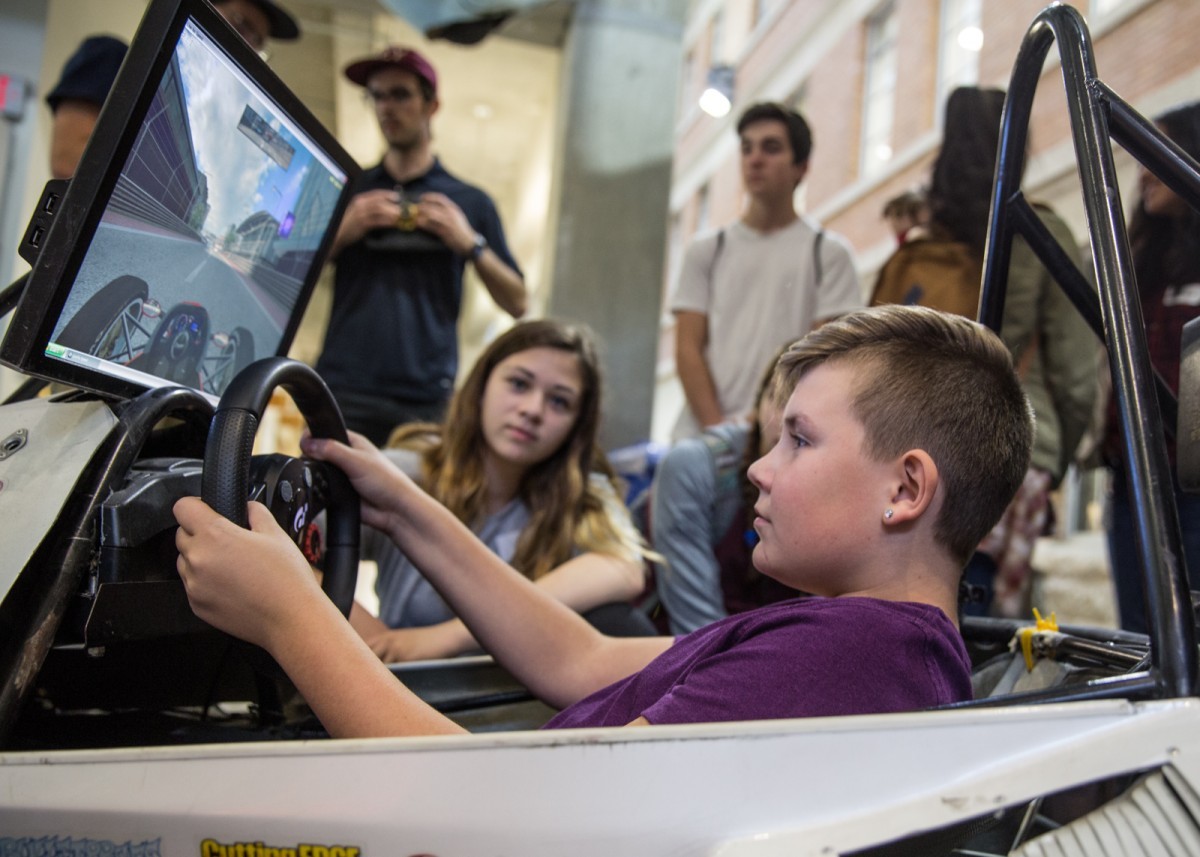 Take Our Kids To Work Day 2015 a success
Over 100 grade 9 students enjoyed the event on Wednesday, November 4
November 12, 2015 —
Over 100 grade 9 students enjoyed the university's Take Our Kids to Work Day on Wednesday, November 4. Events took place at both Fort Garry and Bannatyne campuses.
The province-wide initiative saw students spend a day at the workplace of their parent, relative, friend, or volunteer host. The goal at the U of M is to have young students understand the importance of staying in school and going on to post-secondary education. Students also learn about the diverse and interesting careers at our university.
Both campuses were abuzz with fun learning opportunities. "I really appreciate the staff and university students who planned and led the events. They all do the university proud!" said David Delay, assistant professor, Faculty of Social Work, and father of Katie, a participating grade 9 student.
Fort Garry Campus
In the morning, career services led a career exploration game in which students matched their interests, personalities and career possibilities. The interactive career fair, organized by human resources, allowed students to engage with university professionals from the fields of information technology, law, social work, counselling, trades and engineering, to name a few.
In the afternoon, the student-run Society of Automotive Engineers (SAE), from the Faculty of Engineering, led small groups in an interactive tour. The grade 9 students learned about making planes, motors and cars. Afterwards, the participants scaled the climbing wall and played dodgeball and walleyball (volleyball played in a racquetball court), courtesy of staff and students from the Faculty of Kinesiology and Recreation Management.
Bannatyne Campus
Students at the Bannatyne campus enjoyed a day of hands-on activities performing various medical techniques like laparoscopy and blood pressure tests at the Clinical Skills Lab; creating thumb moulds in Dentistry; making sunscreen in Pharmacy; experiencing first-hand the fields of Occupational and Physical Therapy; and participating in an "Amazing Race" scavenger hunt at the health sciences library. The program included exposure to a variety of health sciences careers, fun activities and workshops highlighting the diverse health sciences education taking place on Bannatyne campus.
For Soffie Fridfinnson, a grade 9 student from Munroe Junior High, the experience was a real eye opener.
"I enjoyed the simulation lab," she said. "I also liked the hands on activity because I'm interested in medicine and becoming a surgeon or doctor. Take Our Kids to Work Day gives kids a glimpse into the kinds of career options we have."