UM News Archive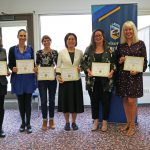 October 31, 2023 —
On September 20th, program participants, mentors and invited guests gathered for a graduation ceremony to celebrate the 19 participants graduating from the TLC program this year. UM and The Centre would like to extend congratulations to all the recent graduates who dedicated themselves to advancing their skills in the field of education.  
+
July 24, 2023 —
The benefits to students of experiential learning are known to be wide-ranging and life changing. At this year's May 3 Teaching Café, "Journeys into Experiential Learning," four UM panelists shared a variety of time-tested approaches that empower students, provide them with autonomy and real-world skills, and help them to recognize and reflect upon failure as a valuable learning tool.
+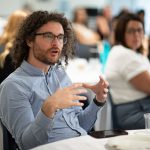 June 26, 2023 —
Energized by the opening keynote speaker, this year's Scholarship of Teaching and Learning (SoTL) Symposium celebrated the breadth of teaching and learning studies of recent grant recipients and highlighted SoTL research that responds to current teaching and learning challenges.
+