David Ireland News Archive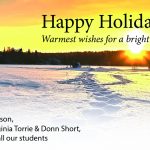 December 23, 2021 —
Another year of virtual teaching and learning has passed, another Spring graduating class of law students endured final exams, convocation ceremonies, grad celebrations and commencement of articles in front of a screen at home. Another cohort of 1L students were introduced to law school virtually. Professors spent another year recording and uploading lectures, staring at boxes on screens hoping students were behind them, heeding the lessons. At some point, everyone wondered where the community was and what was happening at Robson Hall?
+
October 21, 2021 —
The University of Manitoba's Faculty of Law professors frequently collaborate with scholars from other disciplines at other academic institutions, and this trend continues with the latest publication bearing the names of prolific legal researchers, Assistant Professor David Ireland and Professor Richard Jochelson, Dean of Law. Law and Disability in Canada: Cases and Materials is a comprehensive overview of – precisely what the title states. Ireland and Jochelson worked with four other academics and experts in the field, to develop this book which looks at the interactions of persons with disabilities with the law.
+