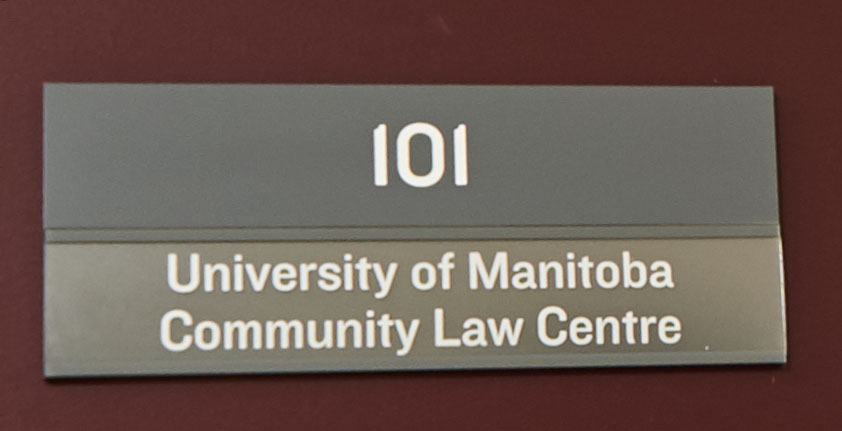 Expansion of University Law Centre services to help more Manitobans get Access to Justice
Legal Aid Manitoba and the Faculty of Law add family & prison law to law students' portfolios
March 12, 2022 —
On Valentine's Day, 2022, a very special long-term relationship was deepened between two very compatible parties. Dr. Richard Jochelson, Dean of the Faculty of Law, and Peter Kingsley, Q.C., Executive Director of Legal Aid Manitoba, signed a Memorandum of Understanding (MOU) for the expansion of services offered within the University of Manitoba Community Law Centre (UMCLC).
While the partnership between the Faculty of Law and Legal Aid Manitoba in relation to the UMCLC has existed for nearly 50 years, in the past few years, the leadership of both organizations has identified a need to strengthen that relationship. The mutual initiative and leadership of both Jochelson and Kinglsey resulted in this agreement to expand services.
"Up until this time students from the UMCLC have been handling mainly criminal and a small number of civil and administrative law cases each year," said Michael Walker, Supervising Attorney and staff lawyer at Legal Aid. "The new plan for services means that the provision of criminal law services will expand so that a greater number of Manitobans are served by students from the UMCLC and that services will include assisting with appeals to the Court of Queen's Bench and the Manitoba Court of Appeal."
Walker added that the expansion of services will include family law, prison law and Indigenous legal services.
"The proposed expansion is a step in increasing access to justice for all Manitobans," said Assistant Professor David Ireland who will be working this year with Walker to transition to taking over supervision of the Centre for the 2023 – 2024 academic year. "By expanding our civil, administrative, and family law capabilities the students, in conjunction with Legal Aid Manitoba we will provide more services to more people than ever before. We are constantly adding to the suite of practical skills students are learning while at Robson Hall."
The additional Family law services students will be tasked with will include uncontested divorce hearings, cohabitation agreements, and custody agreements. Prison law services will include representing prison populations at institutional discipline hearings, drafting and filing applications under the Correctional Services Act and the Corrections and Conditional Release Act and related statutes and regulations.
Law students will also be providing services for Indigenous clients including representation for record suspension applications and Indian Act status applications. Students will be trained to prioritize and give effect to the recommendations of the Truth and Reconciliation Commission when assisting Indigenous clients.
Generally speaking, as outlined in the new MOU, the continued and expanded relationship between Legal Aid and the Faculty of Law will continue to give law students a clinical learning opportunity, connect with supervising lawyers, and provide the broader community with legal services that are held to the standards of the Law Society of Manitoba's Code of Professional Conduct.
The UMCLC first opened in the basement of Robson Hall in 1972, providing law students with experiential learning opportunities primarily in relation to criminal law ever since. Walker started as a student volunteer during his second year of law school in 1984 when Professor David Deutscher was the supervising lawyer.
Recalling how supportive Deutscher was, Walker said, "When I was preparing for my very first trial something came up the evening prior to the trial that was really concerning. I phoned Professor Deutscher at home at about 8:00 p.m. and he explained to me how to handle the situation. His willingness to take calls from students at any time to deal with concerns and answer questions has had an impact on me as a supervisor at the UMCLC. During volunteer orientation I always tell students that I would rather they call me on a Saturday about a case than worry all weekend."
After establishing a career as a criminal defence lawyer at Legal Aid Manitoba, Walker returned to his alma mater in 2004 to volunteer along with a number of other Legal Aid staff lawyers, assisting Deutscher with case supervision. When Deutscher retired in 2015, Walker took over as the supervising attorney and has felt fortunate to have had the opportunity to work in that role. "It's satisfying to watch students become more competent and confident as they gain practical experience," he said. "From time to time, I receive compliments from Judges and crown attorneys about how well students have handled cases in court. That's so gratifying!"