Co-Op Program News Archive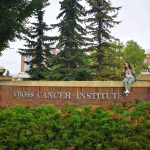 October 4, 2019 —
Jennifer Simone is a fifth year biochemistry student who is also pursuing a minor in Native Studies. Jennifer had work terms with PTI Transformers in Winnipeg, and the Cross Cancer Institute in Edmonton. This year Jennifer has taken on the role of Student Ambassador to share her experiences with other students.
+
March 29, 2017 —
On March 4th and 5th, two intrepid computer science students from the University of Manitoba made it big at DementiaHack, a hackathon to develop relevant, practical, and innovative approaches to dealing with dementia.
+