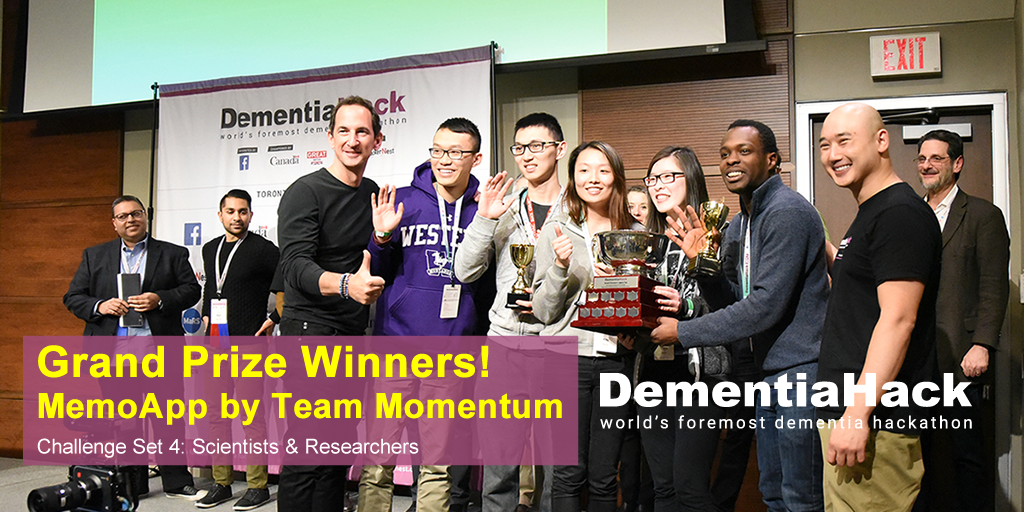 Computer science students win big with innovative new app for dementia
March 29, 2017 —
On March 4th and 5th, two intrepid computer science students from the University of Manitoba made it big at DementiaHack, a hackathon to develop relevant, practical, and innovative approaches to dealing with dementia. The event, hosted at the MaRS Discovery District in Toronto, was produced by HackerNest in partnership with Facebook and the governments of Canada and the United Kingdom.
Competing in Team Momentum, Gary Tong and John Larmie won a category prize as well as the hackathon grand prize for MemoApp, a personal home assistant for people with dementia.
Currently researchers have difficulty accessing the "real-life" cognitive issues that dementia patients face, most tests are standardized to fit the control standards of scientific experiments. There is also a struggle to collect better and more accurate health and environmental information about dementia patients, whether that be how close they live to certain industries, or other underlying medical conditions they might have.
MemoApp is based on Amazon's personal assistant Alexa. Using Alexa's technology, Memo collects and processes patient data by tracking how often dementia patients ask the same questions, amongst other tasks. Because of this Memo allows researchers to collect more "real-life" measurements of cognitive ability.
"The idea of Memo came during a brainstorming session, as a crazy and impossible idea at the start of the competition, because of how novel it seemed. John is always coming up with crazy ideas and he's not afraid of having ambitious goals," said Tong. "At the same time, he communicates well with other team members and ensures that everyone knows their role within the project."
"Gary is always trying to look at ways where the product may be weak and finds improvements," said Larmie. "Our team's advantage was certainly our strong enthusiasm for the project and our motivation to see it through despite the brutally long hours of competition."
As part of their prize, the members of Team Momentum received services, mentorship, connections, meetings, and sessions with individuals from LLPs, faculty from Harvard, experts from the Canadian Centre for Aging and Brain Health Innovation, and more. Not to mention, the team split a nice cash prize and were given tickets to a number of conferences, summits, and even a Toronto Raptors game.
"The best part was the opportunity to connect with a lot of companies who are passionate about fighting dementia. We were given so many valuable resources, and opportunities to really share our project, it's been very overwhelming," said Tong.
Tong and Larmie are currently based in Kitchener, Ontario, where they work with the company Desire2Learn, (yes, that same D2L that runs UM Learn) on a co-op work placement term through the Department of Computer Science. During their time there they have been busy networking, attending tech conferences, socials, and meet-ups.
It was through these social circles, that Tong and Larmie met their fellow members from Team Momentum, students from the University of Waterloo.
"Gary got involved with the local student church community and met a friend, Cherry, who was also heavily interested in technology and a product design major at the University of Waterloo," said Larmie. "Cherry then introduced us to another product design major. Each individual had different strengths that contributed to our teams success and we got along well.
The achievements and connections that Tong and Larmie have made would not be possible without their participation in the co-op program.
"The co-op program posts jobs every term from a wide variety of employers across Canada, the US, and beyond. Our students can choose to stay and work in Winnipeg, or apply to leave town for a term to work at national and multi-national companies and organizations," said Lisa Wise, co-op program coordinator.
"Wherever our students go, we encourage and enable them to meet new people and make connections in the industry. Amongst their established counterparts in the workplace and fellow co-op students, they find mentors, participate in exciting activities, and make new friends. We also encourage our students to start and join projects, to build a portfolio of work that interests them, and to create a profile that shows employers what they can become when they launch their careers."