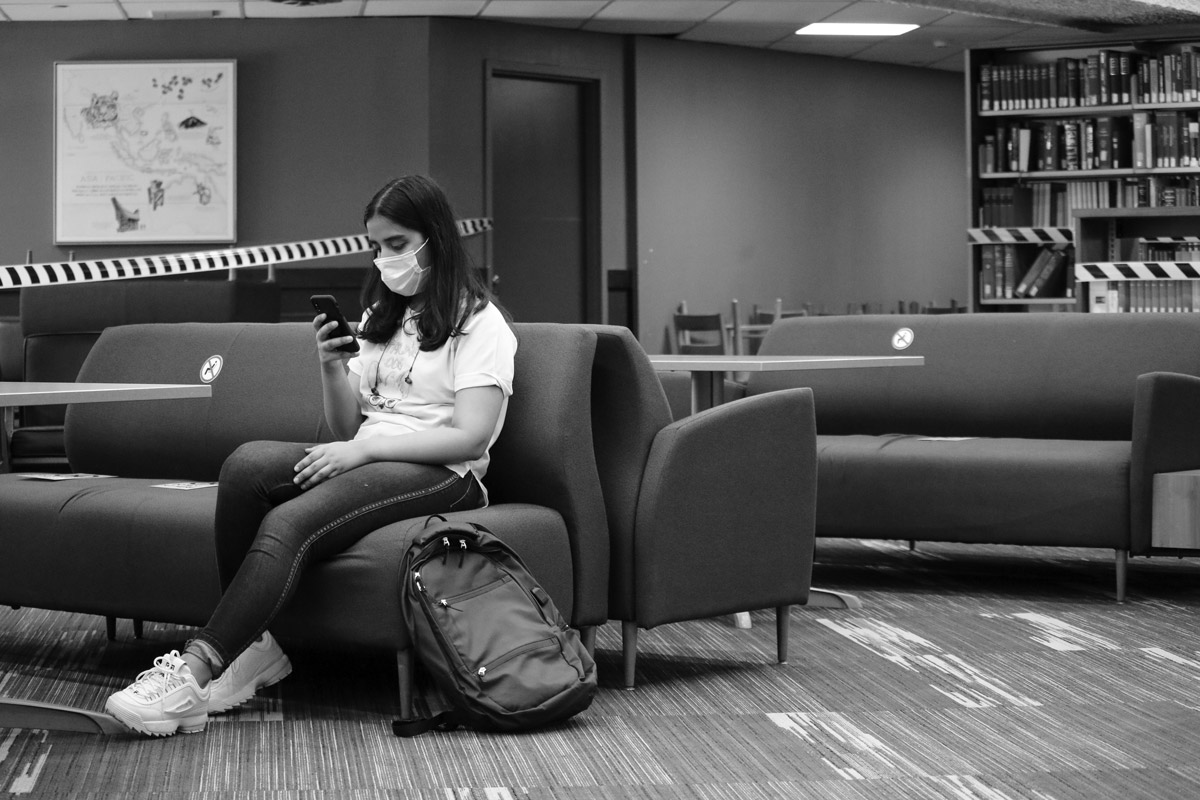 Support for UM students: What's available, and how to find it
January 28, 2021 —
This year has been a unique challenge for everyone and, in keeping with our commitment to the academic success and well-being of all students, the University of Manitoba has put students first. A breadth of resources have been developed for students to help with personal, academic and financial needs and to help them stay connected. Existing offerings have been adapted to these new circumstances by delivering support programming in new ways. While we may not be physically on campus, all interested students can still access these resources, services and supports. Information on what is open, how and where to access it, and resources that support students holistically can be found on our COVID-19 information for students website.
Students are reminded of their options and advised of new opportunities, services or supports regularly through the Student Weekly e-newsletter, social media and more. Follow student Instagram, Facebook and Twitter for regular updates.
First year students are encouraged to check out UM Commons for tips and resources designed specifically for the first year journey.
Parents and supporters who want to know how to best support their students are encouraged to visit this page.
Supports for well-being
Health and wellness play a critical role in academic success and UM offers a wide range of services to support your well-being. Some of the resources available to students are noted below.
University Health Service (UHS) has clinics on both the Fort Garry and Bannatyne campuses. UHS offers a full range of medical supports and services and is open for telephone consultations. The Bannatyne Clinic is open for in-person appointments for RFHS students only.
The Pharmacy in UMSU University Centre offers health care products, prescription medication and personal protective equipment.
The Student Counselling Centre (SCC) provides personal counselling, groups and workshops to support UM students dealing with stress, anxiety, depression, relationship problems and more. Virtual appointments are being offered for counselling services.
The Health and Wellness Office is available to all UM students and provides information and support for health and well-being.
The Sexual Violence Resource Centre (SVRC) is open for services by phone and email. UM students, staff and community members who are seeking information on sexual violence, or who are seeking support regarding an experience of sexual violence are encouraged to contact SVRC staff.
Spiritual Care offers a number of events, such as Wisdom Wednesdays, and provides a range of services, including connecting you with spiritual leaders.
Student Accessibility Services is available to provide supports for students with disabilities and to foster academic success. If you require academic accommodations or accessibility supports, they are available to help.
Student Services at Bannatyne Campus is a service hub for students and residents in the Rady Faculty of Health Sciences. Staff provide supports and referrals for personal and academic success.
Feeling secure financially is important too – the Financial Aid and Awards office can help you make the most of the financial resources, scholarships and more available to you.
To help students stay active and to keep moving, Recreation Services has created online fitness classes, workouts and resources.
Academic resources
There are a number of academic supports available, to help you do your absolute best in your courses. Knowing how to thrive in the online learning environment is key to your success. It's important to keep Academic Integrity top of mind during this unique learning experience.
Academic advisors are available to help you clarify your academic goals and then make decisions to reach them. Advisors can help you answer questions about requirements, develop a plan, assess progress and make changes, weighing options and identifying next steps.
The Academic Learning Centre is available to all students, and can help you improve your skills and learn concrete strategies to become an even better student. They offer workshops, tutoring and appointments to discuss options. Follow along with the self-directed resources to improve your skills in writing and study skills. And if you're tired of studying alone, join in the weekly Virtual Study Hall to help you connect with your peers.
Though library locations are closed, you can still search the collections at any time for digital resources and request physical materials for pickup at our hold locker. Librarians and support staff are online and ready to help students, researchers, and faculty. Check Libraries' COVID-19 updates for details on help and services available.
Staying connected
Just because you are learning remotely doesn't mean that you still can't get involved at the UM, bolster your Co-Curricular Record, and build your resumé.
Student Life connects students with opportunities to develop leadership skills, and gain invaluable experience while giving back to the campus community. For example, there are a number of peer mentor programs available at UM, for both aspiring mentors and those who would like to connect with a mentor. From volunteer opportunities, to work-study, active involvement in student clubs and campus organizations, there are countless opportunities to become engaged and build career-related skills.
Community Engaged Learning programming teaches students about social justice, allows them to volunteer for change and relate classroom learning to community work. A number of programs are still operating, including Land and Water, Community Projects and Community Advocacy.
Career Services encourages all students to be actively thinking about their career journey, whether you've just started at UM or are about to graduate. They offer a number of services and resources, including the annual Career Fair where students can connect with prospective employers and industry professionals on January 21.
The International Centre is offering a number of opportunities for international students to get connected and make the most of your time at the UM. Students can take part in individual sessions with an International student advisor, or group options like Culture and Connection or the weekly support chats. Students can take part in Welcome Mentors, Intercultural Leaders, or the Language Exchange program as well.
The Indigenous Student Centre (ISC) offers holistic and culturally grounded resources and programming for Indigenous students at UM. Students can book an appointment with an Elder by calling 204-474-8850 and can join the Elders-in-Residence for weekly virtual sharing circles and teachings. ISC advisors and program coordinators are also available for appointments. Students can take part in programming like the Qualico Bridge to Success program, Neechiwaken Indigenous Peer Mentor Program, Blankstein Momentum Program and Zongiigabowin – Indigenous men's wellness group, and attend events like the biweekly Fireside Chats with Elders and Knowledge Keepers. Métis programming – like the weekly Métis Women's Circle – takes place on an ongoing basis.
Check out the many student communities and clubs. Find out how to follow on social media, attend virtual events, and become a member.