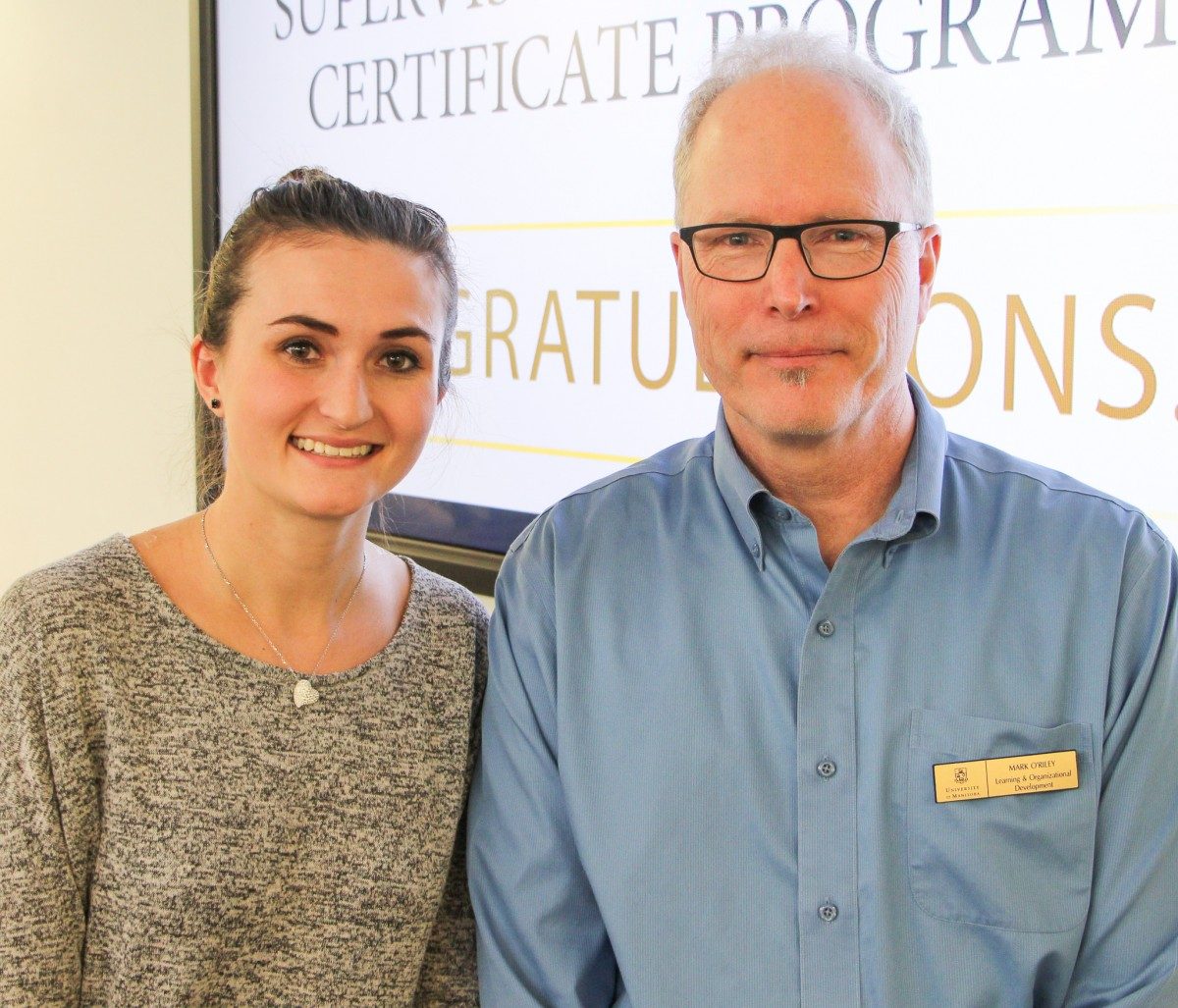 'Shaping, encouraging and guiding': Supervisory certificate
14 staff celebrated for completing program, newly designed program underway
March 19, 2019 —
The Supervisory Excellence certificate program gave Jenessa Grabski the tools to "feel confident and effective in her duties as a supervisor, while maintaining and developing interpersonal relationships with team members and co-workers," she says.
"The program helped to shape, encourage and guide me through my journey as a supervisor," she adds. Grabski is a program coordinator, master of physician assistant program, Max Rady College of Medicine.
The recent edition of the popular program hosted its final celebration on March 8, recognizing 14 university supervisors and managers who earned the certificate. Launched in 2004, the development program offered to front-line supervisors and managers, and staff wanting to develop their leadership skills.
The program, offered by learning & organizational development, human resources, included workshops on employee recruitment, selection, performance management, respect and safe work. Another session focused on collective agreements.
Newly designed program launched
While the event marked the end of one leadership program, a new one has been launched to take its place. The UM Management Fundamentals Program (UMMFP), which is already underway, began accepting applications in September 2018 and over 60 supervisors and managers have already enrolled.
"We want to offer current and relevant training and learning and development programs that will best meet the needs of both our current and future leaders," says Mark O'Riley, director, learning & organizational development, human resources.
"That's why it's important to constantly listen to the members of our community."
In designing the new program, learning and organizational development staff drew upon the campus experts, including human resources consultants, the equity, diversity and inclusion facilitator and staff from the Office of Human Rights and Conflict Management."
The newly designed program, the UMMFP, includes training in human resources best practices, communication, conflict resolution and how to take a coach-approach to leadership. All participants receive coaching training and take part in peer-coaching conversations over their time in the program. The first group to complete the UMMFP will be celebrated at an event in May 2019.
Visit the human resources website to learn more about the UM Management Fundamentals Program.