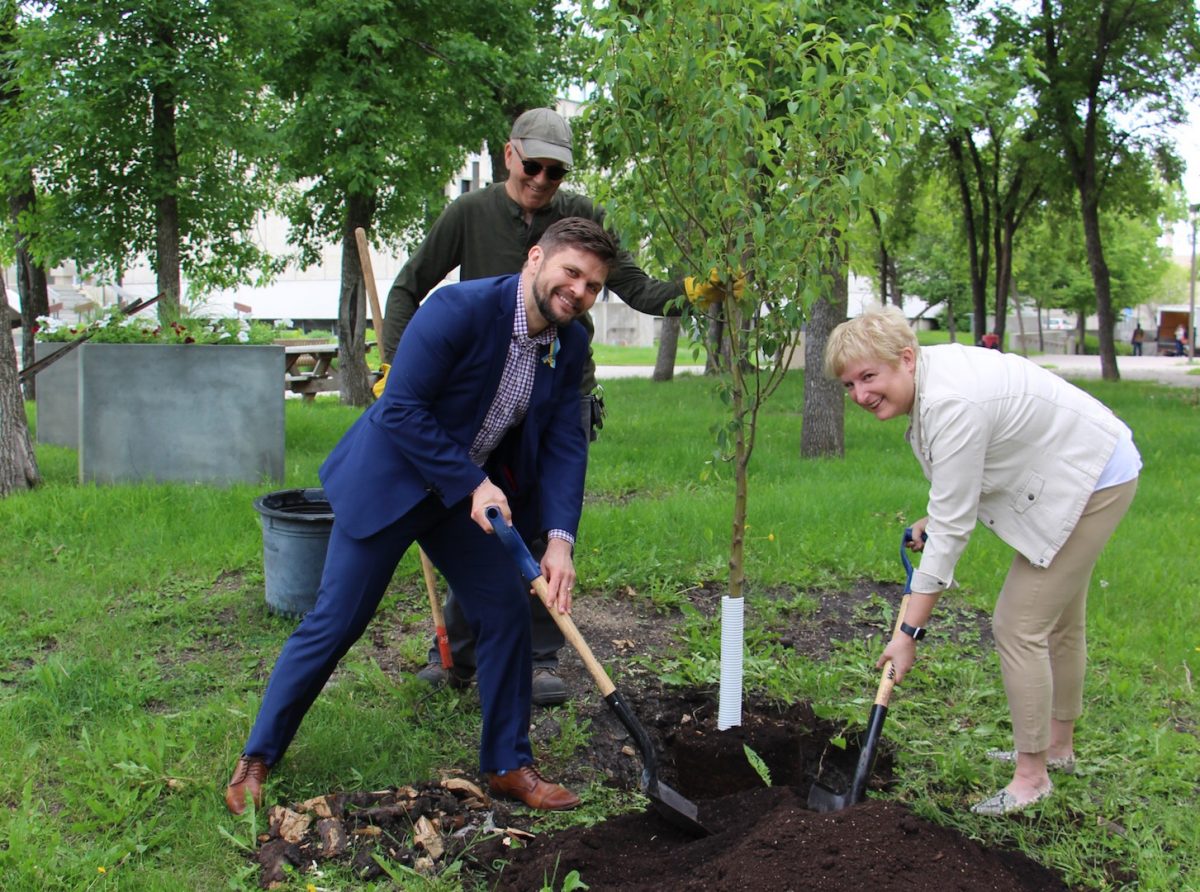 Planting the seedling of exchange
July 26, 2022 —
On June 29, members of the Support Staff Endowment Fund Committee (SSEFC) gathered to plant a tree that was gifted to them in 2019 by McGill University in recognition of the UM Support Staff Learning Exchange.
To honour the spirit of McGill's gift to the University of Manitoba and to recognize the learning exchange program, the committee planted the tree along Curry Place.
Les Wellwood, UM arborist was one of 20 participants at the 2019 Support Staff Learning Exchange, also known by its acronym SSLE.
"In the fall of 2019, I had the opportunity to spend a day with the grounds manager at McGill University in Montreal during the Support Staff Learning Exchange," he says.
"The day included a review of their seasonal operations and procedures, followed by a tour of the grounds and the diverse tree collection on campus. At the end of our day, I was presented with several seedlings from their nursery."
Andrew Popiel, Co-Chair SSEFC notes that the tree planted will symbolize the continued growth of the Support Staff Endowment Fund and the continuation of the Support Staff Learning Exchange.
"Just like this tree, we have strong roots that will allow us to flourish for decades to come," he says.
"Thank you to McGill University for providing us with this tree to commemorate the 2019 SSLE to McGill University and inspire future support staff learning exchanges to come. Thank you to all of those that have nurtured the work of the Support Staff Endowment fund over the years."
Darlene Smith, Associate Vice-President (Human Resources), says, "The support staff that participated in the 2019 Learning Exchange to McGill University forged strong relationships with their counterparts, while bringing back valuable resources and information to their faculties and departments."
The UM Support Staff Endowment Fund was established in 1988 for the purpose of supporting activities relating to professional development for support staff. One of those activities is the annual Support Staff Learning Exchange, an opportunity for our support staff to travel to another U-15 university and exchange ideas and network with peers about best practices when working with students, colleagues and the wider campus community.
The SSEF committee is planning to bring back the learning exchange opportunities in 2023 after the program was put on hold during the pandemic.
Learn more about the Support Staff Endowment Fund and the learning exchange program on UM Intranet. (Please note that you must be logged in with your umanitoba.ca email address to access UM Intranet.)