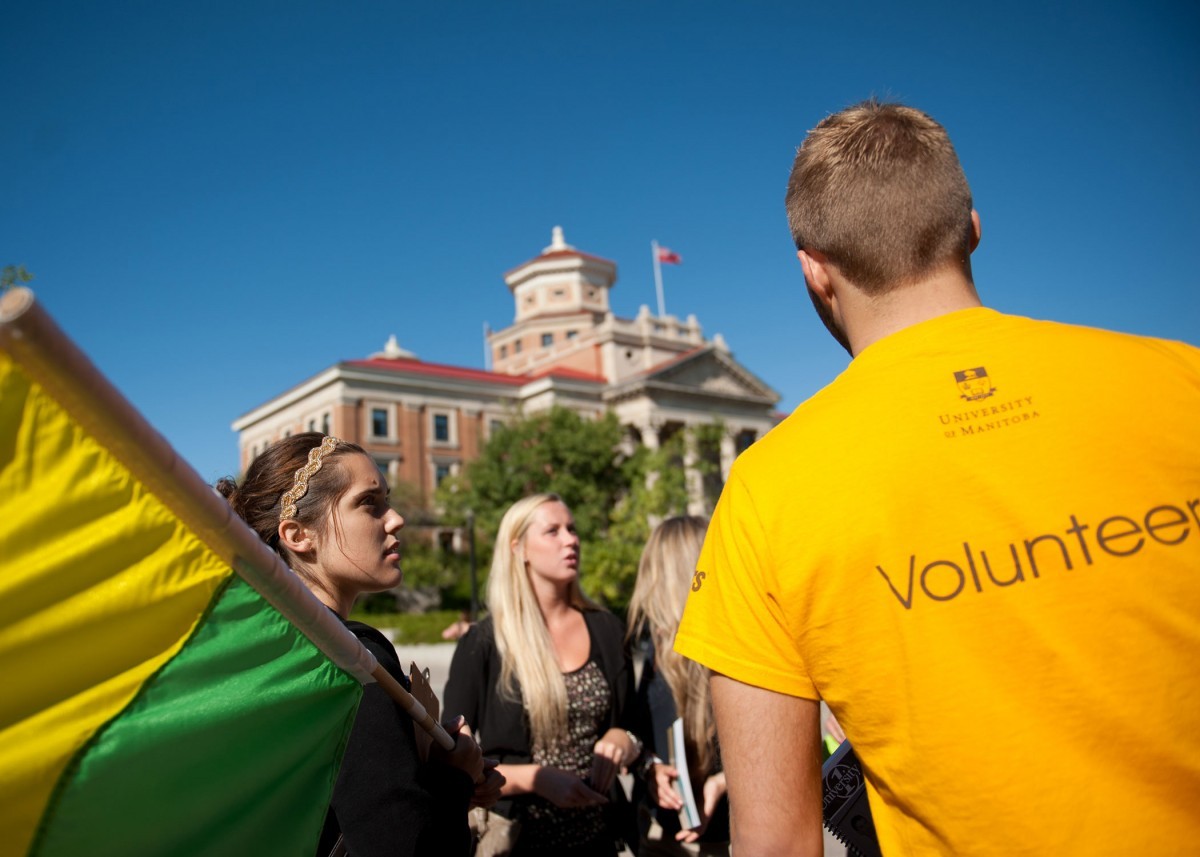 Orientation meeters and greeters, report for duty
August 20, 2014 —
September is the most exciting time of the school year. Each year during orientation, the campuses are flooded with new students finding their way to their first classes. The energy is palpable. And the student life office, which has a part in coordinating orientation, is looking for volunteers.
Denise Williams and Brenda-Lee Roberts volunteer every year, joining the other staff and the many student volunteers. They are already looking forward to the start of September, when, as Roberts says, they'll greet all the "smiling and confused faces of new students" as they find their way around campus.
The two support staff members have been volunteering for orientation for many years. They've been best friends since they worked together in the payroll office in 1981; now Williams works in human resources and Roberts works in financial services.
"I highly recommend this to anyone who needs a little pick-me-up first thing in the morning.  It'll do your heart good," says Williams. "I love my University and doubt I will ever retire, because I'd hate to miss anything."
UM Today spoke with Williams about the annual volunteer tradition.
Why do you continue to meet and greet students year after year?
When we meet and greet, it always a pleasant encounter because we are there to help and you can see the appreciation on their faces when they've been pointed in the right direction, especially when it's the opposite of the direction they were going.
I'm a people person. Working in financial services and HR, we don't get to mingle with the people much unless they come to our respective offices, and it's usually because they didn't get paid.
And I guess meeting and greeting students every year satisfies my lack of receiving a degree myself. Maybe in some small way I feel I might obtain some knowledge through osmosis.
A memorable experience at Orientation:
My greatest joy in this annual exercise was the year I greeted two of my five children as they passed me at my spot of choice, between Admin and University Centre on orientation day.
Every year I see someone that I've met previously. Sometimes it's someone my kids went to school with, sometimes it's a random student who came by the year before and now they are with a sibling. Sometimes it's a prof that you get to joke with and sometimes it's a co-worker, jealous that you get to stay outside as they rush to work.
See more on orientation. Volunteer applications are open until August 25.