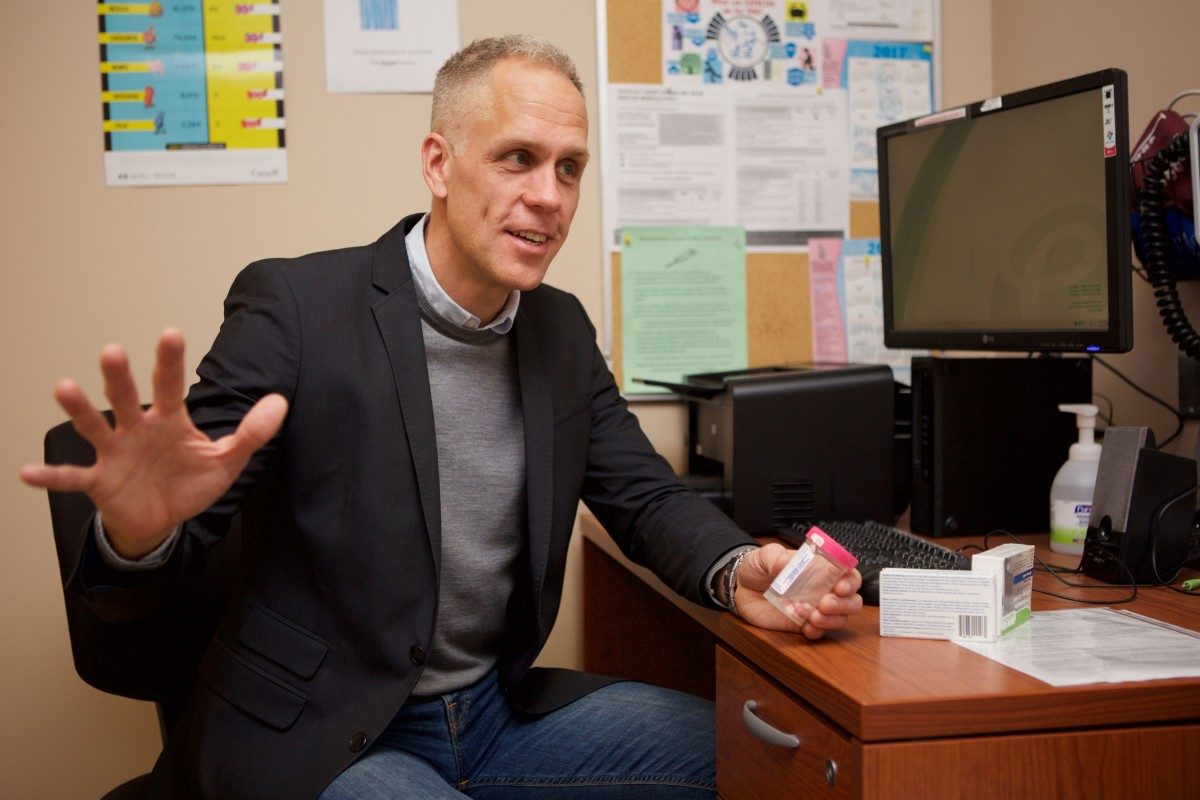 No limits, no labels
August 20, 2018 —
Dr. Jamie Falk [B.Sc. Pharm/97] is a pharmacist, so taking a photo to sum up his working life seems like it should be pretty easy.
Just hand him a white coat and ask him to stand behind a counter, maybe with a selection of medications, right?
Wrong.
"First, no one at my clinic wears those coats," says Falk, who works two days a week at a family practice clinic inside Seven Oaks General Hospital. "Second, I'm not behind a counter. Most of the time I'm seeing patients in my office."
The U of M alumnus, an assistant professor in the College of Pharmacy, spends the remainder of his week teaching – and for the record, he doesn't wear a white coat for that, either.
All this to say that Falk's career isn't easy to capture in one snapshot, and that's just how he likes it.
"I'd never want to give up my clinical practice," says the personable Falk, who grew up in Steinbach, Man., and thrives on interacting with patients. He's equally happy in the classroom.
"Of course, it's always exciting to see how clinical ideas come into my research," he adds, "and then to see how that research plays out in a clinical setting. All the pieces work together."
Falk has published research on topics such as the prescribing of inhalers for chronic obstructive pulmonary disease (COPD), the treatment of shingles with antiviral medications and the self-monitoring of blood glucose by patients with diabetes.
He has done a service for family doctors and patients as a lead compiler of Price Comparison of Commonly Prescribed Medications in Manitoba, now in its third edition. Many doctors rely on the reference work to help patients get the best value for their health-care dollar.
Manitobans with chronic illnesses make up the bulk of Falk's caseload. He says that in a busy practice, it can be easy to start seeing people as their illnesses, not as individuals.
"You could just apply labels, like diabetes, COPD and hypertension," he says. "But those labels are being placed on patients who have to live with those conditions."
That's where sitting down in his office comes in. It's a place to really engage with the people in his care and hear how they're managing.
Falk teaches and supervises both pharmacy students and medical residents. He impresses on learners the importance of critical thinking, which means not just filling prescriptions, but watching closely to see what's working and what isn't.
"Just the other day, my student saw a patient who was on high blood pressure medication," he says. "She was well managed, but maybe too well managed." They decided to de-prescribe – that is, eliminate one of her drugs. Afterward, the patient reported feeling much more energetic.
That kind of personalized approach was what Falk wanted from his career when he graduated from the U of M in 1997 and started as a community pharmacist in his hometown of Steinbach. After about five years, he began to crave a deeper experience. "I wanted to expand my knowledge base and become a teacher," he says.
He completed a doctor of pharmacy degree at the University of British Columbia in 2004, then practised at Victoria hospitals as a clinical pharmacy specialist in intensive care. Returning to Winnipeg in 2007, he started working with the U of M department of family medicine as an adjunct professor. In 2013, he joined the College of Pharmacy.
Falk describes his teaching style as a "You can do this!" approach. "As professors, we sometimes forget that as things get heavier and heavier, students can lose confidence in themselves," he says.
When he was an undergraduate himself, the U of M professors he appreciated most were the ones who were approachable and encouraging. "You try to emulate that style," he says. "You don't forget the ones who help you keep going."