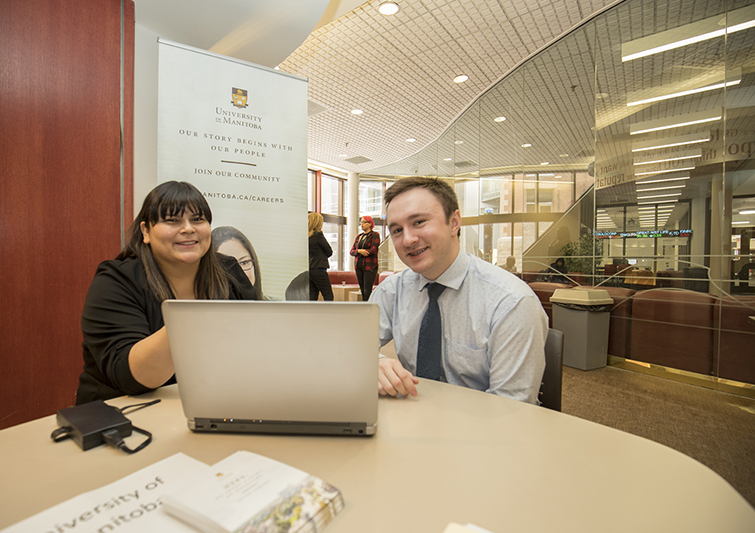 New human resources advisor position supports Indigenous recruitment initiatives
Available for consultation with all faculty and staff
January 23, 2018 —
Meet Brooke Bunn, the University of Manitoba's new human resources advisor who can help faculty and staff increase Indigenous recruitment. Her role could include advising on job advertising to the broader Indigenous community, training on inclusive hiring practices and participation on selection panels.
The advisor position will support Indigenous recruitment initiatives across the U of M campuses.
"We want to attract more Indigenous candidates to our applicant pool," says Bunn. "A review of hiring practices over the last five years identified the need for a broader reach."
A member of Sagkeeng First Nation, Bunn worked as a human resources consultant with the government of Manitoba for three years before joining the university in a term position. Her new permanent position started in August 2017. She is also a University of Manitoba alumna who participated in the Access program.
"I like working at the U of M!" says Bunn. "I enjoy helping clients with their recruitment efforts, meeting new people and getting involved with the various initiatives and programs."
Earlier this month, Bunn participated in the U of M's Career Exploration Day with students from the Indigenous Business Education Partners at Asper School of Business. There, she met one-on-one with students to promote the university as potential employer upon graduation. She discussed the range of positions on campus and demonstrated to students how to apply online.
Bunn is also a member of Gaa wii ji'i diyaang, a group of Indigenous and non-Indigenous faculty, staff and students that promotes Indigenous Achievement at the U of M.
The new position is a direct outcome of the University of Manitoba's strategic plan, Taking Our Place, which includes the goal to increase student, staff, faculty and leadership diversity that reflects society, especially with respect to the inclusion of Indigenous peoples.
"We are very pleased to provide this resource to our campus community," says Gregory Juliano, associate vice-president (human resources). "Building a culture of inclusion and increasing our diversity in the workforce is paramount to our university."
As a result of these continued efforts, the U of M received its first ever Canada's Best Diversity Employers award in 2017.
"We want to continue championing our inclusion and diversity initiatives, and I thank everyone who has made a difference," adds Juliano.
If you have questions about your Indigenous recruitment efforts, contact Brooke Bunn, HR advisor Indigenous HR support, at 204-474-9582, Brooke [dot] Bunn [at] umanitoba [dot] ca
Read more about the U of M's 2017 Canada's Best Diversity Employers on UM Today.