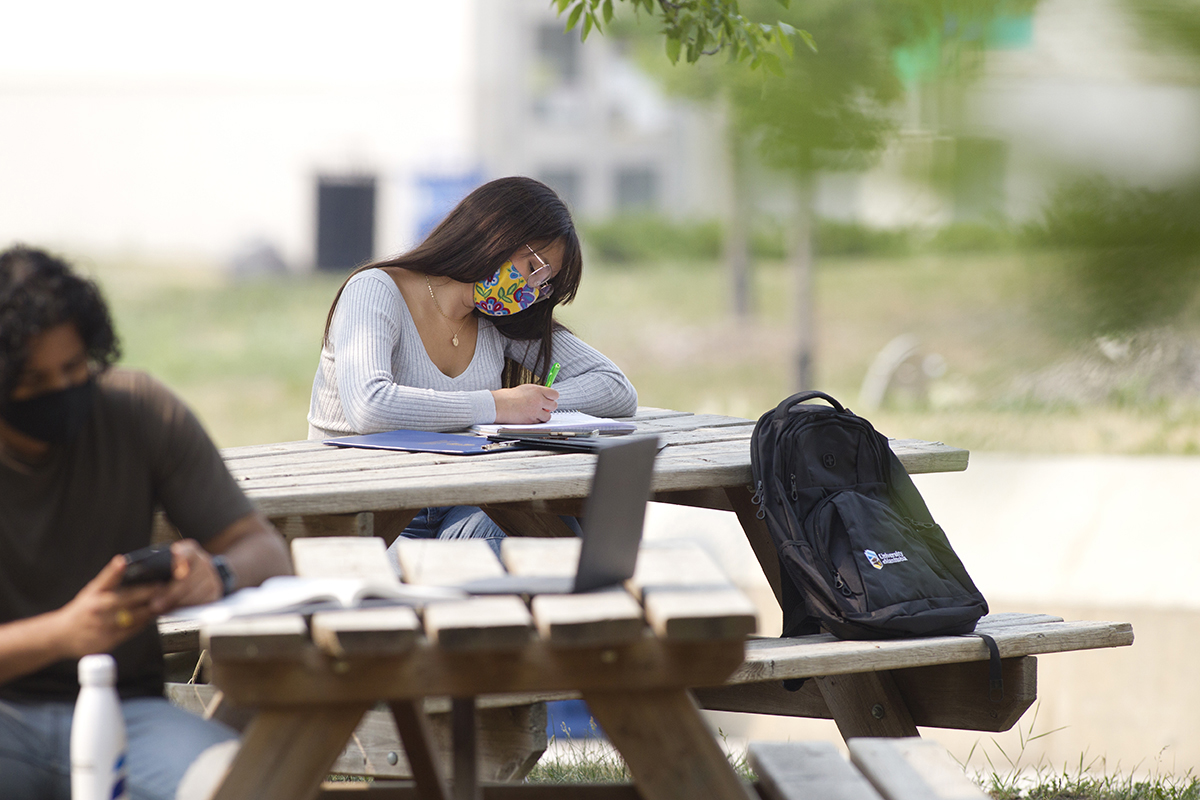 Message from Laurie M. Schnarr, Vice-Provost (Students) – Sept. 23
September 24, 2021 —
With the rush of the first days of Fall Term behind us, I wanted to take this opportunity to check in and remind you of the resources and supports available to you at the University of Manitoba. They have been adapted to our current circumstances with your personal and academic success in mind. Read more about them on UM Today and below.
Indigenous students can access a number of services, resources and programming at the Indigenous Student Centre, where student advisors can help you achieve your personal and academic goals. Learn more about Indigenous student programming at UM.
The Student Accessibility Services (SAS) team has announced that grants up to $4000 are available for students with disabilities through Manitoba Student Aid. Please call or email us to talk about supports, services and grant options. We are here for you!
The International Centre provides international students with a variety of services and resources including an event series for new international students on culture and connection that spans the Fall Term.
As members of the University of Manitoba community, we all have the right to feel safe and accepted. We also have a responsibility to act with integrity, to be accountable, and to demonstrate respectful behaviour, online or in person. View this video from students, staff and faculty that affirm the values of the UM community and check out this website for information including where to go for help.
The Food Bank remains closed to in-person visits however, it is offering contactless delivery from our partner, Food Fare Winnipeg. To be eligible, students must be enrolled (full or part-time) in the current academic term. If you are in need of a hamper, please see the following link for full details and how to place your order: https://umanitoba.ca/financial-aid-and-awards/u-m-food-bank
Every year, the University of Manitoba offers over $6 million in bursaries to both new and continuing full-time and part-time students who have a demonstrated financial need and a minimum academic standing. Eligibility criteria and application requirements vary by award. Most require that you submit the UM General Bursary application, and some require additional forms or attachments. Please be sure to read the details of each bursary carefully before applying. Full details and how to apply, can be found at: https://umanitoba.ca/financial-aid-and-awards/bursaries
Keeping our community safe – COVID-19 vaccine verification and asymptomatic testing
You will have received an email from our Safe Return email address that outlines how to provide proof of your full vaccination. Thank you to the thousands of students who have already done this! Even if you are not planning to attend campus this Fall Term, it's critical that you provide us with this information to help us better plan for a full return to campus.
The same email message announced that we are now requiring all students and employees who are not yet fully vaccinated to undergo COVID-19 asymptomatic rapid testing prior to participating in any activity on campus.
On Fort Garry campus, the testing site is in rooms 303 and 304 of the Fitzgerald Building between 7 a.m. and 3 p.m. Monday to Friday.
Test results will be valid for 72 hours or 48 hours for anyone accessing a Rady Faculty of Health Sciences building.
For details on vaccine verification and rapid testing, visit the UM vaccine info website.
New tools for UM
You may be asked by your instructors to access Yuja Video, UM's new video platform that allows you to securely create, manage, discover, collaborate and view live stream video content across any device. It is available as a menu option under the "Integrations" heading in UM Learn. Get started today.
Earlier this year the Virtual Advising Help Centre (VAHC) opened and is available in the evenings and on weekends, too. The friendly team of students at VAHC can help answer your questions about life at UM including those you may have about your academic progress and more. Check it out!
Learn, reflect, connect and celebrate at upcoming events
UM will be closed to recognize the National Day for Truth and Reconciliation on Sept. 30. I encourage you to take part in one of the many opportunities hosted by the National Centre for Truth and Reconciliation and the UM community to listen, learn and reflect on this important day.
Connect with your UM community at Homecoming. This annual celebration includes many events where you can learn new skills, meet people, and have fun. Check out virtual Trivia Night, attend a Bisons football game for free, sign up for a job search webinar and more.
For those who are graduating this Fall, be sure to fill out your virtual Convocation slide by noon on Monday, September 27 to be included in the ceremony. With the event being virtual, graduates, their families and friends can join the celebration whether they are here in Winnipeg or afar.
I'll be in touch soon with more updates, information and resources to help you make the most of your time as a student at UM. Until then…
My best,
Laurie