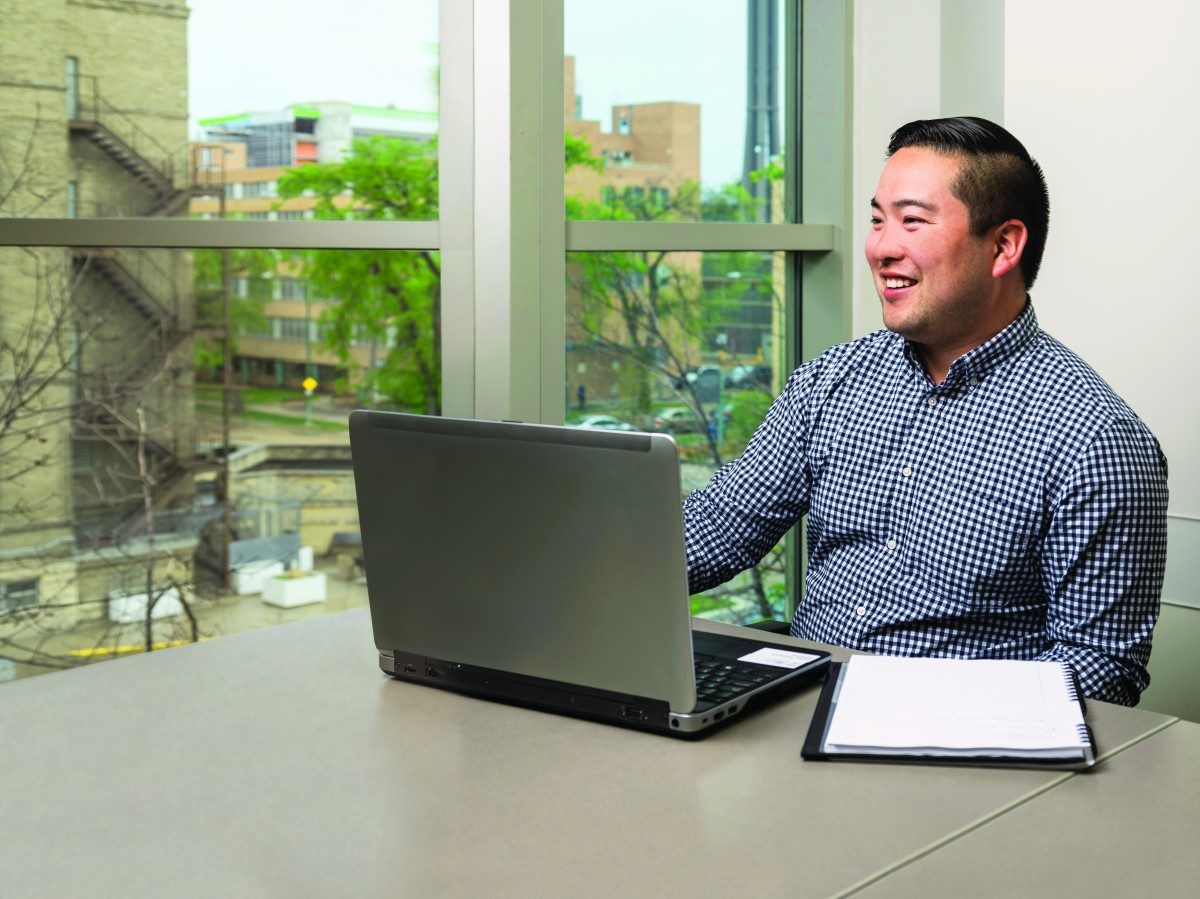 Meet Our Community: Coffee with a Co-Worker
Eliya Ichihashi on putting students first
April 11, 2018 —
UM Today sat down with Eliya Ichihashi [BSc(ME)/14], longitudinal course administrator at the Max Rady College of Medicine, to interview him for the Meet Our Community: Coffee with a Co-Worker series.
This regular series celebrates our faculty and staff, showcasing the range of positions, unique career paths, meaningful work and impact on others at the University of Manitoba. The series shines a spotlight on our staff and faculty, inspiring others building their career at the U of M or interested in joining our community as an employee.
YOU WORK AT THE BANNATYNE CAMPUS. WHAT DO YOU LIKE ABOUT THE CAMPUS?
Eliya Ichihashi: Because the Bannatyne campus is a lot smaller and because people are all health professionals, it seems like everyone is working toward a common goal more. The feeling of community here is something I love, and I really enjoy the area. The Bannatyne campus is awesome.
WHAT DO YOU DO IN YOUR ROLE AT THE U OF M?
I am the longitudinal course administrator for undergraduate medical education and I've been doing this for three years. My day-to-day role involves scheduling student classes. Our instructors are all doctors, so there is a lot of scheduling. I also help students a lot. I help with the students' questions and requests, and make sure everything runs smoothly.
WHAT IS YOUR BACKGROUND AND HOW DID YOU GET TO THIS POSITION?
I graduated from mechanical engineering, but I didn't enjoy it as much as I thought I would. While I was in school, I was heavily involved in [student] residence. I had a passion for student engagement, student involvement and stuff like that. When I had the opportunity to apply here I thought 'why not?' and now I'm here and it's great.
HOW HAS YOUR TIME AT THE U OF M CHANGED YOU?
From the time I was an international student coming here, I didn't know anyone in Winnipeg. Being in residence just opened up my whole world in Winnipeg. Now I can go to different events around the city and I'll know one person for sure who knows someone who was in residence, so that's a cool part. Working here has given me the opportunity to do great things. And work has given me the opportunity to do the things I like to do outside of work so I think that's a great thing.
HOW DID YOU COME TO CANADA AND WHY DID YOU CHOOSE U OF M?
So I'm Japanese but I was born and raised in Kenya in East Africa. I came to Canada because my older brother went to the University of Victoria and so Canada was one option — but I didn't want to end up in the same place he was. A lot of universities were having recruitment things at my high school and I met Peter Dueck and he talked about the U of M and how great it was. I was kind of sold on that and the fact that at the time it was very affordable for international students, so I think that guided me in the direction of the U of M.
There were advisors who helped me along the way and without them, I don't think I'd be where I am. So that mentality of helping students out and putting students first is something I try to continue.
HOW HAS YOUR EXPERIENCE AS AN INTERNATIONAL STUDENT AND WORKING IN RESIDENCE HELP YOU IN YOUR JOB TODAY?
I think for me, when I was going through school, I was helped by a lot of people throughout the way. In residence, there were resident advisors and the residence lead coordinators who helped me grow as a person and gave me an opportunities. And as an academic student, there were advisors who helped me along the way and without them, I don't think I'd be where I am. So that mentality of helping students out and putting students first is something I try to continue.
WHAT HAVE YOU DISCOVERED ABOUT YOU AND YOUR ABILITIES IN THIS POSITION?
You know I don't know if it's cliché or not but working well under pressure is something I've discovered about myself. A lot of times you get different requests or timelines you have to meet and you're not always given the best amount of time to do them. So, you know, just organizing my time as efficiently as possible and trying to meet the deadlines and goals. I think it's something to make sure the student experience is the same year after year, keeping it consistent.
WHAT HAVE YOU DONE THAT YOU'RE MOST PROUD OF?
I think it's just the day-to-day interactions that I have with people. It's the reason why I come in to work every day and I love it. There's never a day I wake up and I'm like 'ah, I have to go to work.' It's awesome to meet the people here and the interactions I have are amazing.
Last year I was nominated for a service of excellence award from coworkers and that was awesome because it's always nice to be recognized for the work you do. I was one of the winners so it was nice to be acknowledged.
WHAT WOULD BE YOUR ADVICE TO SOMEONE WHO WANTED TO WORK HERE?
I would tell them to go for it because no matter where you end up, the university has so many options. You can start out in medicine or wherever and then you can move and it'll feel like a new job because the roles are so different but it still gives you that nice community feel of the university, which is awesome.
So many people want to help students; there's a lot of like minded people. My coworkers are very good at what they do, but they all put the students first and it's great seeing that and it makes for a positive work environment. The conversations we always have are always great. People here care about the students.
ANY OTHER ADVICE FOR A NEW EMPLOYEE OR EVEN THE STUDENTS? Work hard! Just work hard and enjoy yourself because work has to be fun.
And for the students, sometimes things may seem stressful but ,you know, you'll get through it and in the end you'll be better for it. Keep working hard; you're here for a reason.
For additional Meet Our Community:Coffee with a Co-Worker stories, visit the human resources website.