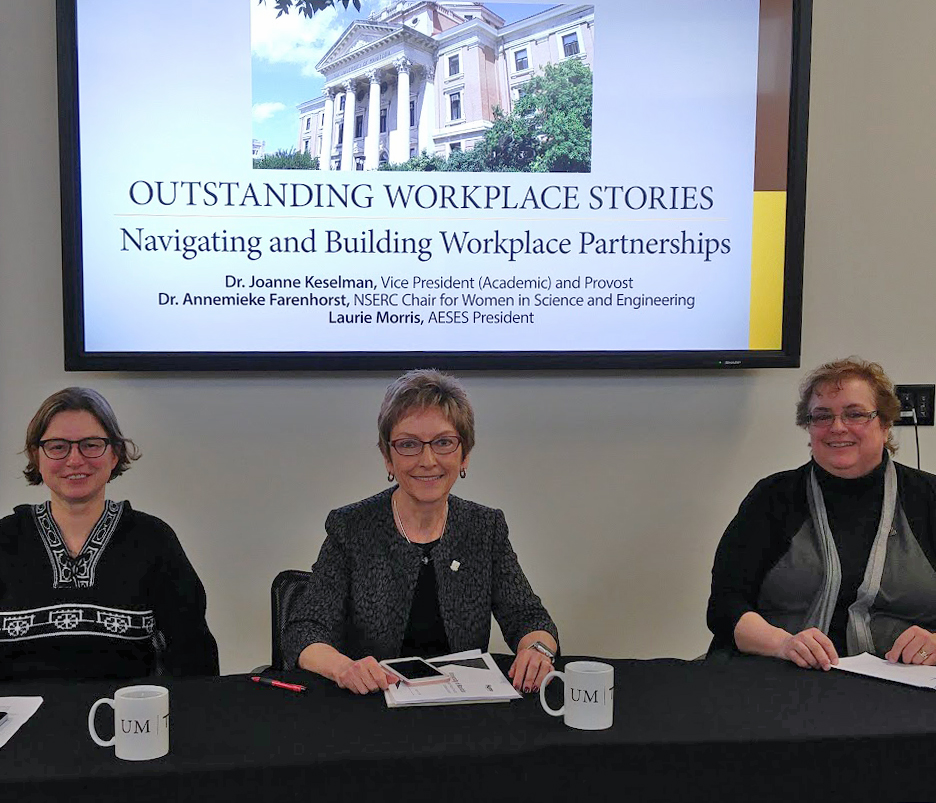 Outstanding Workplace Stories panel explores collaboration and reconciliation
March 30, 2016 —
How did you develop your collaborative style? What are some barriers to collaboration? What does reconciliation mean to you? These were some questions addressed by panelists at the March Outstanding Workplace Stories panel, on the topic "Building Workplace Partnerships." Faculty and staff filled the room.
Speakers for the event were Joanne Keselman, provost and vice-president (academic), Annemieke Farenhorst, professor, department of soil science, and prairie Natural Sciences and Engineering Research Council (NSERC) chair for women in science and engineering, and Laurie Morris, AESES president. Greg Juliano, associate vice-president (human resources), moderated.
Speakers noted that collaboration was important from an early age. Farenhorst completed her undergrad degree in the Netherlands. Participating in student exchanges, she learned about different cultures, and how to be flexible and patient with others. Morris noted that her parents—dad was a principal, mom a nurse—taught her to get involved, to work with others and volunteer.
Barriers to collaboration were explored by all three speakers. Keselman said. "Focus on what you can bring to the collaboration, not what you can get out of it."
Having time to collaborate can be a challenge, too, said Farenhorst. Though she and her colleagues often discuss new collaborations and are excited about the possibilities, unfortunately not all ideas can be pursued above and beyond their current teaching, research and service activities, she said.
Morris added that support staff may feel intimidated to collaborate with senior administrators. She encouraged staff to transcend this barrier, however. "Have a voice and share your opinions," she said. Be respectful, professional, and prepared to back up one's position with research and data.
Attendees at the panel asked questions. One asked what collaboration and reconciliation means to the speakers in light of the National Centre for Truth and Reconciliation now housed at the U of M.
Farenhorst, who often works with Indigenous communities, noted that collaboration begins with acknowledging past mistakes and listening. Another issue raised was about what might make it easier to attract and retain Indigenous students, faculty and staff. Morris confirmed the need to discuss systemic barriers to Indigenous peoples in the hiring practices for support staff.
Kesselman added "I work as hard as I can — in collaboration with the university and Indigenous communities — to realize the goals of the university's strategic plan, all of which support reconciliation."
The University of Manitoba's priorities, goals and supporting actions are detailed in the strategic plan Taking Our Place.
The Outstanding Workplace Series are hosted by learning and organizational development, human resources. If you have suggestions for future topics, please contact David Grad, facilitator and programs coordinator, at 204-474-8468 or david [dot] grad [at] umanitoba [dot] ca