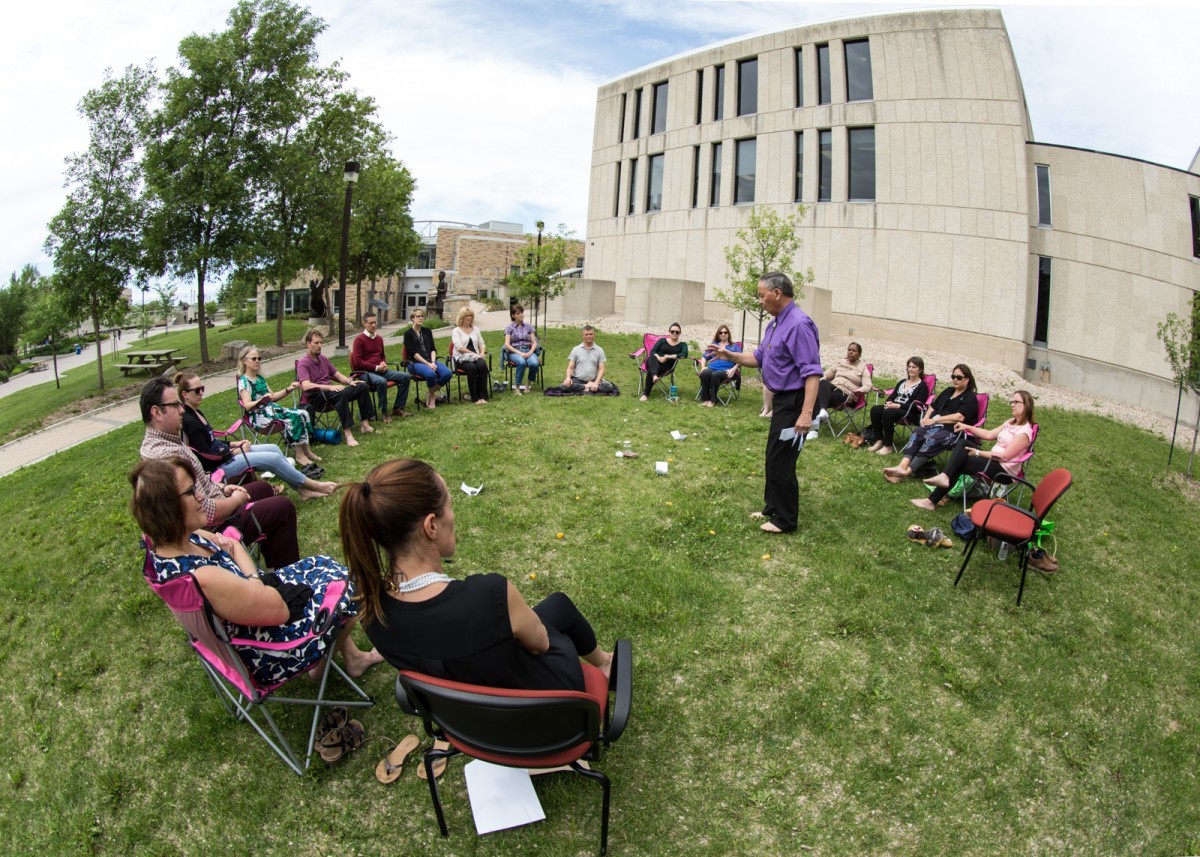 Live Well @ Work grows at the U of M
More than 500 hundred staff participate at Fort Garry and Bannatyne
June 21, 2016 —
At the end of the art therapy class led by social work professor Tuula Heinonen, participants agreed that drawing, coloring and creating a collage were a welcome break from their usual work assignments at a computer station.
Art therapy was just one of the 25 interesting and diverse lunch hour events enjoyed by staff during  the Live Well @ Work week, which took place from June 13 to 17 at both the Fort Garry and Bannatyne campuses. Events focused on mental, physical, emotional, spiritual and social well-being.
Staff took in a nature walk, meditation workshop, massage and took their yoga outdoors. They heard about research on the importance of sleep and workplace mental health. They learned tactics to combat anxiety and they learned about medicine wheel teachings from U of M Elder-in-Residence Norman Meade.
At both campuses, the wellness fair was a hit, showcasing wellness companies and organizations in addition to U of M departments. Colleagues had 'ah-ha' moments when learning about programs such as U of M's security services' self-defense training for women.
Live Well @ Work was created to acknowledge the 'whole selves' that faculty and staff bring to work each day. Speaking on behalf of the planning committee, Arlana Vadnais thanks all participants and presenters who helped make the Live Well @ Work a successful week.
Do you have feedback on Live Well @ Work? Please email Arlana Vadnais at arlana [dot] vadnais [at] umanitoba [dot] ca, co-chair of the planning committee, and employee wellness specialist and interim campus mental health facilitator, human resources. 
For more on the event, read the previous story in UM Today.