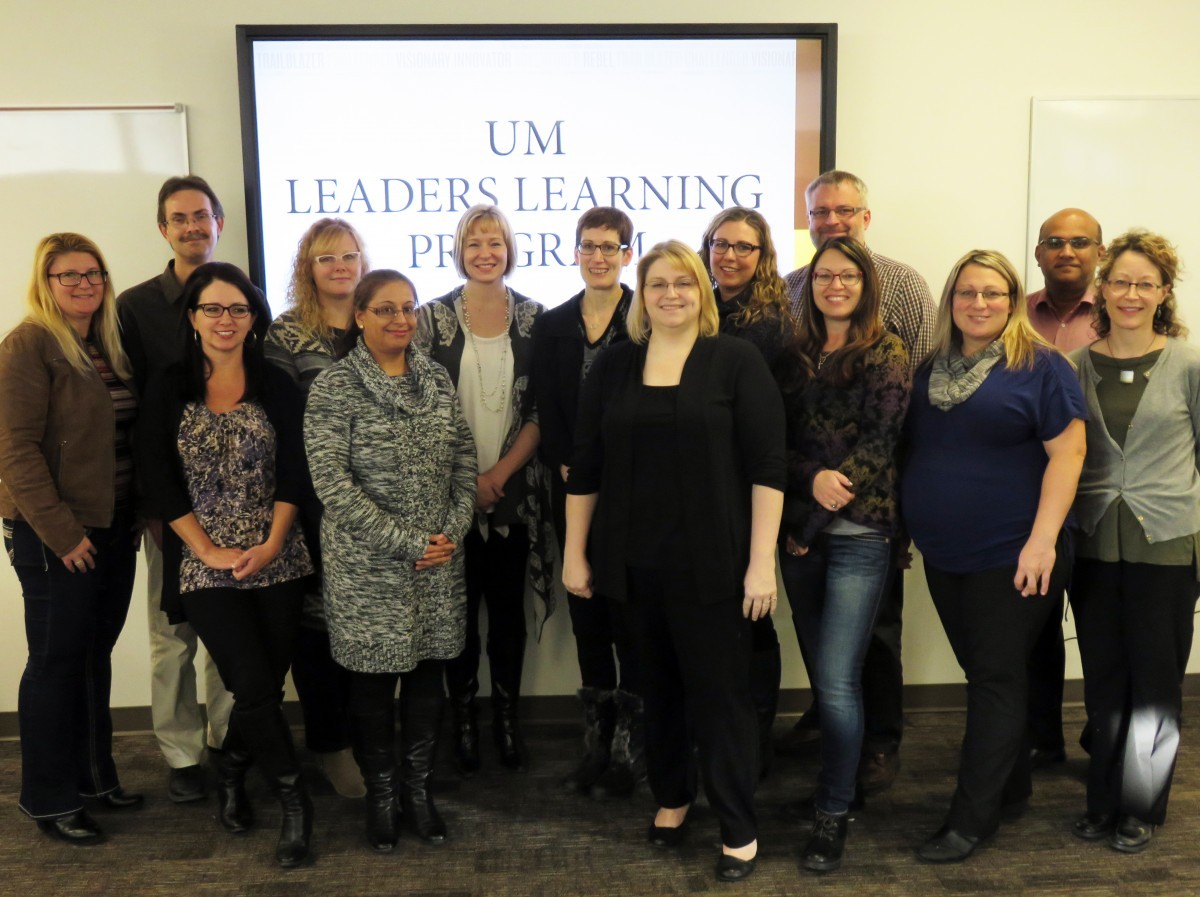 Leaders graduate from exciting new university program
Apply now for the next intake date
December 8, 2015 —
Eight staff from across the university recently graduated from the UM Leaders Learning Program (UMLLP); as of May 2015, there are 25 graduates of the program.
The one-year program, which started as a pilot, is now an open program accepting applications from leaders throughout the university. UMLLP is geared towards those with leadership responsibilities and those who want to be more aware and better prepared for what is involved in taking on a leadership role. As staff progress through the program, they have the time and space to share ideas with other leaders in the program.
The program includes 10 full-day learning workshops. One-on-one confidential leadership coaching and learning activities are also included. Plus, every participant gets to complete the personal inventory tool "DiSC® – Work Of Leaders."
"It is quite remarkable for the university community to have developed this grassroots program in under two years. We are thrilled to have had the support and expertise of so many partners from across the campus working with us,"says Sandra Woloschuk, associate director of learning and organizational development, human resources.
Graduate Jenn Shaw, financial analyst with family medicine, also sees value in networking. She says, "Getting the opportunity to move through this program with a cohort of peers is so powerful."
Participants talk about developing common goals for their project teams. There is discussion on how to support and coach their teams within an environment of constant change.
Randy Roller, assistant director, office of institutional analysis, is another graduate of the program. He adds, "This program helps you understand different workplace issues and deal with them in a strengthening and positive manner."
For 2016, the program will have two intake dates — February and September. Applications are now being accepted.
The UM Leaders Learning Program is part of human resources' focused efforts to provide leadership development opportunities to the university community. Supporting leaders across the university to be successful and realize their full potential is one key goal of the unit.
For more information about UMLLP, visit learning and organizational development or contact Sandra Woloschuk at 204-474-8279, sandra [dot] woloschuk [at] umanitoba [dot] ca