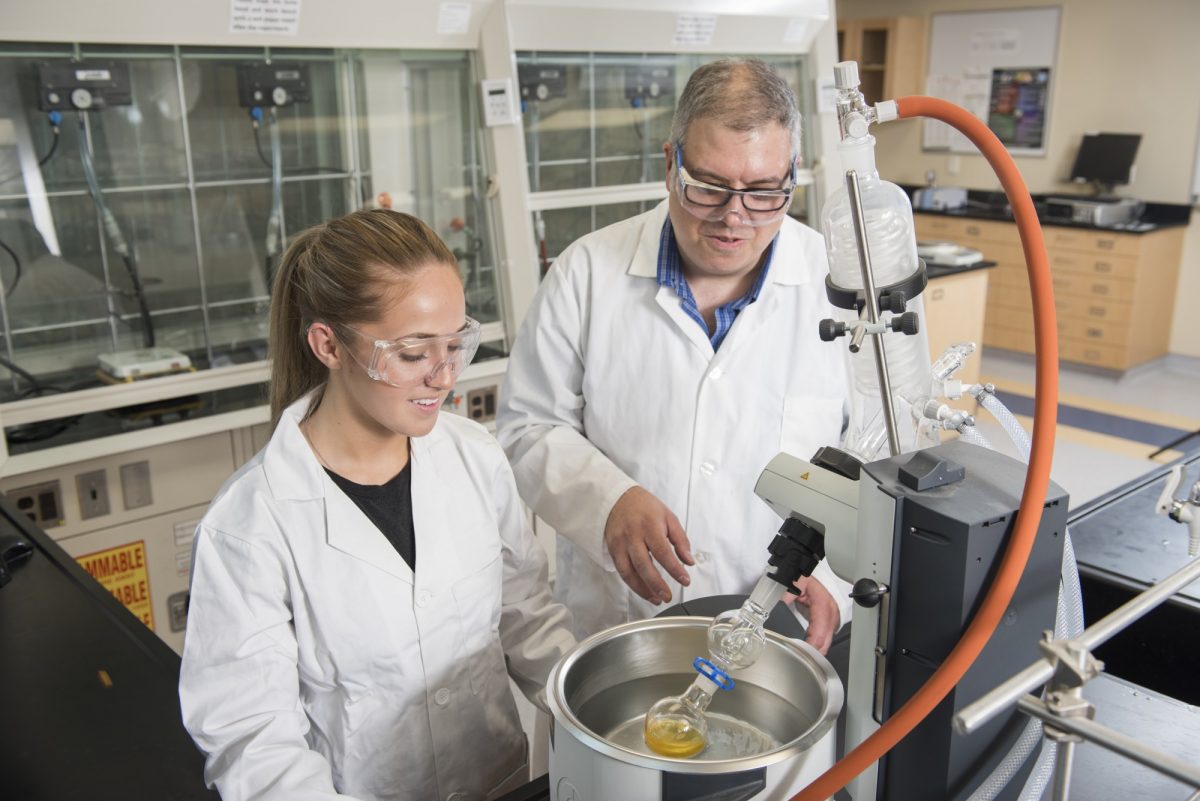 Jumpstart your career in research
Career Month is November 1-30, 2021
November 30, 2021 —
Are you considering a career in research? UM's Bannatyne campus is renowned for its innovative research and there are many opportunities for undergrad students to participate – and get paid for it!
That's why Career Services, in collaboration with UM professors in various fields, are hosting Undergrad Research Opportunities at Bannatyne Campus, a virtual information session for undergrads on Dec 9.
You'll be able to join small group discussions and ask questions from researchers in various fields such as cell biology, environmental epigenetics, physiology, immunology/virology, epidemiology, and nanotechnology. In addition to answering questions and networking, you'll also learn how to find research opportunities and apply.
To understand why undergraduate research can open a lot of doors for careers both in and outside academia, UM Today spoke to two previous undergraduate student researchers, Dhanvi Prajapati and Alina Semenenko.
UM Today: What research project/s have you been involved in?
Dhanvi: Over the summer, I was very excited to work on a COVID-19 project where I optimized ELISA assays and conducted these assays to measure the virus-specific and total antibodies produced by patients enrolled in a phase II clinical trial. This trial gave one injection of pegylated interferon lambda to mild COVID-19 patients as a potential treatment option.
Alina: The research project I have been working on was related to Triple-negative breast cancer (TNBC). As for the background, Dr. Susan Logue's lab has been working on Unfolded protein response (UPR) which is mis-regulated in the cancer cells of TNBC. We were trying to establish the relationship between inhibition of IRE1, an important player of UPR, and its influence on the TNBC cells. My task was to assess the sectretome of the TNBC cells after different treatments using ELISA technique.
UM Today: How have these experiences supported your learning?
Dhanvi: Through this summer research project, I have gained insight into the master's program at the University of Manitoba and got an opportunity to attend many research conferences, journal clubs and symposiums which gave me further insight into the world of academic research. Through this, I learned about many COVID-19 research progress before it was widely reported and was able to take part in a 3MT competition for a Canada-wide research group. Of course, I also deepened my knowledge on immunology concepts and increased my expertise for various laboratory techniques.
Alina: Before working at Dr. Logue's lab, I was seeking some practical skills. After entering the lab, I gained understanding of how a laboratory works from inside. Everything has its own procedure, placement, etc. That was the hardest thing to keep up with. Currently I amin the last year of my studies, and during my courses, I am studying the techniques I was using during the lab, such as ELISA, Western Blot, PCR/qPCR. While working I got a chance to know in detail how these techniques work, how to interpret the results, which parts correspond to what and its importance. The knowledge I obtained is very valuable and helpful for my courses, because I am able to understand why the thing is done in that proper way and how they are done.
What transferrable skills have you gained through this experience?
Dhanvi: Presentation skills, analysis of written literature, data analysis skills, organization skills and team-building skills.
Alina: I got to know how to better communicate with colleagues and how to present my work during lab meetings. The most valuable skill I obtained is the ability to work very fast and accurately in different precision levels. I also got better in analyzing what am I doing, and which purpose each step serves.
UM Today: What would your advice to future undergraduates applying for research positions?
Dhanvi: This is a great way to figure out if research is right for you. Don't be afraid to reach out to lab PIs (principal investigators) and express why you are interested in their research.
Alina: I would definitely recommend other students not hesitate to contact professors. This was the thing holding me back while I was considering applying for a summer student position in my second year. Also, if you receive rejection, it also important to hear the reason why that happened. And the last advice is to not give up after the first couple rejections. I wish all students good luck in applying for summer student positions!
This event is an excellent opportunity to learn about the many health related undergraduate research opportunities on campus. See you there!