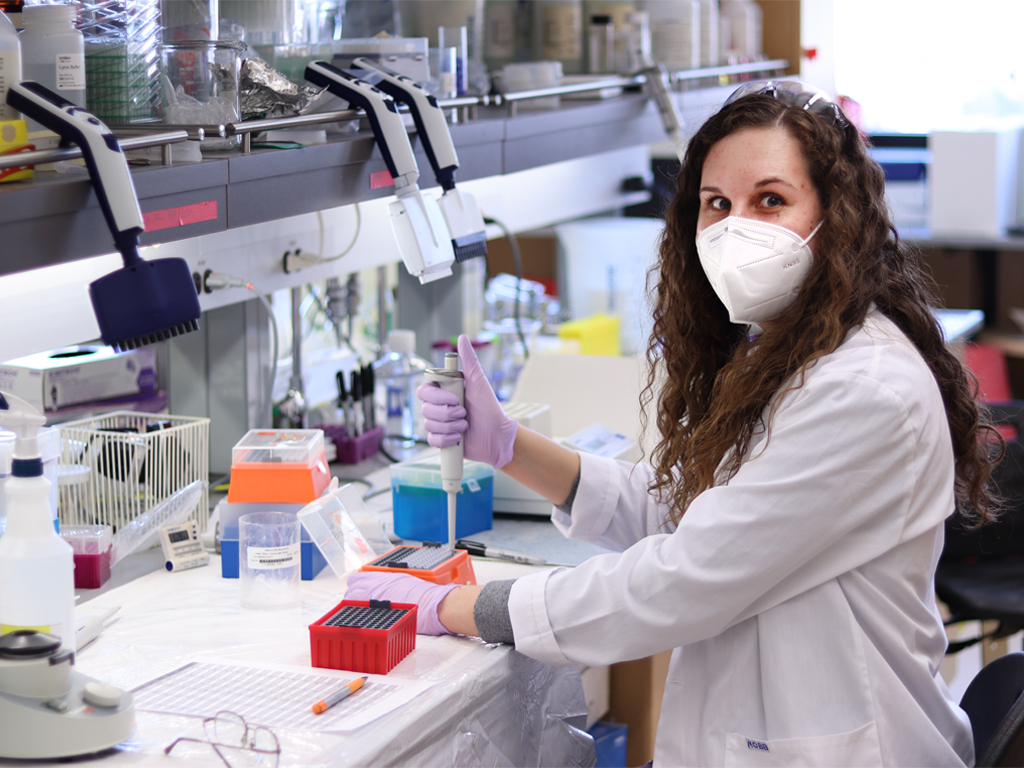 Jumpstart your career in health research
Attend the Undergrad Research Opportunities at Bannatyne Campus virtual information session
November 10, 2022 —
Are you considering a career in research? UM's Bannatyne campus is renowned for its innovative research and there are many opportunities for undergrad students to participate – and get paid for it!
That's why Career Services, in collaboration with UM professors in various fields, is hosting Undergrad Research Opportunities at Bannatyne Campus, a virtual information session for all UM on Nov 23. This is a great opportunity especially for undergrad students at Fort Garry campus to learn about research and opportunities at Bannatyne!
You'll be able to get essential information and can ask questions to professors in various fields such as neuroscience, cell biology, environmental epigenetics, physiology, immunology/virology, epidemiology, and nanotechnology. In addition to gathering career information and networking, you'll also learn how to find research opportunities and apply.
To understand why undergraduate research can open a lot of doors for careers both in and outside academia, UM Today spoke to two previous undergraduate student researchers, (Faculty of Science, Microbiology major).
UM Today: What research project/s have you been involved in?
Hailey: During the summer, I was involved in establishing mouse colonies with correct genotyping for my Principal Investigator (PI), to conduct further experiments. The future goal of this project is to establish mice with certain genotypes to study the effects that certain genetic mutations have on the molecular mechanisms of Rett syndrome. We would like to determine how fan1 (a DNA repair gene) works within cells and on neighbouring cells during development to understand disease progression in Rett using Mosiac Analysis with Double Markers (MADM) technology. Summer students including me, performed dissections, genotyping, cryosectioning, antibody staining and microscopy. Each of us had our own projects, but we worked together to learn these new techniques.
Lucas: During my time at the university, I have been involved with 2 main research projects in total. One was at the chemistry department where I was involved with the creation of Borosilicate glasses via Sol-gel, as well as common melting. Through that project, we wanted to improve phosphorus percentages in the glass so they can be used for nuclear waste immobilization. Most recently, I have been involved with my current project at Bannatyne campus. In my project, I am trying to develop a co-culture system for in vitro studies. In an overall manner, my project involves growing endothelial cells and epithelial cells that are found in the lung at the same time, closely replicating the human alveolus. We then plan on applying stimuli to one side system and see if the overall reaction is different if another cell line is present.
UM Today: How have these experiences supported your learning?
Hailey: Throughout summer, I was able to connect some of the theories that I have learnt in my courses to the experiments we were doing. I think these experiences helped me to solidify a lot of the concepts that I have learnt in past lectures. A lot of times, I've had to draw on past knowledge to solve problems in the lab. I've also developed a greater appreciation for when my professors teach us about lab techniques and technologies. For example, now when I'm learning about certain lab techniques, I make sure to pay careful attention, because I could potentially use this technique in the future. It is rewarding to be able to apply techniques you have learnt in classes to real life situations.
Lucas: Overall, this research was able to give me a practical approach to topics that I learned during my classes. Those range from the most basic aspects such as the types of antibiotics that are present in the media that we use to grow the cells, to more practical applications; this would include cleaning practices, aseptic technique, and how to clear out bacterial and fungal contamination, in case it occurs. It gave me the chance to work with equipment and techniques that I had theoretic knowledge about, from antibody staining to confocal microscopy. In addition, research in immunology gave me a chance to look into possible next career related steps, since it allowed me to learn what my co-workers and colleagues are researching. It gave me a chance to look into other ways that I could apply what I learned during my classes.
What transferrable skills have you gained through this experience?
Haiey: I've learnt patience through trial and error of experiments. Sometimes certain things won't work, and you'll get frustrated. But it's all a learning process and you can always try again the next day. It helped me develop critical thinking and problem solving skills. You need to be very detail oriented when doing experiments. I've learnt to ask for help when I need it. I've had such a great P.I. and lab partners that I could always rely on to answer my questions. This experience forced me to get out of my comfort zone and taught me how to put myself out there. I've learned that it's okay to not know what you're doing sometimes. Sometimes it's scary to try new things, but everyone starts somewhere. I've also learned how to be organized to do research.
Lucas: In my position I was able to do presentations, which improved my communication skills allowing me to share information in a simpler and easier-to-understand way. I improved my technique of showing information focusing on what needs to be presented in a slide and how to present it to make the story you want to tell, more cohesive and easier to be followed by the audience. This position also helped me improve reporting skills. This was achieved mainly by keeping a laboratory notebook. I learnt to write down to understand past experiments, and, have others read and replicate your experiment. Most importantly, this position also improved my time management skills since I collected data to track experiment progress properly.
UM Today: What would your advice be to future undergraduates applying for research positions?
Hailey: Don't be afraid to put yourself out there when talking to professors. Attend information sessions and don't be afraid to reach out to professors. Most professors are happy when a student is interested in learning about their research. Make sure to prepare for interviews and send follow up emails to thank them for their time because professors are busy people.
Lucas: Most importantly, be sure to read about the professor, be sure you understand what the professor works with, and only apply if you enjoy their research topic and would like to contribute. In the immunology department, many great professors are conducting very interesting experiments. A lot of them look for interested students. Lastly, there will be times when research may be frustrating, from failed experiments to results that completely deviated from your initial hypothesis. Make sure to be patient and enjoy the learning process rather than the results of the research only.
The Undergrad Research Opportunities at Bannatyne Campus virtual event will take place on November 23 at 2:30 pm. Register for the event on UMCONNECT today.
Attend to learn about the many health science undergraduate research opportunities on campus. See you there!