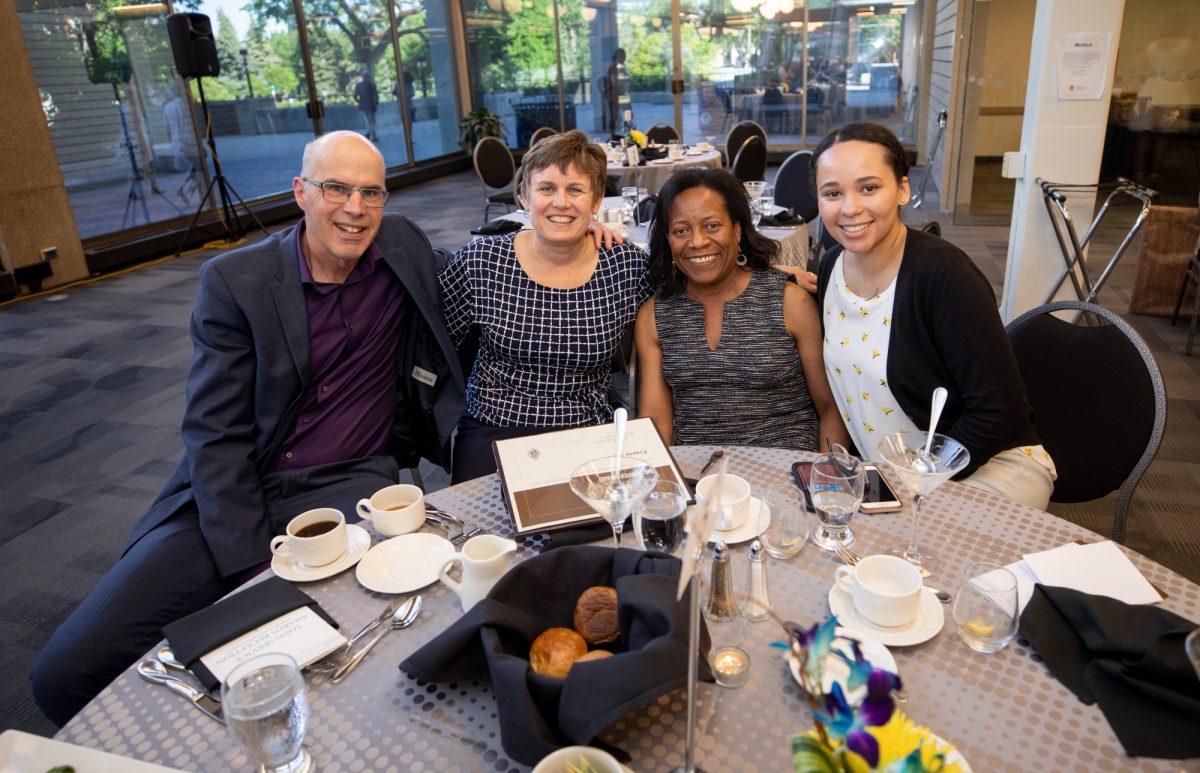 It's 'loving your job and never wanting to leave'
25-year milestone celebrated at Long Service Awards for faculty and staff
August 6, 2019 —
"Your dedication and commitment bring our university to life," President Barnard told staff and faculty celebrated at the Long Service Awards, held in Marshall McLuhan Hall on the evening of June 26.
That same liveliness was evident at the event. The room was bursting with laughter and stories—and a vibrant connection amongst the attendees of the Long Service Awards.
Fifty-two academic and support staff were honoured at the formal event for dedicating 25 years of service to the university. Guests enjoyed an evening with food, music and special gifts for the awardees.
The event is about a shared history, noted Mark O'Riley, director of learning and organizational development, human resources.
Unique, 'happy, engaging and sustaining' individual careers
Susan Prentice, professor in the department of sociology, was one of the honourees; she was interviewed following the event.
Prentice began her journey at the university as the Margret Lawrence Chair, working to build the women's studies program, which she refers to it as "a magical start" to her career. The pursuit of equity is still a primary motivator for her work.
Though her career has been challenging, she said, her time at the university has also been happy, engaging and sustaining. She added that she loves her job and has never wanted to leave.
Also recognized for her service was Shan Rogers, Aurora functional analyst in the registrar's office.
Rogers began her career in the chemistry department as a lab steward, which she called a great learning experience. After two years, she became a convocation assistant in the registrar's office and has since taken on various positions before landing in her current role.
With a father who was a professor in the Faculty of Science, she always envisioned working at the U of M, she said.
Because she'd been in attendance for many functions at the university prior to her employment, she couldn't imagine not having a job here, added Rogers.
"There have been many ups and downs through the years, but I've always expected to work and retire at the university."
President Barnard commented that while much has changed over the past 25 years at the university, there remains "an unwavering commitment to our shared cause: the pursuit of meaningful learning, discovery and engagement."
He noted that together those who work at the U of M help students, faculty, staff, alumni and the members of our communities build better lives for themselves and for those around them.
"Thank you for choosing to make your difference here," he concluded.