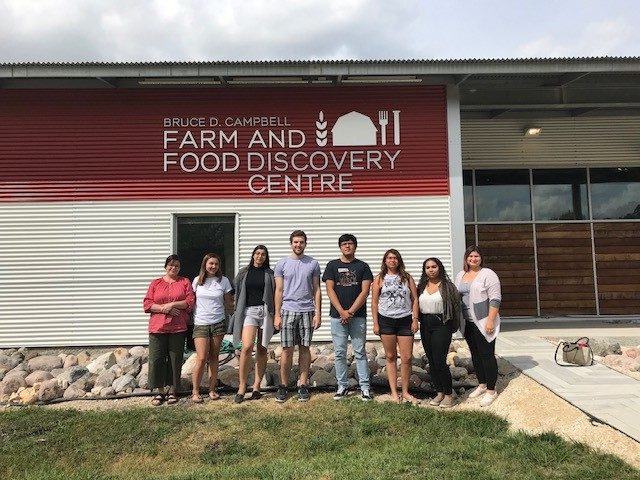 Indigenous Summer Student Internship Program offers valuable experience
New opportunities opened for Indigenous students
August 26, 2019 —
This summer, Anjelica Bodnaryk participated in the Indigenous Summer Student Internship Program (ISSIP) to gain more experience in the biological fields she's interested in.
She spent her weekdays in the Buller biology labs working with transgenic canola in the hopes of improving Canadian crops.
Hosted by human resources, the internship program provides an opportunity for Indigenous students to work in various positions in faculties and units at both the Fort Garry and Bannatyne campuses. This year, 12 students participated in the program.
The Internship has offered positions in different faculties/colleges such as business, pharmacy, architecture, agriculture and nursing, to name a few. Bodnaryk's internship was in biological sciences, in the faculty of science.
Bodnaryk said she met likeminded people who taught her a lot throughout the internship.
"The program has opened up new opportunities for me in my career," she added.
Participating students took part in development days every Friday. These days provided opportunities for bonding amongst the members and the chance to learn more about their Indigenous history.
Activities included trips to the Canadian Museum for Human Rights, Bruce D. Campbell Farm & Food Discovery Centre, picking sage to be used by Migizii Agamik, Indigenous Day activities and more.
"The program is so well organized, and every development day I felt there was a great balance of entertainment and education. I always feel excited and engaged being there," said Bodnaryk.
Bodnaryk encourages all qualifying students to apply for this internship.
"One-hundred percent do it! Don't hesitate. It's a great experience and it offers you a chance to work in fields that interest you."
For further information on ISSIP visit the human resources website.