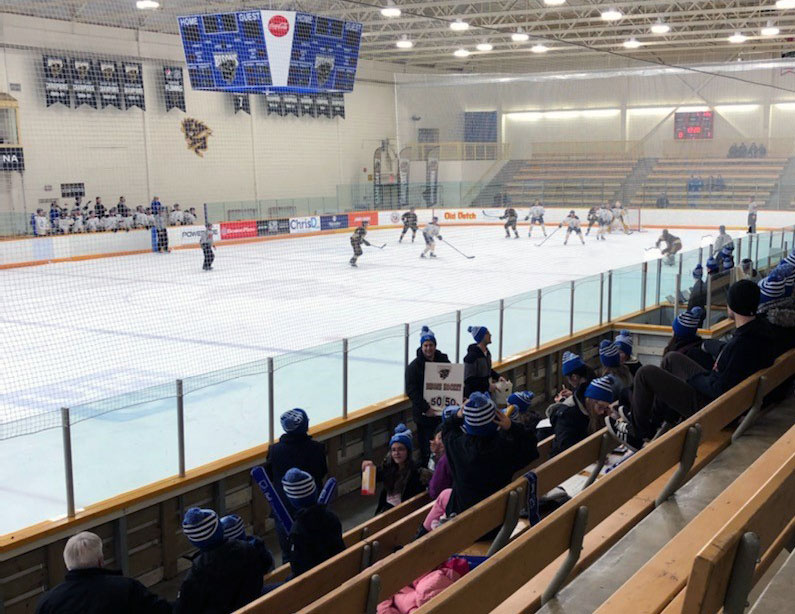 Faculty and staff are invited to attend a fun evening to cheer on Bisons
'Burgers and Bisons' will take place January 24; register today
January 3, 2020 —
The Support Staff Endowment Fund (SSEF) has teamed up with Bison Sports, Live Well, Bell Let's Talk and Degrees to offer faculty and staff a fun evening out with their families and friends on January 24.
The 'Burgers and Bisons' festivities will kick-off at 4:30 PM with a bite to eat at Degrees before heading over to the court to cheer on our Bison athletes. Attendees will receive 10% off at Degrees and have the option of attending all three Bison games that evening; women's basketball at 6:00 PM, men's hockey at 7:00 PM, and men's basketball at 8:00 PM.
Tickets to attend the Bison games are $5.00 per person and faculty and staff are encouraged to bring their friends and family. The first 30 people to sign up will receive a free Bell Let's Talk toque. Children 12 and under are free to attend.
You must register for the event to receive your tickets at half price.
"We are thrilled to be offering this event for faculty and staff at the University," says Lynn Bohonos, learning & development assistant. "It's all about UM employees coming together to support our students and community."
"It's going to be such a fun, family-friendly event – I encourage all to attend!"
For more information about the event, contact Susan Ducharme at susan[dot]ducharme[at]umanitoba[dot]ca or Melinda Sasek at melinda[dot]sasek[at]umanitoba[dot]ca.