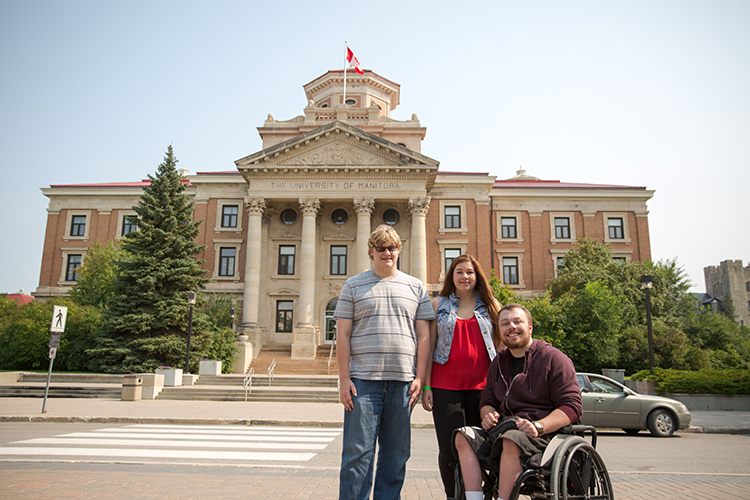 Creating personalized emergency response plans
Faculty and staff should complete information worksheet prior to Jan 3, 2020
November 12, 2019 —
One in four Manitobans have a disability. That means one in four of us may face barriers to safely exit our workplace in an emergency.
The Accessibility for Manitobans Act (AMA) requires all employers to create emergency response plans for employees with a disability. That means if you have a broken ankle, or experience panic attacks that may cause you to freeze during a fire on campus, or have a longer-term or permanent disability, an individualized emergency plan will be created with you.
Tailored emergency response information
Employees with a disability that may affect their ability to remain safe in an emergency are asked to fill out the confidential Employee Emergency Information Worksheet on the human resources website.
Disabilities can take many forms. They can be permanent or temporary; visible or invisible.
To ensure that you have a personalized emergency response plan that will meet your needs in the event of an emergency on campus, human resources and the environmental health and safety office will work with you to create one. This could involve sharing your information with those designated to assist in an emergency, but any information is shared only with specific individuals and with the consent of the employee.
Current employees should complete the self-assessment form before January 3, 2020 to ensure there is enough time to create individualized plans prior to May 1, 2020, when the requirements come into effect.
Confidentiality and keeping plans current
If your abilities or work location change, please fill out a new Employee Emergency Information Worksheet so the university can ensure your information and emergency plan is appropriate and current.
"Faculty and staff are encouraged to declare their disability so the university can help ensure your safety in an emergency," says Darlene Smith, associate vice-president (human resources).
This accessibility program is completely confidential and employee-driven.
"We're relying on employees completing the assessment worksheet and keeping their information current," adds Smith.
The University of Manitoba wants to ensure an accessible and safe workplace for everyone.
If you have questions about the emergency response standard and individual plans, please contact Bryan Wiebe, employee wellness manager, human resources at 204-474-7897 or bryan[dot]wiebe[at]umanitoba [dot] ca
Emergency Response Information Worksheets can be found on the human resources website.