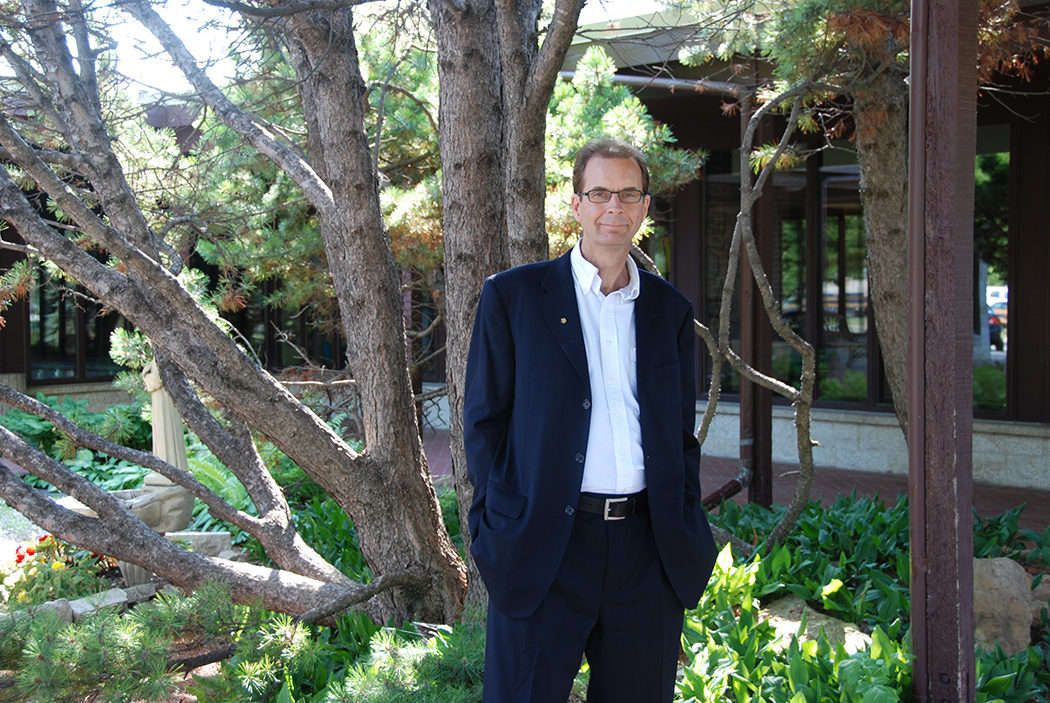 Coffee With A Co-worker: Randall Kinley
September 23, 2014 —
Randall Kinley has been with the U of M for more than 30 years, and he says it's reaped both lifelong friends and work he loves. As office and building manager at St. Paul's College, he has been overseeing the renewal and physical transformation of the college's building infrastructure. Working closely with physical plant, Kinley has project directed many improvements to the college such as the refurbishment of the Belltower Cafeteria last summer, along with much-needed window replacement in the college and upgrades of a number of classrooms, common spaces and the chapel. Next up, he adds, is replacement of the chapel roof and moving forward with a feasibility study on building a student residence.
Coming from an accounting and finance background (Kinley has a B. Comm (Hons) and CMA), Kinley's first position was with the Office of Institutional Analysis — and he has also worked for the Vice-President (administration), during which time he chaired committees that launched several recommendations of the 1998 "Building On Strengths" strategic plan under then-president Emőke Szathmáry.
It's been gratifying to work on initiatives that contributed to the enhancement of the university, and more recently, the enhancement of St. Paul's College, he says.
Kinley: "It's been gratifying to work on initiatives that contributed to the enhancement of the university."
St. Paul's College is a liberal arts college that became affiliated with the U of M on October 27, 1931. According to its mission and ethos, "St. Paul's embodies the Catholic heritage, but imposes no creed. It asks only a commitment to the College Ethos, in conformity with its mission and aims, and to the continued pursuit of high academic achievement." (It's the one with the bell tower — you can keep up with St. Paul's news by reading its publication, The Belltower.)
At the time of its affiliation, St. Paul's had a staff of 15 — eight priests and seven laymen — and a total of twelve students in the university program. Last year, its students numbered 1,147, many of whom come from Catholic high schools — but also those who are not religiously affiliated with Catholicism. Between its regular and associated members and research fellows, its faculty numbers 42, half of whom are regular members (last year there were also an additional three visiting scholars and twelve senior scholars).
Its community, while Catholic in foundation, is diverse. "You don't have to be Catholic to be part of it," as Kinley puts it. (Kinley himself is Anglican, he says with a smile.)
For Kinley, who's been with St. Paul's for three years, it's been a wonderful experience. In fact, he has only good things to say about his university career as a whole.
"I just enjoy working with the folks at physical plant and many other units on campus, and I also work with some really interesting people at St. Paul's. In all of my years at the university, over 30 years, I've made lifelong friends — with people from all religions, cultures and walks of life. To my mind, that really enriches your experience in any environment.
"Looking back over the years, with the exception of maybe one or two hiccups, it's been marvelous working at such a great institution. I've really enjoyed my time here."
— Mariianne Mays Wiebe
Q + A with Randall Kinley
What puts a smile on your face? I have sailed since I was a teenager and own a catamaran, a laser and several windsurfers. Taking a windsurfer out in a steady 20 knot breeze brings a smile to my face.
Dinner with friends: Cooking at home or out at a restaurant? My wife and I find the most enjoyment in having a family dinner at home with our three kids and their "significant others". We tend to watch our diet so prefer seafood and chicken but certainly enjoy the occasional steak.
Place you'd like to visit or favourite place you have visited: Our oldest son and his girlfriend are spending the summer touring Europe and the UK so my wife and I were recently able to coordinate some time with them in London. Even though my kids have all travelled Europe, I haven't been there so that is on my list of places to visit. As for my favorite locations to make return visits to I would say Whistler for the skiing, Maui for the sailing and London for everything else.
Something essential or enjoyable to do every day: I bicycle commute to work as often as possible from April to November. It is a great way to get daily exercise and is quite effective at getting you going in the morning and then eliminating any stress you may have had during the day. It also pays dividends by saving you some transportation costs and reducing your environmental footprint.
You are always thrilled to spend any free time doing: Any number of the outdoor sports that I enjoy doing such as biking, sailing, kayaking and skiing. As well, over the years I have periodically done volunteer work for various organizations. I like being involved in community, making contributions to charitable organizations and meeting people from all walks of life.
Guiding principle or motto: Always choose the right path even though at times the cost can be high.
A goal: I would like to re-learn how to play the piano. My mom taught me how to play when I was eight years old but I let it go after a number of years. I have a piano at home which in recent years has been nothing more than a nice piece of furniture. Who knows, with lots of practice maybe someday I will be on the cover of dig! magazine with my friend Steve Kirby from the Faculty of Music!
Where did you grow up? I grew up in East Kildonan, Winnipeg, and attended River East Collegiate.
A favourite childhood memory: Favorite childhood memories are of spending summers with family at West Hawk Lake. At that time there were three family owned cottages all on one of the subdivision roads so I have many fond memories of much time spent with uncles, aunts and cousins.
Childhood hero: I would say that my grandmother, who lived to 95, had quite an influence on me. She was truly a family matriarch – a very intelligent, strong, sensible, generous and caring person. In fact I have no doubt that if she had been born a few decades later she would have become a corporate CEO. She kept all of us grandchildren in line and taught us many important life lessons (see below).
What you appreciate or admire in another person: Strong moral values such as honesty, integrity, charity and respect for others.
A recent book: I am currently enjoying a book called "Documents in World History" from the era of 1500 A.D. to present and have read extensively about the development of Christianity through the first and second centuries. Perhaps related to my interest in history I have also enjoyed the occasional autobiography ranging from Che Guevara's The Motorcycle Diaries to Aerosmith lead singer Steven Tyler's Does The Noise In My Head Bother You? The latter is probably the craziest book I have ever read.
Describe something eye-opening you've experienced: Being part of a crew sailing a Farr 40 one blustery afternoon off the coast of Tortola, BVI.