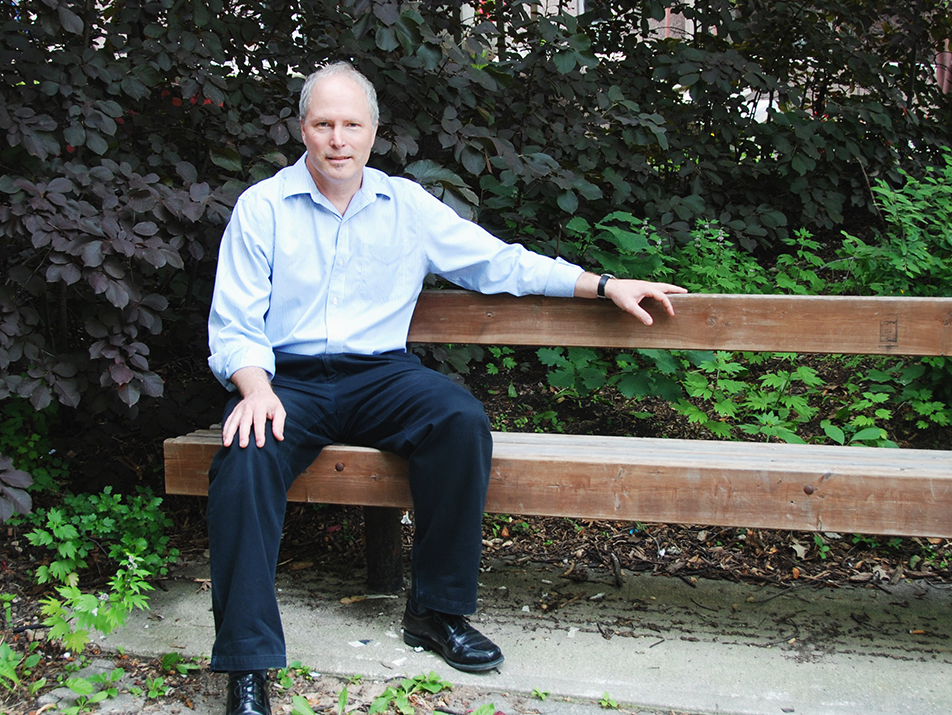 Coffee With A Co-worker: Mark O'Riley
August 6, 2014 —
Even during his student days, Mark O'Riley never really got into coffee. He is, however, into tea. Not just any kind of tea, though — he began drinking mint tea after visiting the tea rooms at the beautiful La Grande Mosquée de Paris (due to the Maghreb influence of the former French colonies, there are over 1,200 mosques in Paris), where mint tea accompanies the delicious North African sweet pastries.
In fact, after talking with the acting director of Learning and Development Services (LDS), you might get the distinct impression that he has a zest for adventure. He's traveled a lot — he's been seemingly everywhere, from New Zealand and Australia to China and Korea to South America to most of Europe. Each year, he and his wife take one trip to a more familiar location, such as London, and another as an "adventure." Planned next is a trip to Istanbul, Turkey.
That adventurous spirit is well applied in his role with LDS. Many will recognize O'Riley because of the professional development (and other) sessions he's led over the years. (A colleague commented that walking with him across campus is a bit like walking with the King of Kensington. According to O'Riley, it can lead to some embarrassing moments, since people who've attended his sessions know his name, of course, but he doesn't always recall theirs.)
Working at a university and at the U of M in particular was a deliberate decision for O'Riley after his own positive student experience at the University of Lethbridge. Working in a BC coal mine after high school was enough to send him back for more education — and university, he says, "changed my view of the world. The world just opened up."
O'Riley: "Going to university changed my view of the world. The world just opened up."
He decided he wanted to be a part of that venture — enriching others' lives in the same way his own was enriched. He values the way a university education "moves us away from simple answers," he says.
Winnipeg was also a place to set down roots after a childhood spent moving from place to place, and what he loves most about the U of M is "the people."
After launching his university career as manager of the Book Store's calculator desk — back in the day, fancy calculators were kind of a big deal — he made it his practice to apply for a different job at the university every few years.
Leading technology sessions and managing many projects throughout his university career, he came to the conclusion that the success of projects was dependent, to a large degree, on how participants worked together. Today he finds himself leading sessions on topics that address just that insight — from sessions on core competencies, communication and collaboration to navigating through multiple priorities, from career advancement to supporting supervisory and management needs.
He sees what he does at LDS as "helping people to feel more excited and motivated about coming to work."
As LDS evolves and grows, and becomes more client based in the services offered, he adds, the opportunities are limitless. "We're working towards more connections within the community, such as networks that would put those in similar roles across the campuses in touch with each other for support and [professional] development. Another question we're asking right now is how much [of our services] can we put online? Making e-learning resources and support immediately available.
"Much of the process [of growth for LDS right now] is about building on strengths," he says. "It's really exciting."
— Mariianne Mays Wiebe
Q + A with Mark O'Riley
Something not too many people know about you: I play bass in a band.
Dinner with friends: Cooking at home or out at a restaurant? I love Ethiopian cooking, there is a great restaurant called Kokeb that I frequent with friends. It's not just the food it's also the communal approach to dinning that really make some of the meals there stand out. A table of 4 will be served on a single platter which we all eat off of with our hands. Experiencing a meal this way often makes the discussion much more personal and engaging.
Favourite place you have visited: My wife and I went to South America. We went into Northern Argentina and then through the Andes to the Atacama Desert in Chile. It's one of the driest places on earth, some regions it's like being on the moon. It's also strikingly beautiful. I was also amazed a how little I knew of this part of the world so there was lots to learn about the cultures in these regions that made the trip a real adventure.
What is something you find essential or enjoyable to do every day? I get to work every day by walking or ride my bike. Once in a while I'll take the bus but it's usually pretty rare.
You are always thrilled to spend any free time doing: Playing music.
Something you do better than anyone else (or most people) you know: The way I deal with that is by telling myself that I have surrounded myself with really talented people. I guess if I do have a particular skill it's in finding ways to realize the talents of the folks around me.
Guiding principle or motto: The work we do is a marathon not a sprint, so it's important to things about the long term. We have short term goals that we need to honour but we need to do that while keeping our core values in mind.
Where did you grow up? Across Canada. In the 22 years I was with my parents they lived in 12 different houses. We moved around quite a bit.
Favourite childhood memory? Childhood hero? My favourite childhood memory was discovering music. From when I was about 9 or 10 till now it's played a big part in my life. My childhood hero was Joe Strummer of the Clash. He seemed to approach his life and his music with a fearlessness. His lyrics opened me up to different world issues and approaches to life. The music of the Clash came along at just the right time for me.
What you appreciate or admire in another person? There are so many characteristics of other people that I admire. I guess the big one is honesty.
Underrated: The importance of a liberal arts education is highly underrated in our society. The idea of investing in yourself to enhance the possibilities of having a richer life does not get talked about as much. The focus seems to be about getting training that will directly apply to a career.
Overrated: I guess in my life I over rated money and the difference it would make.
Something eye-opening you've experienced: I worked in a coal mine after I got out of high school. It was pretty boring work and my heart wasn't in it. I remember making the decision that I was going to go to university. That first year was amazing, almost instantly the world became a bigger much more interesting place.
A recent book you enjoyed? I  just read Ruth Ozeki's A Tale For the Time Being. It was great.
Favourite TV show, film, blog or website: My favourite movie would be Akria Kurosawa's "Ikiro". It's not his best know movie but it's kind of like a Japanese version of It's a Wonderful Life, it's message is timeless. My favourite TV show is The Wire.