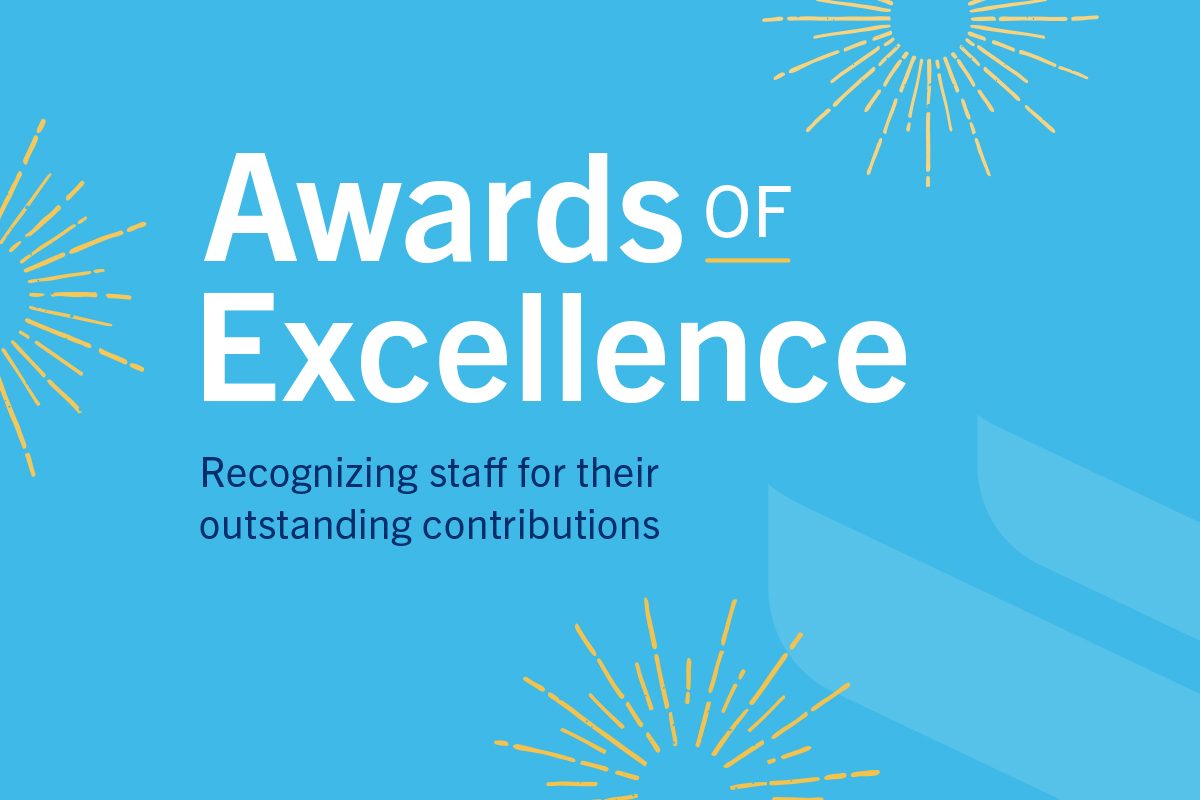 Awards of Excellence winners announced
Virtual celebration can be viewed online
June 29, 2020 —
For the past 14 years, the Awards of Excellence has celebrated the outstanding contributions of U of M support staff. This year the awards were celebrated with an online virtual event on June 25, in lieu of the reception event, which had to be cancelled due to COVID-19.
The celebration was hosted by Lynn Zapshala-Kelln, Vice-President (Administration) and the chair of the Awards of Excellence, and the President's Award was presented by Dr. David Barnard, President and Vice-Chancellor. The event also included congratulatory remarks from the nominators.
"Support staff make a difference on a daily basis and I'm happy to celebrate their efforts and impact on our community," said Zapshala-Kelln.

Watch the online event here (duration approx. 17 min.).
Award winners
The following support staff were honoured with an Award of Excellence:
I.H. Asper School of Business Career Development Centre
Nominated by: Dr. Subbu Sivaramakrishnan, Associate Dean, Undergraduate and International, I.H. Asper School of Business
Lisa Griffin
Career Development Coordinator, Faculty of Law
Nominated by: Marcia Kort, Manager, Administration and Dean's Office, Faculty of Law
Margaret Smith
Administrative Assistant, Department of Statistics, Faculty of Science
Nominated by: Dr. Sandra Pereira, Data Science Nexus and Data Solutions Consulting Coordinator, Faculty of Science
Buller Building Caretaking Team
Nominated by: Dr. Ann Brassinga, Associate Professor & Associate Head (Student Experience & Outreach), Faculty of Science
Bev Lockie
Staff Relations Officer, Human Resources
Nominated by: Dr. Stefi Baum, Dean, Faculty of Science
Central Animal Care Services Technician Team
Nominated by: Robert Madziak, Director, Central Animal Care Services
Two leaders honoured with President's Award
The President's Award celebrates support staff who have contributed to the University in significant ways. The prestigious award recognizes individuals who encourage and assist in the growth and success of members of our community.
This year, two individuals were honoured with a President's Award:
Raman Dhaliwal
Director of Operations & Administration, Rady Faculty of Health Sciences
Nominated by: Dr. Brian Postl, Dean & Vice-Provost (Health Sciences), Faculty of Rady Faculty of Health Sciences
Giselle Martel
Executive Director, Financial Planning, Financial Planning Office
Nominated by: Dr. Stefi Baum, Dean, Faculty of Science
Giselle Martel's contributions were critical to the successful implementation of the University's new performance-based budget model.
"I feel honoured to be chosen and recognized for my work," says Martel. "I want to thank the great team of individuals that I work with. This award really belongs to them."
"I have worked at the university for two and a half years, and I feel as though I've been part of the UM community from day one. One of the most satisfying aspects of my work is engaging with colleagues across the institution."
Raman Dhaliwal was instrumental in driving innovation and streamlining processes in the amalgamation of the professional colleges at the Rady Faculty of Health Sciences.
"I am extremely honoured to receive the President's Award of Excellence," says Dhaliwal.
"Throughout these years, I have been motivated, inspired and empowered by leadership and colleagues to excel in this role. I sincerely thank Dean Postl for nominating me for this award and for his unwavering support and mentorship. I also want to thank my staff for their dedication to their work and their support."
"I am very thankful to work in an organization that has provided me the opportunity to work in a demanding leadership role while allowing me the flexibility that I need at home as a mom of a three year old. I could not have been successful in this role without the supports provided to me at the University of Manitoba."
Congratulations to the 2020 Awards of Excellence Recipients!