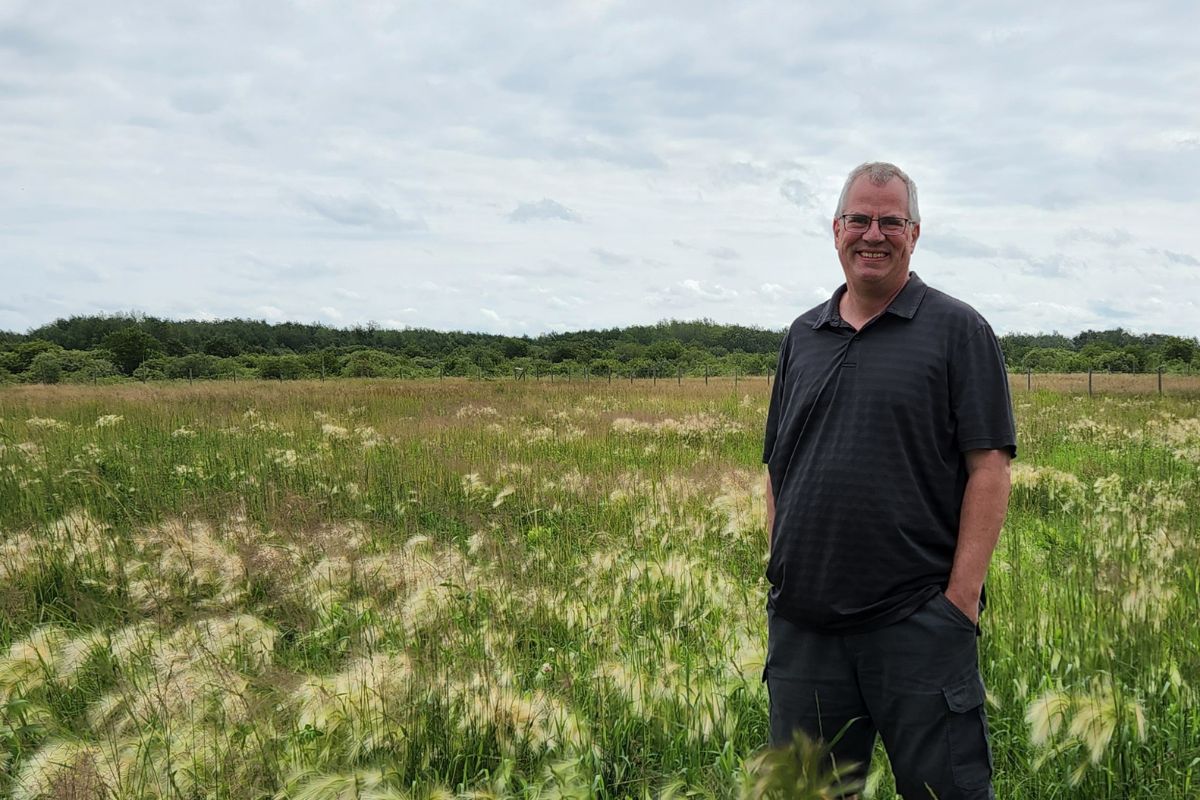 Asper professor of business sustainability receives prestigious UM award for excellence in teaching
Bruno Dyck's teaching transcends disciplines and transforms minds
May 17, 2023 —
Bruno Dyck [BComm(Hons)/84], Norman Frohlich Professor in Business Sustainability at the Asper School of Business, is the 2023 recipient of the prestigious Dr. and Mrs. H. H. Saunderson Award for Excellence in Teaching.
This award recognizes an outstanding UM educator who has demonstrated pedagogical excellence and contributed to advancing teaching and learning at UM as well as nationally and internationally.
With over three decades of service at UM, Dyck is recognized as a leader in teaching—thanks to his published textbooks, peer-reviewed research and innovative course design and delivery—and a passionate advocate for social and ecological sustainability in business.
Dyck has co-authored six groundbreaking textbooks used at UM and universities around the world, praised by students and scholars alike for including multiple approaches to management and equipping students with the breadth of knowledge necessary for confronting the social and ecological challenges facing business and society.
The most recent version of his co-authored textbook Management: Financial, Social, and Ecological Well-Being received Best Book of the Year (Pedagogy/Policy) in 2019 from the International Humanistic Management Association. The same year, Dyck received the 2019 Expanded Reason Award (Teaching), becoming the first business scholar ever to receive this honour.
Dyck has also contributed revolutionary approaches to teaching in leading journals of business ethics and management education. His research shows that students who learn multiple approaches to management become better critical and ethical thinkers.
He expresses his profound gratitude for this recognition:
"It is truly a privilege to teach (and learn from) students, to nurture their growth in knowledge, skills, and a better understanding of who they are and want to become. I am deeply grateful for everyone that makes it possible, including colleagues, administrators, staff, students and citizens of Manitoba," he says.
Bruno Silvestre, Dean of the Asper School of Business, remarked on the significance of this award and Dyck's legacy as an educator. "I am thrilled to see Bruno Dyck receiving this award as a way to celebrate his dedication to our students and his contributions to the Asper School of Business and the University of Manitoba, as well as his impact on and reputation in business education in Canada and internationally."
In the classroom, Dyck is known for creative, engaging methods of instruction. He invites students to co-design courses, collaborating with them to choose assignments, to determine their weight and to agree on which course topics to emphasize, all to optimize their learning.
Asper alum, Jenny Moose [BComm(Hons)/22], Operations Coordinator at the Northern Manitoba Mining Academy, highlights how Dyck's approach to creating a more accessible classroom encouraged student success. "Everyone learns in different ways, and in Bruno's classes, you can really focus on your strengths, share your ideas and shine," says Moose.
Likewise, Savanna Vagianos [BComm(Hons)/19, MSc/22], describes how Dyck encouraged students to bring themselves into the conversation, fully. "Bruno teaches in a disarming way that makes students feel comfortable voicing their thoughts in front of their peers. His course content allows students to reflect on their own personal values and beliefs and to contemplate how these would impact their decisions as future leaders," she says.
His nomination, led by Asper Associate Dean Suzanne Gagnon, was supported by Asper students and faculty, alongside colleagues from around the world, who express how Dyck has inspired them and changed their perspective—from how they see sustainability in business and how they see their own community of co-learners to how his research has reinvigorated entire curricula (a note that bodes well for Dyck's role in the development of a new BComm (Hons) curriculum launching in Fall 2023).
To Dyck, his more significant work is as an informal leader.
"I believe I can have a more meaningful impact as an educational leader by investing my energy to strategically focus on the margins rather than through leadership roles in the center," he says.
Bruno Dyck creates space for the knowledge, experience and individuality that every student brings into his classroom and every colleague brings into consultation, changing perspectives, advancing sustainability and encouraging growth from the margins.