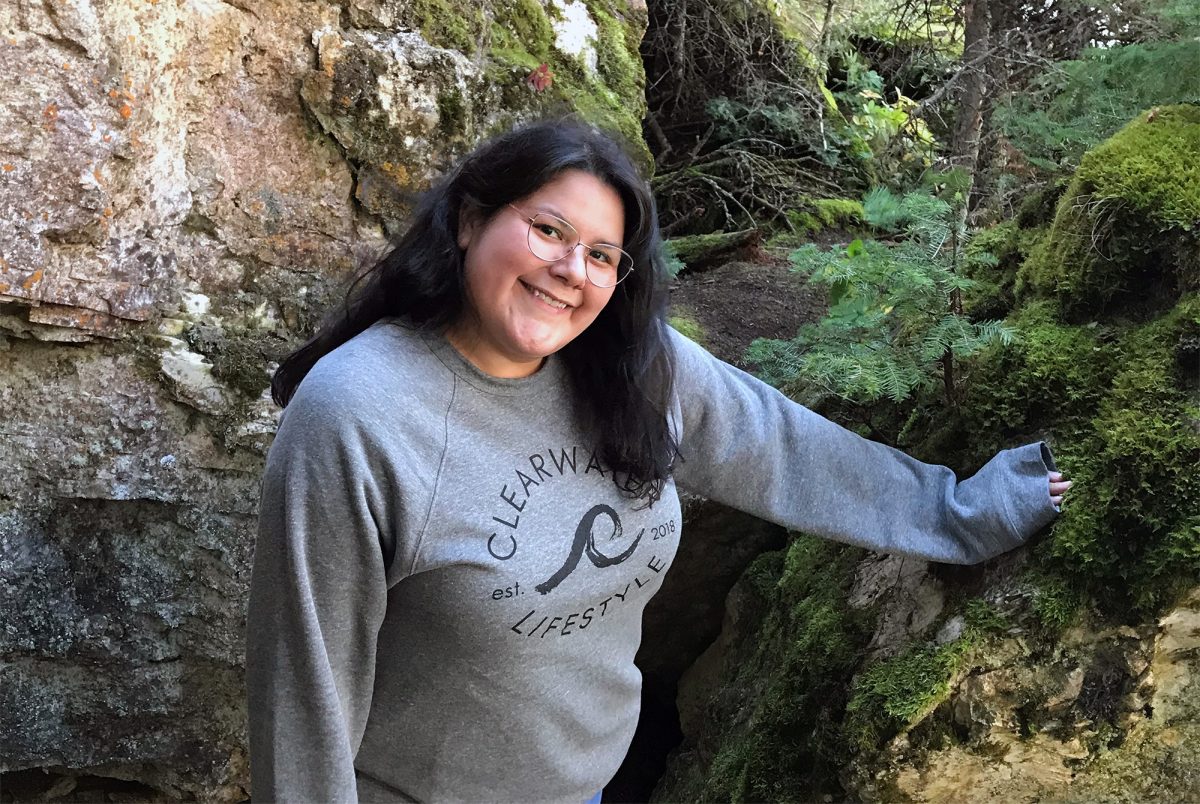 Asper student wins UM Trailblazer Award
Jennifer Moose's unique journey helps pave the road for other Indigenous business students
May 21, 2021 —
When Jennifer Moose heard she was the recipient of the 2021 University of Manitoba Indigenous Student: Trailblazer award, it was validation of the work she was doing as a student at the Asper School of Business.
"The award really shows how Asper values my voice. Without Asper, I wouldn't be able to speak my message. Asper has given me a platform," said Moose, a third-year student majoring in Indigenous Business Studies and Leadership and Organizations.
Moose's message is her story, one of resilience, leadership, integrity, and humility. As a first-generation residential school survivor (her father went to residential school) she understands the trauma and the hardships that survivors had and still face. The lessons she has learned from her parents, family, and friends have provided her with the motivation she needs to do the good work.
"This is my most prized possession," said Moose as she holds up a beaded pin that resembles the Asper pin given to students when they first enter the faculty.
Moose was competing in an Alberta not-for-profit case competition and wanted something special for her and her teammates to mark the occasion. She reached out to her cousin Mandy Moose who had been beading since she was a young girl.
"I thought how can I Indigenize Asper's logo, but still keep it Asper?" Jennifer asked Mandy to add gold beads around the chevron to "glam it up" and medicine wheel colours around the outside. "The result is a beautiful work of art with expert craftsmanship," said Moose. "I think the Indigenization comes from the beading itself."
The beaded Asper pin means more to Moose than just a symbol of Asper, it also represents her cousin. Mandy passed away earlier this year at the age of 36.
"It is difficult when you lose someone that you expected to grow old with. I'm still coming to terms with everything, but she always encouraged my schooling."
THE (UNEXPECTED) ROAD TO ASPER
Moose grew up in the The Pas, Manitoba, a town located seven hours north of Winnipeg. After high school, Moose worked and traveled for a few years, including hiking the Grand Canyon twice. Eventually, Moose felt it was time to go back to school; she just needed to pick a career. Moose didn't start at Asper immediately and went down other academic paths before choosing business. At the age of 25, Moose had completed a Management Development Certificate from Red River College and found herself working two jobs so she could afford more education.
"Seeing my parents go back as older learners made me realize it doesn't matter. I can go back, and you know, reinvent myself."
Moose was disappointed when her first application to the Asper School of Business was rejected as she thought she met all the requirements. At the time, Moose was in her second year of Civil Engineering when she decided to apply to Asper, but the policy at the time stated her engineering math course was not equivalent to the one needed to enter Asper. After her appeal was denied, Moose decided to take matters into her own hands. She knew that her engineering math course was more than adequate, so so Moose contacted Asper School of Business Dean, Gady Jacoby.
"I realized that the Dean has the voice and power to influence change," said Moose. Dean Jacoby replied to Moose apologizing for the misunderstanding and soon after, she was admitted into Asper. Moose influenced a change in policy that has now allowed more students to be admitted to the School.
It wasn't until several months later at the Asper welcome dinner for new students, Moose finally met Dean Jacoby.
"I went up to thank him and I was almost crying," said Moose. "He's just always been so kind right from the beginning. The way I came in [to Asper] allowed me to develop this special relationship with him, and he's just such a profound leader."
Dr. Gady Jacoby, Dean and CPA Manitoba Chair in Business Leadership said he was first introduced to Jennifer Moose when he received an email from her and another student about the engineering math course. After recognizing the course was more advanced than the Asper School requirement, he took steps to help change the School's admissions policy.
"Through this incident and after having the opportunity to meet and hear Jenny's story, I became aware of her strong leadership qualities," said Jacoby. "I knew she is a student-leader we can rely on when working for the betterment of the Asper community." Dean Jacoby invited Jennifer as one of the panelists on the new Asper student orientation session on Equity, Diversity and Inclusion (EDI) and later as a member of the Asper EDI Task force.
"Her commitment, passion and strong citizenship related to EDI are truly extraordinary," added Jacoby. Through these EDI-related initiatives, Jennifer courageously shared some of the adversities she experienced as an Indigenous person as well as those of her family and community. "Adversities in one's life may reshape one's path and can be the stimulus for one's life aspirations. I am very impressed with how Jenny channeled her adverse life experiences to empower herself and inspire her aspirations. We at the school are eager to see the path Jenny chooses to embark on. We will cheer for her and stand by to support her on this journey."
LEADING BY EXAMPLE
Moose was nominated by Peter Pomart, Director of the Indigenous Business Education Partners at Asper. Pomart describes Moose as someone who speaks in a manner that is not alienating to others, but rather opens their eyes to experiences they do not know exist.
Moose and Pomart are both members of the Asper's Committee on Indigenous Business Scholarship and the Equity, Diversity, and Inclusion Committee. Pomart noted that her candid, yet warm style of communication was instrumental in the Dean inviting her to participate in the two committees. Moose is also the Vice-President of Operations for the University of Manitoba Indigenous Commerce Students group, designed for those who identify or have a common interest in enhancing Indigenous culture within the Asper School of Business. They aim to create a sense of community by forging partnerships with organizations within and surrounding the University of Manitoba.
"The fortitude with she walks with integrity and humility is inspiring. I have seen her owning mistakes, which exposes her own vulnerability," said Pomart. "Jenny is a remarkable trailblazer who is worthy of recognition. She has freely given herself to do the good work."
NEXT STEPS
Moose credits Jacoby and Pomart for "messing up her five-year plan" of becoming an accountant. She says they have been encouraging her to pursue a career in academia. Moose is exploring the possibility of becoming a professor. Her next step will be to eventually apply to Asper's Master of Science in Business Administration.
"My dream job is to be the absent-minded professor," Moose jokes. "Teaching, talking, and finding new things that inspire and encourage people."
Moose is excited to get her feet wet this summer as a research assistant for Asper professor Bruno Dyck. His focus is on organizational learning, corporate
social and environmental responsibility, sustainability, values, management education, religion, and small-scale farms.
While Moose has now found herself pursuing a career she is passionate about, she credits the other trailblazers in her life for helping her down this path.
"I want to dedicate this award to Mandy. It's women like her who have helped me grow; they shielded me and took care of me, even when they had pain of their own. I have had lots of strong female role models in my life. They are the reason I am who I am today."