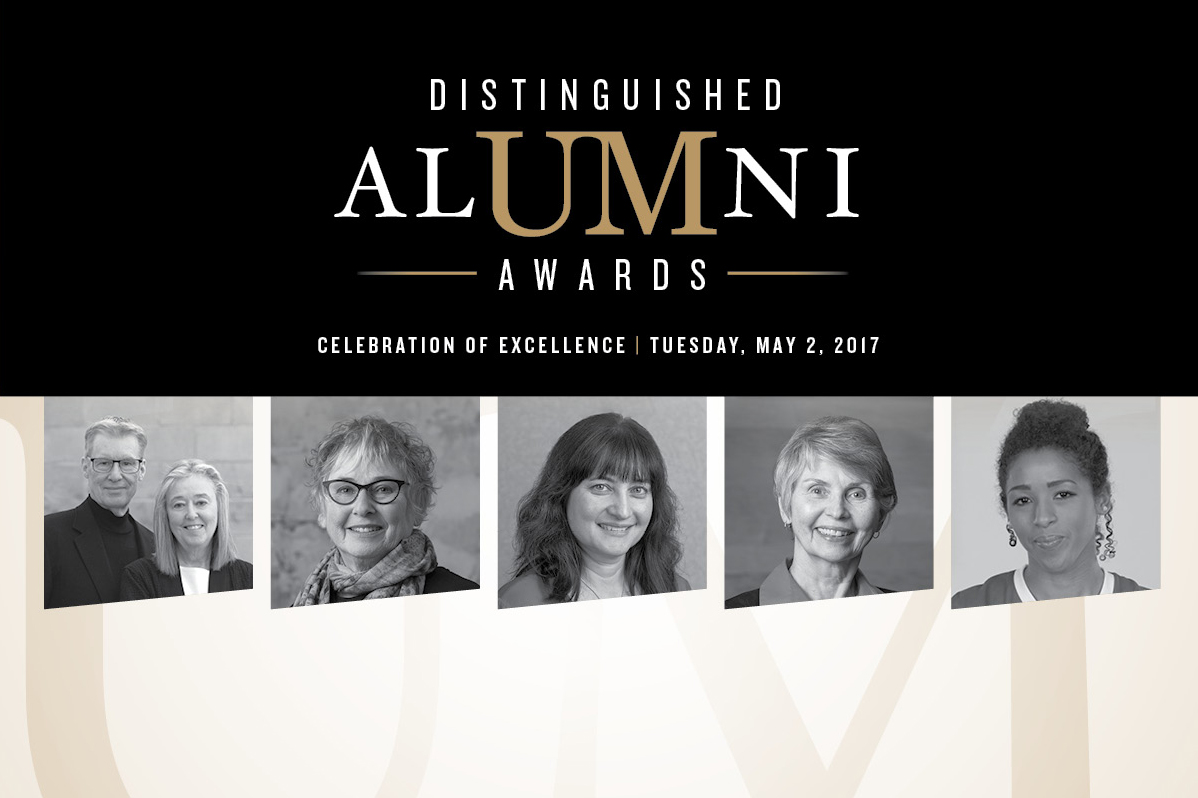 2017 Distinguished Alumni Award, Lifetime Achievement
John [BA/69, BES/69,MArch/72] and Patricia [BID/73] Patkau
When Patricia and John Patkau were architectural students at the University of Manitoba, impeccable standards and like-mindedness created a personal and professional connection. They established Patkau Architects in 1978 and determined from the onset they would pursue projects that reflect and support society.
Patricia and John integrate not only the physical surroundings into their designs, but also the current cultural, economic, political and social climate. Their designs create public spaces that offer refuge, inspire relationships and foster community. They generate a sense of civic duty, collaboration, and purpose for the future. Patkau Architects spaces shape society over time.
Patricia and John have made significant contributions to architecture through teaching. John has served as a visiting professor at Harvard and Yale; Patricia is Professor Emerita at the University of British Columbia where she taught advanced design for more than two decades. They are renowned for their enthusiastic mentoring and sharing of ideas, research and innovation.
They have brought their juxtaposition of culture, connection and community to high-profile and highly meaningful projects across Canada, the United States, Asia, and the Middle East, from schools, colleges and universities to galleries, community centres and bridges. In Winnipeg, we enjoy their deft touch at the beautifully appointed Millennium Library, and our very own innovative ARTLab and Taché Hall redevelopment.
Patricia and John Patkau have been lauded around the globe for their evocative vision and inspiring creations. They were made members of the Order of Canada in 2005 and received the Royal Architectural Institute of Canada Gold Medal in 2009.
2017 Distinguished Alumni Award, Professional Achievement
Reva Stone [BA/68, BFA(Hons)/85]
Reva Stone is a true visionary. She has blazed a trail in new media art since graduating from the University of Manitoba's Fine Arts program in 1985. Her work has largely contributed to our understanding of the expanding field of new media. Her articulate vision and provoking pieces helped to define and bring gravitas to this new medium, and opened the door for other artists.
Her large-scale installations use technology to comment on the constantly changing relationship between human and machine. Cell phones, heat sensors, self-scanned images and more explore the world of science and technology, from protein molecules to autonomous robots to unmanned aerial drones. Through that exploration, her audience grapples with all facets of the human experience, such as private versus public, identity through memory, and what it means to be human.
Stone is committed to laying groundwork in the art community. She strongly believes in the act of naming oneself an artist, and believes in serving as an example of a professional artist for young creatives. She has collaborated with Mentoring Artists for Women's Art (MAWA) for decades. She asserts the validity of these women's work and guides them as they take their place. Stone participated in Artists in the School for many years, bringing evidence and belief that art matters to communities that often do not have ready access to artists.
Reva Stone's work can be found in galleries and private homes throughout Canada and the United States. She received the Governor General's Award for Visual and Media Art in 2015.
2017 Distinguished Alumni Award, Community Service
Sr. Lesley Sacouman [BA/75]
Sr. Lesley Sacouman sets her determined gaze on those from whom the rest of us avert our eyes. She has created a system of care and a place to call home for hundreds of our disenfranchised people.
Sr. Lesley co-founded Rossbrook House in 1976, for children to gather during evenings and weekends to stay safe and out of trouble. It now offers three alternative schools, and programming for nutrition, music, young mothers, leadership, Indigenous culture, and more. On a daily basis, 80 children bask in the security and warmth that Sister Lesley envisioned for them.
In 2004, Sr. Lesley turned her focus to the struggles of immigrant and refugee women in Winnipeg, and opened the Holy Names House of Peace. It provides a home and sense of family to these vulnerable women in transition, many of whom have left their children behind. Living with these women, from 10 different faiths and countries around the world, Sr. Lesley offers us a timely lesson in empathy.
In between, she helped to found an educational/employment training program for Aboriginal youth, and Esther House, a safe home for women dealing with addiction. She has offered her wisdom to numerous organizations, and to The Winnipeg Foundation as a board member, for years.
Sr. Lesley brings together the marginalized and the elite. She spurs both groups into action and helps them to see possibility in the face of grim realities. She is a beacon of Winnipeg's can-do attitude and often lights the fire herself.
2017 Distinguished Alumni Award, Service to the University of Manitoba
Isabella Wiebe [BMROT/86]
Isabella Wiebe has dedicated her career to young people on the cusp of self-discovery. She teaches with passion, leads by example, and advocates for kindness.
As a clinical specialist and occupational therapist, working mainly with young women with eating disorders, she provides the map from self-harm to self-worth. She cultivates their sense of esteem while teaching strategies to, first, protect oneself from society's unforgiving messaging and then, to flourish.
For more than two decades, Wiebe has volunteered with the university's Career Mentor Program, and has met with more students than any other of its 700 mentors. These students have not yet decided on their field of study, and she guides them with soul-searching questions: What do I think is important in this life? What are my unique strengths and talents? How can I make an impact in this world?
Wiebe is a tireless advocate for her field. She conducts a popular session for the Health Sciences Centre's Kids at Work Day for grade 9 students, and often speaks to students and fellow colleagues at the Health Sciences Centre on various mental health topics. In the past, she engaged alumni of the university's Master of Occupational Therapy program. She also accepted leadership positions in local and national associations and is now readily accepting opportunities given to her from the Health Sciences Centre.
In a rapidly growing field within the stressful healthcare system, Wiebe teaches her OT students to take their time and build rapport with patients. Her interns and mentees call her an exemplary role model and cite her enthusiasm, honesty and steadfastness as stalwarts that help them through challenging academics and a rigorous practicum.
2017 Distinguished Alumni Award, Outstanding Young Alumni
Desiree Scott [BA/16]
Desiree Scott believes any dream can be attained with hard work and dedication.
She is a two-time Olympic bronze medalist, having competed in women's soccer in London in 2012 and in Rio in 2016. The 2012 semi-final game against the United States is often called the greatest match of women's soccer ever played.
Scott has played in more than 100 games internationally, including two World Cup tournaments, and is known as The Destroyer, thanks to her aggressive play. Fans adore her tenacity and love of making big tackles on the field. She serves as a trusted leader and solid vet on the Canadian National team, which is positioned at #4 in the world, the highest rank it's ever received.
Scott played Bison soccer for four years at the University of Manitoba. Her first year was also the inception of the women's soccer program in 2005. She is, without question, the U of M's most esteemed soccer player and continues to hold the record for most points and assists in a Bison career.
She serves as an enthusiastic ambassador for KidSport Manitoba. As a young athlete, Scott herself received help from KidSport and considers it a duty and joy to raise funds, calling it full circle. Her third annual soccer camp raised more than $20,000 with all proceeds paying the fees of children who otherwise would not have the opportunity to play competitive sports.
Scott is in her third season as a midfielder for the FC Kansas City Blues in the National Women's Soccer League.
Be sure to check back all week long as we'll be posting each of the recipient's thoughts on their time at the U of M, their lives and what matters most to them.
Find out the recipient's thoughts on their time at the U of M, some memories, musings and more below: