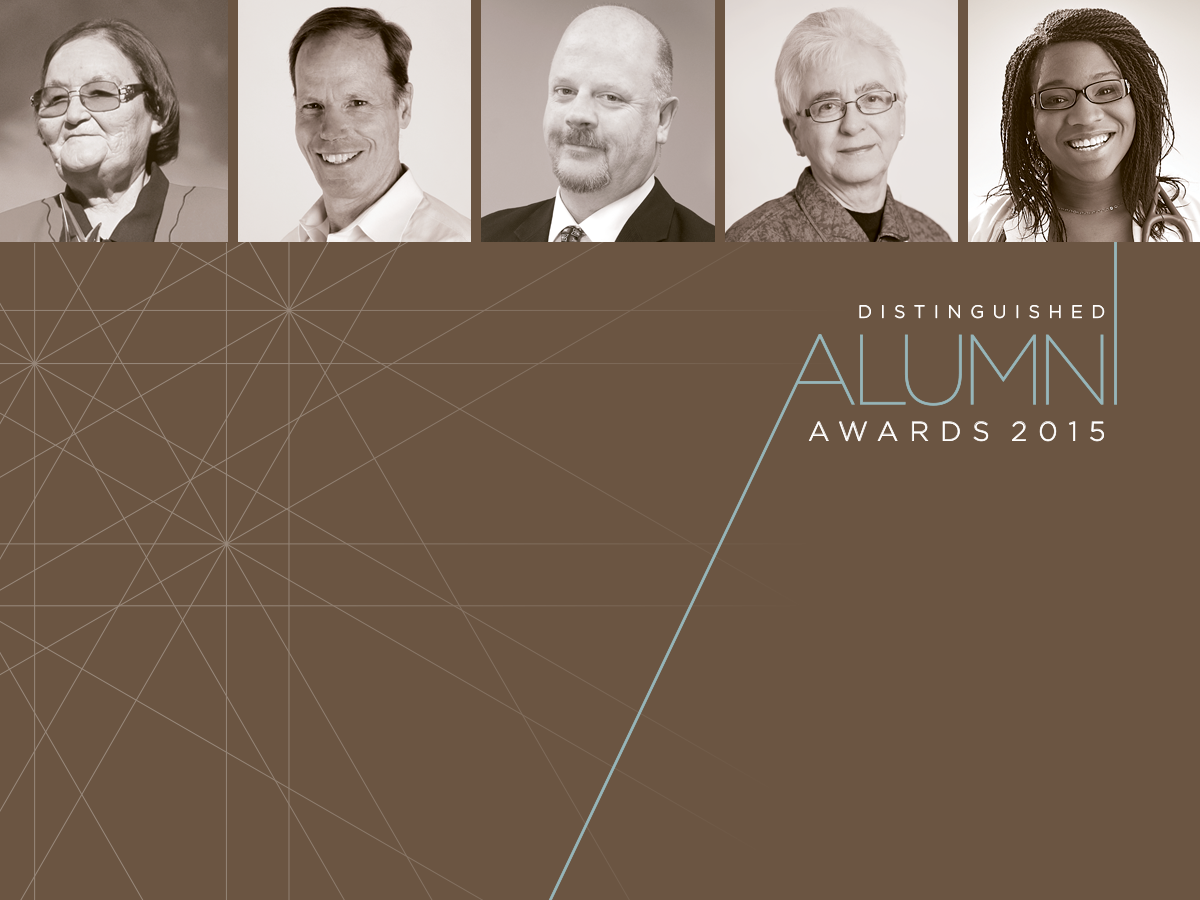 2015 Recipients
The recipients of the 2015 Distinguished Alumni Awards encompassed a wide range of achievement, success and community service.
More than 350 people attended the Distinguished Alumni Awards Celebration of Excellence on May 12, 2015, to honour five outstanding individuals who have been making a tangible and meaningful difference in our world and local community through their dedication, passion and perseverance, guided by truths and principles gained through training and education at the University of Manitoba. Read the full story here.
Lifetime Achievement
Marion Meadmore, CM, LLB/77
Marion Meadmore has spent a lifetime overcoming barriers to create greater opportunities for Indigenous people in Canada. After surviving a decade in the Indian Residential School system as a child, she defied the hatred and negativity of that experience by focusing her attention on education as a means to transform her world in a positive way. Meadmore graduated from Law at the University of Manitoba and became the first Indigenous woman in Canada to be called to the bar. Equipped with intelligence and a strong sense of justice, she dedicated herself to creating organizations that build community, equality and independence for Indigenous people across the country. PHOTO CREDIT: INDSPIRE
Professional Achievement
Nick Logan, BA/71, BComm(Hons)/73
During his 40 years as president and CEO of National Leasing, Nick Logan blended innovative business ideas with a personal philosophy around corporate culture steeped in the values of mentorship, teamwork and respect. Logan helped build an environment at National Leasing's Winnipeg headquarters that reflected his view of corporate culture. There, staff might be found playing ball hockey together in the parking lot or working out in an in-house gym. Logan's influence and impact as a professional, a philanthropist and volunteer in the community speak volumes about his passion and ability to bring out the best in people.
Community Service
Wayne Davies, BEd/91, PB DipEd/07
Longtime educator Wayne Davies gave awesome opportunities to junior high students: building custom guitars; recruiting rock stars, professional athletes, even former U.S. presidents to autograph them; then auctioning them off to support local charities. In 2010, a group of teachers at the École Selkirk Junior High School in Selkirk, Man., helped then-principal Davies turn this rock 'n' roll fantasy into reality with the founding of the Building on Students Success (B.O.S.S.) Guitar Works Program. Three short years later, in 2013, B.O.S.S. participants had built 325 fully playable guitars and raised more than $100,000 for the Canadian Museum for Human Rights as well as an additional $40,000 for various other charities.
Service to the University of Manitoba
Juliette (Archie) Cooper, BOT/79, MSc/82, PhD/87
The University of Manitoba is a better place because of Juliette (Archie) Cooper. Throughout her career as a researcher and professor in the School of Medical Rehabilitation (SMR)—now the College of Rehabilitation Sciences—Cooper has taught and mentored generations of students and distinguished herself as a leading thinker in the field of occupational therapy. Beyond her guidance of students, Cooper has enhanced the overall university community through her tireless volunteer efforts as a fundraiser and as key advisor to the secretary and the board of governors on strategic matters. A professor emerita since 2005, Cooper continues to work at the U of M a decade into her 'retirement', still enjoying teaching and contributing to the University.
Outstanding Young Alumni
Tito Daodu, MD/13, BSc(Med)/13
Though she had yet to reach a double-digit birthday, Tito Daodu had lived in four countries on three different continents, before settling in Winnipeg with her family. This early experience had a profound effect on the impressionable eight-year-old as she saw and experienced first-hand the inequality that exists around the world. Her resulting desire to create positive change in the world inspired her to pursue a medical degree at the University of Manitoba. She offered mentorship to inner city kids involved with the same outreach program that once encouraged her to dream big. When Daodu earned her MD in 2013, these same core-area neighbourhood children cheered her on at convocation.