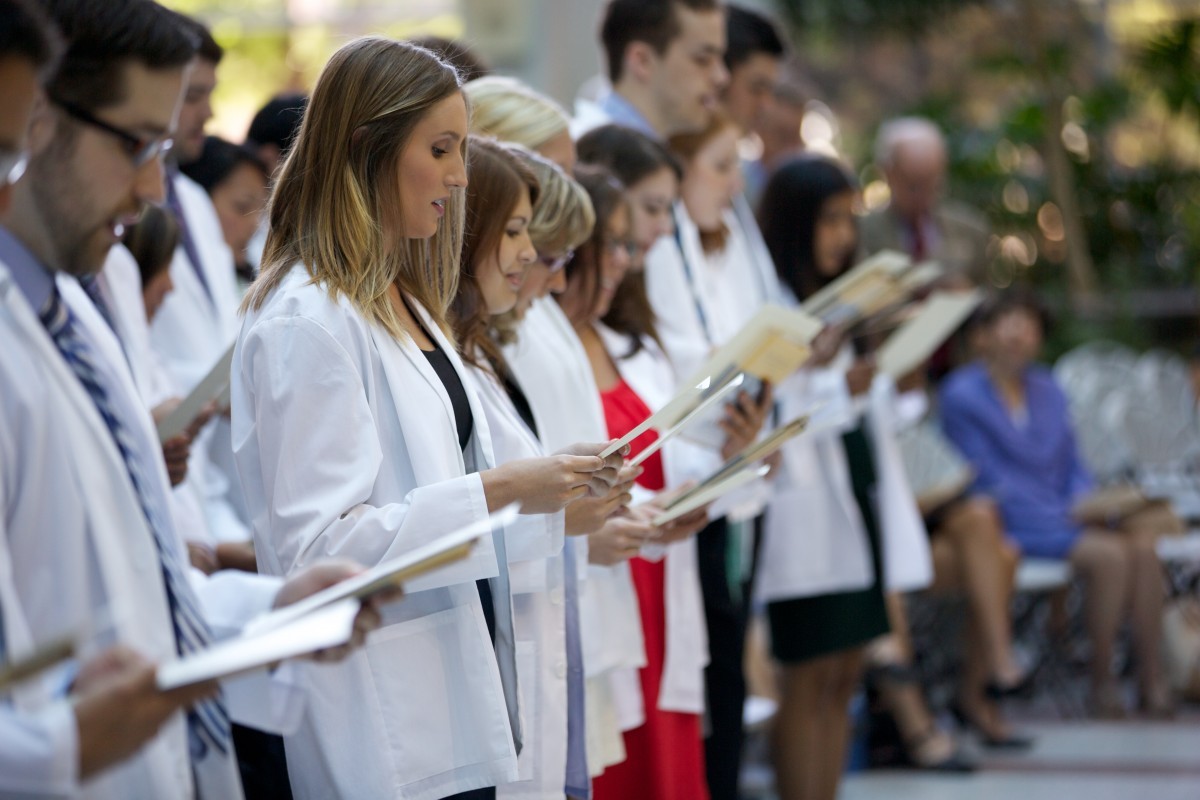 White coat ceremony inaugurates incoming Medicine students
August 19, 2014 —
On Wednesday, August 20, 2014, the College of Medicine will inaugurate the first group of 110 medical students into the newly integrated Faculty of Health Sciences during the annual "white coat" ceremony at the University of Manitoba's Bannatyne Campus. The Medicine Class of 2018 is comprised of: eight self-declared Aboriginal students; four French-speaking Bilingual students; and 36 students with rural connections which include rural roots, rural work experience or rural volunteer experience.
The group of future physicians ranks high when it comes to personal achievements:
Manitoba-born and -raised Evan Graham raised $10K for the Manitoba Schizophrenia Society during a self-initiated 35-day solo cycling tour from San Diego, California, to Washington D.C;
Bilingual student Janine Grenier was awarded a trip to Japan through the Manitoba 4-H program where she's been a volunteer since age eight.  She had the opportunity to visit urban and rural communities similar to her home town of St. Leon, Manitoba;
Matthew Paschak has dedicated a good portion of his life to teaching―as a volunteer tutor with the Access Program and through his church. He made the tough decision to enter medical school, leaving behind his teaching position at St. Mary's Academy where he taught Grades 10 thru 12.
"We are excited to welcome a diverse student body that is representative of Manitoba's population," says Dr. Brian Postl, dean of Medicine and dean & vice-provost (health sciences), University of Manitoba. "Each year I am impressed by the remarkable and life-changing events many of the students have already achieved. We can expect a generation of well-rounded individuals to serve the health care needs of citizens across the province."
Who:   Medical School Class of 2018
What: White Coat Ceremony including reciting of Hippocratic Oath
When: Wednesday, August 20, 2014 from 10:00 a.m. to 12 noon
NB: CLOAKING OF MED STUDENTS AND HIPPOCRATIC OATH WILL BEGIN AT APPROXIMATELY 11:00 A.M.
Where: Brodie Centre Atrium, 727 McDermot Ave., University of Manitoba Bannatyne Campus
The annual Inaugural Day Exercises includes the symbolic tradition of students putting on their white coat for the very first time and taking a vow to practice ethical medicine throughout their education and careers by reciting the Hippocratic Oath.
Speakers at this year's event include: Minister of Health Erin Selby; Arlene Wilgosh President and CEO, Winnipeg Regional Health Authority; and James Wilson, Commissioner, Treaty Relations Commission of Manitoba. Dr. Daniel Klass, a leader in medical education, quality improvement and assessment, will give the Keynote Address.
Media note: First-year students will be available to speak with media. Interviews with bilingual students can also be arranged.
For more information contact Ilana Simon, Director of Communications & Marketing, Faculty of Medicine, at: 204-789-3427 or iPhone: 204-295-6777, or email: ilana [dot] simon [at] med [dot] umanitoba [dot] ca
Founded in 1883 as Western Canada's first medical school, the University of Manitoba College of Medicine has graduated more than 7,000 physicians who have become influential medical leaders, world renowned health researchers and dedicated doctors. As Manitoba's only medical school, the U of M College of Medicine has educated and trained the majority of our province's physicians.