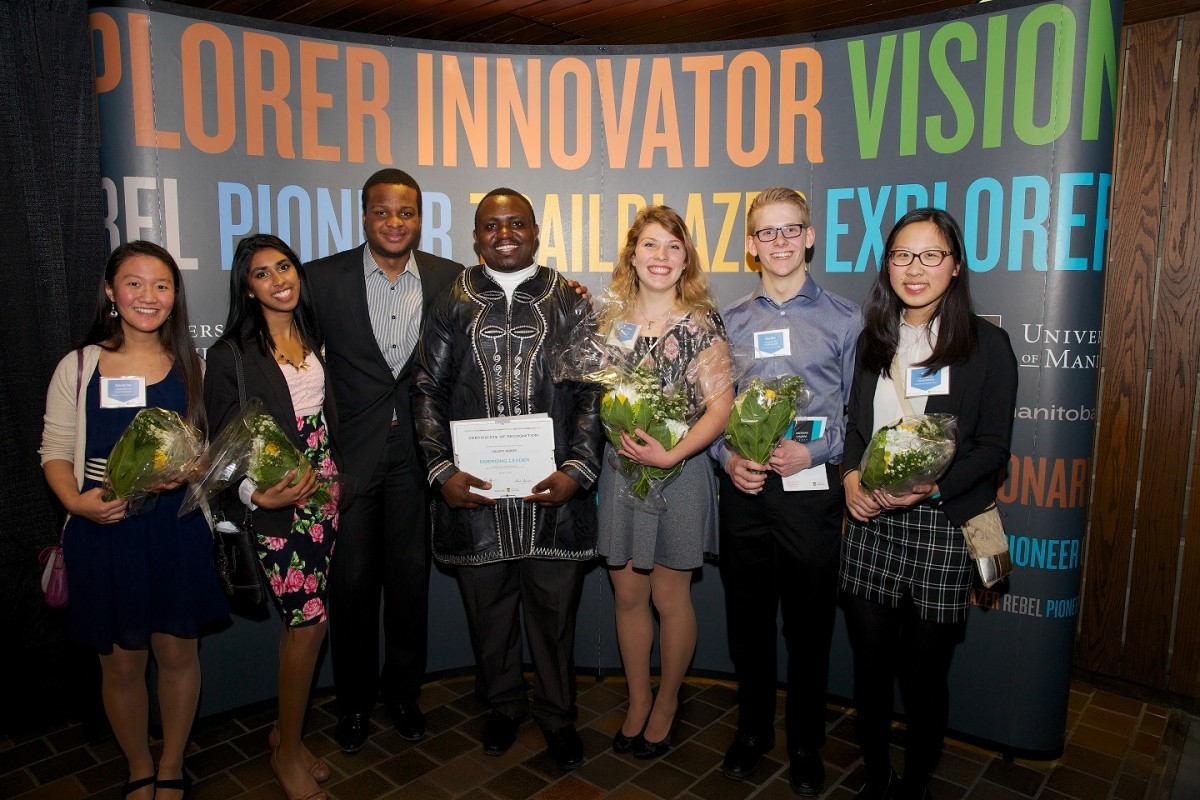 What does it take to be an emerging leader?
Grad student Valery Agbor shares his story and thoughts on what being a leader means to him.
December 1, 2015 —
Every year the University of Manitoba recognizes 75 deserving students as Emerging Leaders. These U of M students are chosen because of their impact on the university community through their contributions to  social, cultural or economic well-being of communities, while encouraging cross cultural understanding and demonstrating sustained leadership and initiative that is worthy of recognition.
As nominations are now open for the 2016 awards, grad student Valery Agbor shares his story and thoughts on what it takes to be a leader.
—
Valery Agbor
Area of study: PhD candidate, biosystems engineering
Leadership initiatives include: vice-president internal, Graduate Student Association; chief returning officer, Biosystems Engineering Student Association; volunteer, Springs Church in Winnipeg
Accomplishments: BSc in microbiology, University of Buea (Cameroon); MSc in biotechnology, Lund University (Sweden)
What was your life like growing up in Cameroon?
I was born behind my grandfather's house to teenage parents in the South West province of Cameroon.
My mom was from a well-to-do family but at 14 became pregnant with my oldest sister. My dad, the son of an ex-military officer, started out as mechanic having his own repair shop. My mom also owned a business selling palm oil and other goods. They also both inherited farms from their parents and farmed cash crops like cocoa and plantains. After my dad married a second wife and our family became polygamous he struggled to provide for both families and maintain a home.
My mother made sure that I studied enough to either be the first or among the top three of my class. She wanted me to get the education she could not have.

What outside of your studies brought you to Canada?
Coming from a bilingual country, I love the fact that Canada is a bilingual nation in the developed world with a long standing international reputation of peace, stability and an inclusive migration policy.
Was the weather in Winnipeg a shock to you? How did you learn to adapt?
Life in Sweden, where I took my master's degree, prepared me for a colder climate. What I did not know was the extent to which it could get cold [in Manitoba]. I brought my 'English winter coat' to face the Winnipeg winter. When I got here in February, I quickly realized that my coat was no match.
You have three children. What is your secret for maintaining balance?
Kids came into our lives when I was in grad school. Fortunately, colleagues in my research unit who had faced similar experiences encouraged me to step up to the plate of fatherhood. My wife and I had to make tough choices. She was going to stay home and take care of the kids while I focused on the challenges of grad school. We set our priorities and took it one day at a time. Now that I am almost done with my studies she is getting set to advance her career.
What makes you happy?
The sound of my kids playing; the smile on my wife's face; the victories after challenges; the smell of pizza; professional sports teams like the Canadian female soccer team; and a good laugh with the people we do life with.
What does being a leader mean to you?
To me being a leader is an opportunity to serve and influence others in a way that boomerangs with a sense of living a purposeful life. I am a people person, so I strive to lead people in small tasks like organizing soccer games, or big tasks like leading a student body or an organization.
—
Nominations for 2016 Emerging Leader Award are open until January 15. For more information, or to nominate a current student who has completed at least one year of study at the U of M, visit: umanitoba.ca/student/studentlife/leadership/ela.html