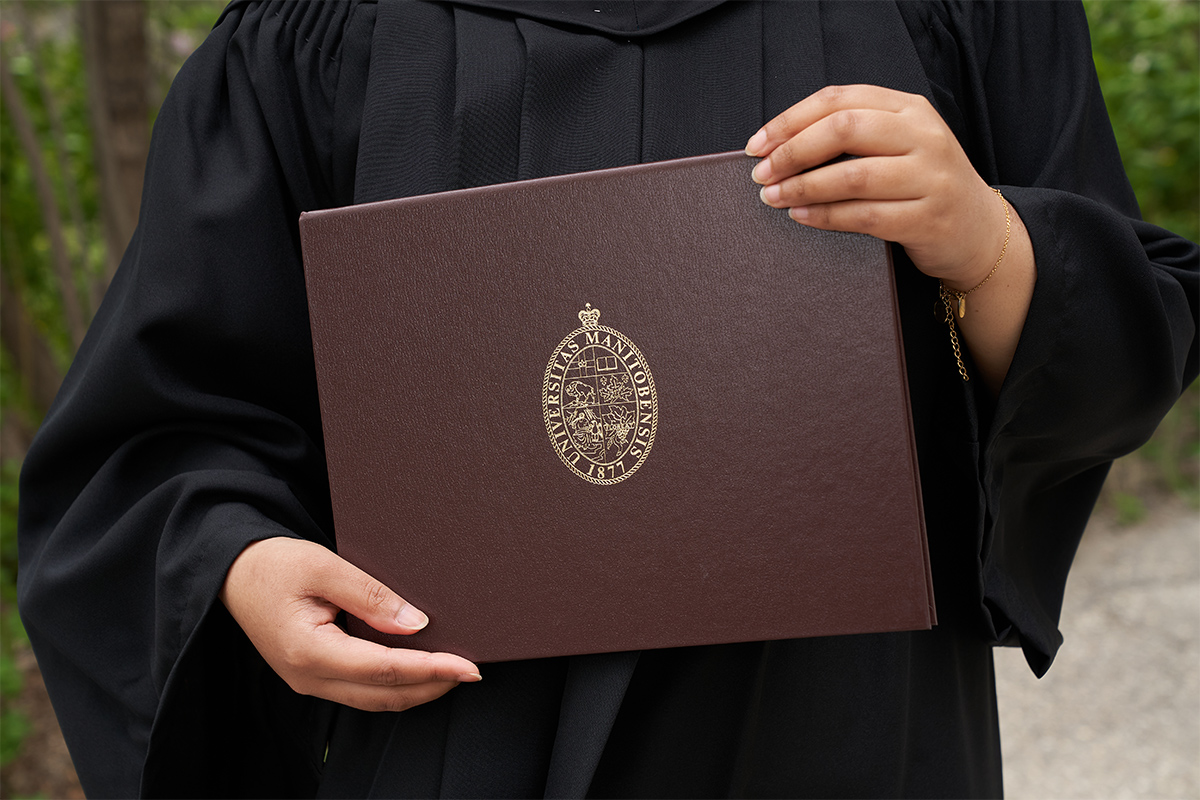 UM's Governor General medal winners are determined to shape a better world
Six graduates recognized for outstanding achievement
June 5, 2023 —
Meet some of the exceptional members of the University of Manitoba's class of 2023! These individuals have been awarded Governor General's Academic Medals for outstanding achievement at their level of study. They are being recognized for their excellence, determination and commitment to shaping a better world. Cheer them on as they cross the stage and collect their awards and parchments during Spring Convocation, June 6-9, 2023. Congratulations to all of our graduates!
Andrew Hogan
Governor General's Gold Medal – Awarded for outstanding achievement at the PhD level
Growing up in Newfoundland, Andrew Hogan has always had a fascination for all-things nature. He looks back on his childhood and remembers watching nature documentaries, always drawn to living organisms, especially the smallest ones, and understanding how they function. In 2023, Hogan is graduating from UM with a PhD in microbiology from the Faculty of Science.
After graduating from Memorial University of Newfoundland in St. John's, Hogan made his way to UM to earn his graduate degrees. During his time at UM, his research allowed him to take part in interdisciplinary collaborations, working on samples from a laboratory group in the Czech Republic to study the mechanisms of a new antibiotic and developing new genetic tools for another group in the United States. For 6 years, Hogan also served on the Microbiology Graduate Students' Association, holding every position including President at some point.
He is proud to be a part of the only stand-alone microbiology department in Canada, noting how special it is to be able to explore all multifaceted components of microbiology within the same walls yet have profound implications on every aspect of living around the world.
"Being surrounded by experts who were always happy to share their diverse knowledge and equipment was very important to my success and made me realize the value of cooperation and collaboration," says Hogan.
The world hasn't forgotten the impact of infectious diseases, putting him in a crucial position to direct future research. He is energized by the potential to change our understanding of infectious diseases, and to reveal the weaknesses in bacterial physiology that can be used to our advantage in new therapeutics.
As Hogan nicely puts it: "Science is connected. Questions and answers spread across disciplines, regardless of country borders. When we make new connections of ideas, we also make new connections and collaborations between like-minded people. These connections are vital to solving the biggest issues of our day."
Shayna Pierce
Governor General's Gold Medal – Awarded for outstanding achievement at the master's level
Graduating with a master of arts in psychology, Shayna Pierce's future lies in advocating for and informing the development of medical practice guidelines and policies for perinatal mental health. This will prioritize the integration of prevention, screening and perinatal mental health services into primary prenatal and postpartum care.
Pierce's extensive volunteer work has helped many communities in Winnipeg and around the world, yet she never fails to credit these communities for their impacts on her own life. "Of all my university experiences, being able to learn from women in leadership across the country who bring their intelligence and lived experience together to create systemic change has had the most impact on me," says Pierce.
During a volunteer trip to Salabwek, Kenya when she was 16 years old, she helped build a local school and learned about the communities' access to healthcare. She was inspired to volunteer at the Children's Hospital of Winnipeg, where she directly learned about the lasting impacts of traumatic birth experiences, uncertainty around infant health, as well as the relationships between postpartum physical health and maternal mental health.
At once, Pierce was driven to pursue a career as a clinical psychologist with a life-long goal of improving access to mental health services and credible health information through clinical research. She also hopes to focus helping populations of pregnant women and those within one year postpartum.
Even as a student, Pierce has always dedicated her time and energy to advocacy roles within the UM community and beyond. "I've learned that students are the future and so while we are learning, one of the most important things we can do is to question the way things are and be willing to bring our ideas and perspectives to the table," Pierce adds.
One of her most notable roles is serving as co-chair on the advocacy board of the Perinatal Mental Health Collaborative, where she collaborates with women, perinatal researchers and clinicians across Canada to advocate for unmet mental support needs of women and call upon the Canadian government to take action.
Andrea Sutherland
Governor General's Silver Medal – Awarded for outstanding achievement at the undergraduate level
Andrea Sutherland has always had a passion for helping others. While there are many career options to fulfill this passion, she decided to pursue a bachelor of environmental science, recognizing environmental issues like climate change and biodiversity loss as the most important challenges facing our world today.
"The actions of my generation will be critical in charting the course for the future of environmental management. Recognizing this fact, my academic success has been driven by the belief that I should do everything that I can do to understand and address environmental issues," says Sutherland. "I've been graced with a disposition that has allowed me to enjoy learning to its fullest, and a wonderfully supportive network of friends and family, and these have been central in enabling me to work hard in my academic pursuits."
She has been the secretary and board member of a local greenspace, the former Bishop Grandin Greenway, and played a role in the recent change of the trail's name to Awasisak Mēskanow. She also took on a virtual internship for a Fijian charity, where she developed a climate change policy for the organization. Her research position with Environment and Climate Change Canada provided an opportunity to review forestry regulations and international protocols to offset carbon, both of which help develop the Federal Greenhouse Gas offset system.
"I wanted to join all of the dedicated, like-minded people working to address these issues. I believe that this is a critical way to help others, especially marginalized and vulnerable communities that are experiencing environmental issues most prevalently," she adds.
Sutherland hopes to pursue a law degree to advocate for change. Regardless of whether she ends up in environmental law or a different field, there is no doubt that Sutherland will help build a better world with a stronger sense of environmental stewardship.
Sheila Le
Governor General's Silver Medal – Awarded for outstanding achievement at the undergraduate level
Sheila Le is making it her career mission to help break barriers to accessing health care. Her interest in science started in middle school, where she was drawn to the human body and pathophysiology of different diseases. With a particular fascination for molecular processes, she has earned a bachelor of science in biochemistry.
"I hope to make an impact on the broader community through the medical field as a future physician who will strive to provide quality, equitable care and help reduce the barriers that various people encounter when accessing health care," says Le.
She volunteered at Victoria General Hospital throughout her studies, helping patients connect virtually with their family members during the time of the pandemic when visitors weren't allowed in facilities, and helped facilitate recreational activities when patients' mental well-being was historically challenging.
Le participated in the Multidisciplinary Health Research Experience program where she attended health science seminars and professional development activities, as well as the Language Exchange program involving an exchange of language and cultural practices with an international student at UM. With her education and compassionate nature, her experiences and expertise in biochemistry will set her up for success in her studies to become a physician, after which she will surely make a difference in the field of health care.
Le credits her dad who has always emphasized the value of education and hard work: "Seeing how hard he's had to work to raise me and my sister motivates me to stay committed to my education and to work harder for a better future."
Jamie Chi Yan Wan
Governor General's Bronze Medal – Awarded for highest standing in the two year Diploma course in Agriculture
Before moving to Winnipeg in 2021, Jamie Chi Yan Wan grew up in Hong Kong and earned her first bachelor's degree in geography and resource management at the Chinese University of Hong Kong.
"It became clear to me that agriculture offers a significant entry point for addressing sustainability issues since food production is a fundamental aspect that allows everyone to participate in different ways," says Wan.
She worked at a university farm in Hong Kong where she developed a viable sustainability model that could be replicated in other rural areas of the region, allowing her to collaborate with ecologists and landowners on farming practices rooted in ecological conservation initiatives. This experience not only introduced her to farming activities for the first time, but it also convinced her to further explore her interest in the agriculture industry.
Truly committing to her goals, she made the move to Canada and knew she belonged in UM's Faculty of Agricultural and Food Sciences. Despite the significant shift in the university experience during the worst of the pandemic, Wan stayed persistent and resilient. She then faced another barrier – her lack of familiarity with North American agriculture, especially in comparison to her peers. These challenges only pushed Wan to work harder and she eventually grew more confident in herself. Receiving this award fills her with well-deserved pride and serves as the ultimate recognition of her abilities and potential.
"Learning is a lifelong journey where age and background do not determine what you can achieve," Wan adds. As her next step, she looks forward to contributing to the industry as a researcher who can shape the future of agriculture for better, more sustainable communities.
Rovielle Rantael
Governor General's Bronze Medal – Awarded for highest standing in a diploma program of at least two years other than diploma Agriculture
After graduating from W.C. Miller Collegiate in Altona, Manitoba, Rovielle Rantael was inspired to study Dental Hygiene by family members who are also in the dental profession. While taking an Oral and Dental Anatomy course, she realized how intriguing the dental field is and discovered that she loves how her studies and future career path allow her to incorporate aspects of art and creativity into the health sciences.
During her studies, she helped raise awareness of the School of Dental Hygiene and the General Dentistry Clinic to students and the public. She plans to continue being an advocate for her profession and showcasing the significant role dental hygienists play in preventative health care.
A highly accomplished student, Rantael won scholarships throughout her academic years, including the Dr. A.W. Hogg Scholarship, handed out for highest standing in the second year of the dental hygiene program, and the Isbister Undergraduate Scholarship in Dental Hygiene, awarded based on eligibility for the dean's honour list and for the highest average standing in years one to three. In addition to winning the Governor General's Bronze Medal, she also received the University Program Medal for Dental Hygiene, the Manitoba Dental Association Gold Medal and the Manitoba Dental Association Prize at her convocation.