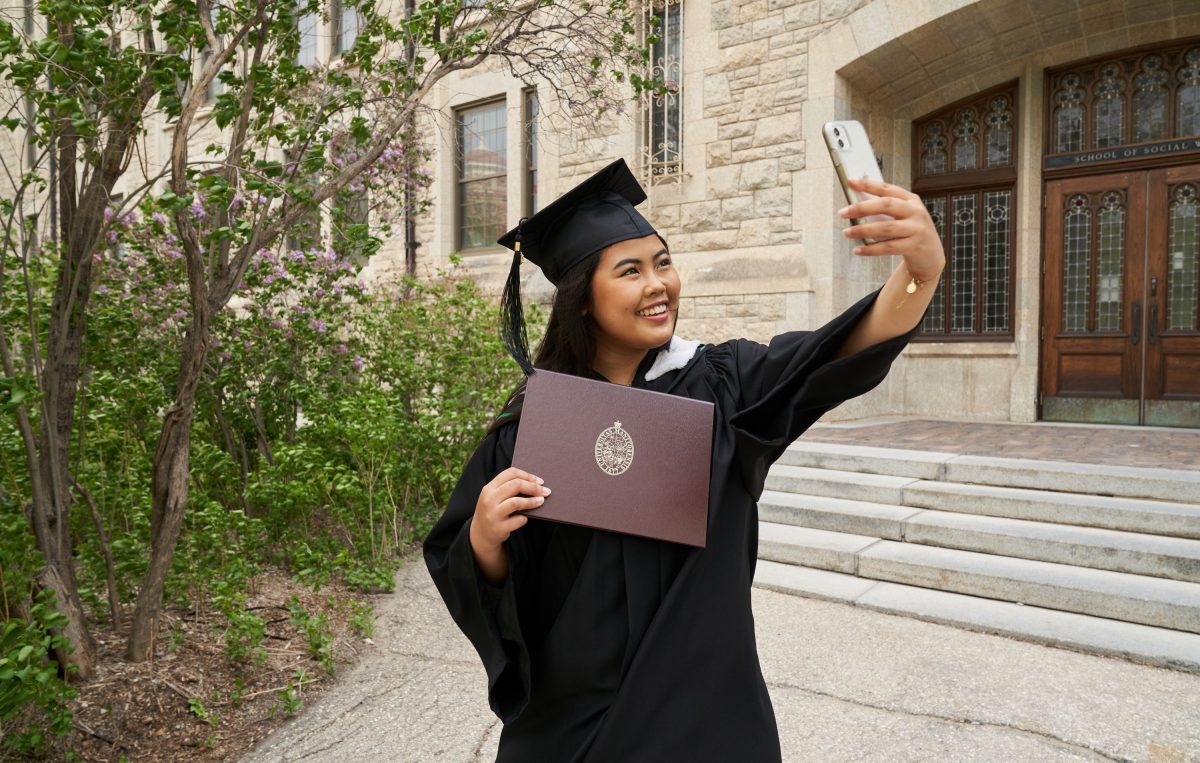 UM degrees set 2023 grads on the path to success
Meet six members of the Spring class of 2023
June 5, 2023 —
UM's class of 2023 is ready to look back on their journeys and celebrate their achievements! These six outstanding individuals are crossing the stage and picking up their parchments during Spring Convocation, June 6-9, and they're already making an impact on our world. Join us in celebrating all of UM's graduates this year– attend a ceremony in person or stream online.
Fatima Saqib
Fatima Saqib is graduating from the Faculty of Agricultural and Food Science's Human Nutritional Sciences program, aspiring to work in the field of health care.
"Completing a nutrition degree has given me a lot of knowledge on prevention as a model for health and wellness," says Saqib. "I want to take this as a step towards becoming a physician and helping my patients apply a holistic approach to their own wellness."
She maintained the prestigious distinction of being a President's Scholar through all four years of her degree, and she concludes her undergraduate experience with being awarded the Lieutenant Governor's Gold Medal this year, in recognition of her academic and extracurricular achievements in the Faculty of Agricultural and Food Sciences.
She served as a student ambassador for the faculty, as the events co-chair for the Nutrition Education and Community Outreach student group, as the faculty's UMSU representative and within UMSU as part of the governance committee. Between being involved with the student and general communities, she also took on two NSERC summer research positions.
Saqib volunteered in multiple community programs and within hospital environments throughout the pandemic and worked in the field of eating disorders for the last two years of her degree, all of which helped expand her horizons. She explains: "I learned how all food is healthy and how health is so much more than individual nutrients and exercise."
In August, Saqib will be starting medical school and will continue to lean into her passion of understanding health from a broader, holistic lens.
Tyrell Bird
Tyrell Bird's high school student experience was not easy, yet it is crucial to his perspective as an adult and university student. He attempted and dropped out of Fort Richmond Collegiate six times due to an anxiety or panic disorder, which led to him enrolling in an alternative high school with the Pembina Trails School Division. His grade 12 teacher helped instill in him a love of working with and teaching youth. In 2023, Bird is graduating from UM with a bachelor of arts (general) and will go on to become a teacher, hoping to make a positive impact on his future students and carry on the legacy of those who left an impact on him.
Reflecting on his life throughout his degree, Bird cites several high and low notes, from struggling with mental and physical health issues to building a relationship with his fiancé, and everything in between. "I worked so hard to get to this point and I intend on completing this journey," says Bird. He has been offered a placement in the Faculty of Education in Fall Term 2023, and he is eagerly waiting to take his first formal steps towards becoming a teacher.
He shares an important lesson from his student experience that we can all learn from: "I learned the importance of self-care and allowing others to help during times of immense stress. Success is often a team effort."
Gloria Boateng
Graduating with a master of arts in disability studies through the Faculty of Graduate Studies' Inter-Disciplinary Program in Disability Studies, Gloria Boateng has taken another step towards her goal of impacting the world's knowledge on the critical issues of disabilities.
She is focusing on the nature of knowledge acquisition and learning in the area of people living with disabilities, who are one of the most marginalized groups – especially in Third World countries. Boateng has always known that this field of study inspires her the most, having completed her bachelor of science in disability and rehabilitation studies at the Kwame Nkrumah University of Science and Technology in Ghana.
"I took about 70% of my graduate program online as my visa processing was delayed due to the pandemic," says Boateng. Yet she still found many ways to remain embedded in the student experience. She worked as a research assistant throughout her studies, received the Research Completion Award, and was a member of the Ghanian student union, providing emotional support to the community. She also volunteered as a welcome mentor with the International Centre, taking after the mentors that provided support for her as a new international student at UM.
"My advisory committee was also a strong support system and a line of very significant guidance that contributed to my success," Boateng adds. "I was on top of the world when I was presenting findings from my study to my committee." Boateng will now be pursuing her PhD with UM's doctoral program in Social Work and will continue to make an impact on the world's understanding of issues surrounding disabilities.
Mark Mangaliag
There are many goals that Mark Mangaliag wants to achieve in life, but one of the most important being able to help the community around him. With a bachelor of science from the Department of Electrical and Computer Engineering (power and energy system focus), he is excited to graduate and move into his future as an electrical engineer.
This path will allow him to use his technical skills and knowledge in projects and designs that prioritize innovative and sustainable electrical systems. He hopes to provide reliable, stable and affordable access to electricity and thus improve the quality of life of people around him and around the world.
He was a member of several university design teams, helping first-year engineering students grow comfortable with designs and projects, just as his peers and instructors helped him as a younger student. "The passion and drive exhibited by my fellow colleagues and the professors in this program fueled a vibrant learning environment, and I'm grateful to have been a part of this inspiring community," says Mangaliag.
Beyond the UM campus, he volunteered for the Ronald McDonald House Charities Manitoba where he worked directly with the families of children staying at the Health Sciences Centre and helped them through an undoubtedly difficult time. While this role did not directly relate to his studies, Mangaliag values the opportunity to be involved with the community and reminds him of the importance of staying grounded.
Mangaliag will be continuing in his position as a power systems analyst at Electranix Corporation while pursuing a master's degree in the field of power electronics, power systems and renewable energies. Above all, he is excited to continue learning and contributing to a field of study that energizes him.
Soomin Han
The role of policy, advocacy and community engagement in the climate space is what drew Soomin Han to the focus area of policy and law for her bachelor's degree in environmental studies.
"I think policy can be used by community as a powerful tool to address systemic oppression and climate change, and work towards a more equitable and climate-resilient future for everyone," says Han.
Climate policy and the law are more than just an academic focus for Han, they're also a personal investment and a direct reflection of her most important values. As a student, she served as the sustainable development goals (SDG) coordinator for UM's Sustainable Development Solutions Network Student Hub, as UM's UN Academic Impact student representative, as well as the programs lead at the Youth Climate Lab. She also took on internships at UN Climate Change and through the GreenPAC Parliamentary Internship for the Environment. Within the UM community, she completed an Undergraduate Research Award research position, was a student fellow for UM's Centre for Health and Policy SPECTRUM Initiative and worked as a student staff member at Career Services.
Leading by example for everyone around her, from other environmental scientists and climate advocates to youth activists and students alike, Han was named one of the Top 25 Under 25 Environmentalists in Canada. As she also graduates this spring with a minor in political studies, Han's future lies in working within climate policy spaces and earning a master's degree in public policy at McGill University.
Chimdinma Kate Chijioke
During the height of the COVID-19 pandemic, Chimdinma Kate Chijioke worked hard to support more than 250 international student peers by developing a database connecting them to information on academic tutoring sessions, academic advisors and virtual mental health resources. She is the president of the Nigerian Students Association, was involved in the formation of the UM Black Students Union and has a range of off-campus leadership experiences including 3 years with the Girl Guides of Canada and their National Diversity and Inclusion Team.
She will receive her Bachelor of Arts (Advanced) at Spring Convocation 2023 and recently accepted a job offer with Canada Life. Watch as she reflects on how her studies have allowed her to explore her curiosity, pursue her interests and challenge herself.