painting News Archive
May 19, 2023 —
It's a small program that attracts international students to the University of Manitoba and has an outsized influence on the art scene in Winnipeg, Manitoba and Canada. The five artists graduating from the School of Art's Master of Fine Arts program are set to show their work at the 2023 MFA Thesis Exhibition later this month.
+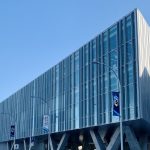 April 12, 2023 —
The innovative and ambitious work of School of Art students is once again on show!
+