exam tips News Archive
December 3, 2020 —
Your final exams are here! You've made it this far, and the Fall Term is almost over. Here are some more tips to help you be successful this exam period. Keep in mind that online exams are very similar to in-class exams, so your preparation should be similar. An online exam is still an official university exam, and that the same academic integrity expectations apply.
+
December 3, 2020 —
Final exams are just around the corner. You can find your Fall Term exam schedule in Aurora under 'My Exams'. Be sure to check out these IST resources, supports and tips to help you navigate online exam tools.  Taking an online exam is really similar to taking a regular exam, so stay positive.  We've put together some tips to help you prepare.
+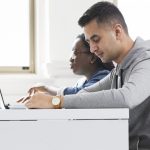 April 15, 2019 —
Academic integrity is very important to students, staff, and the university as a whole
+