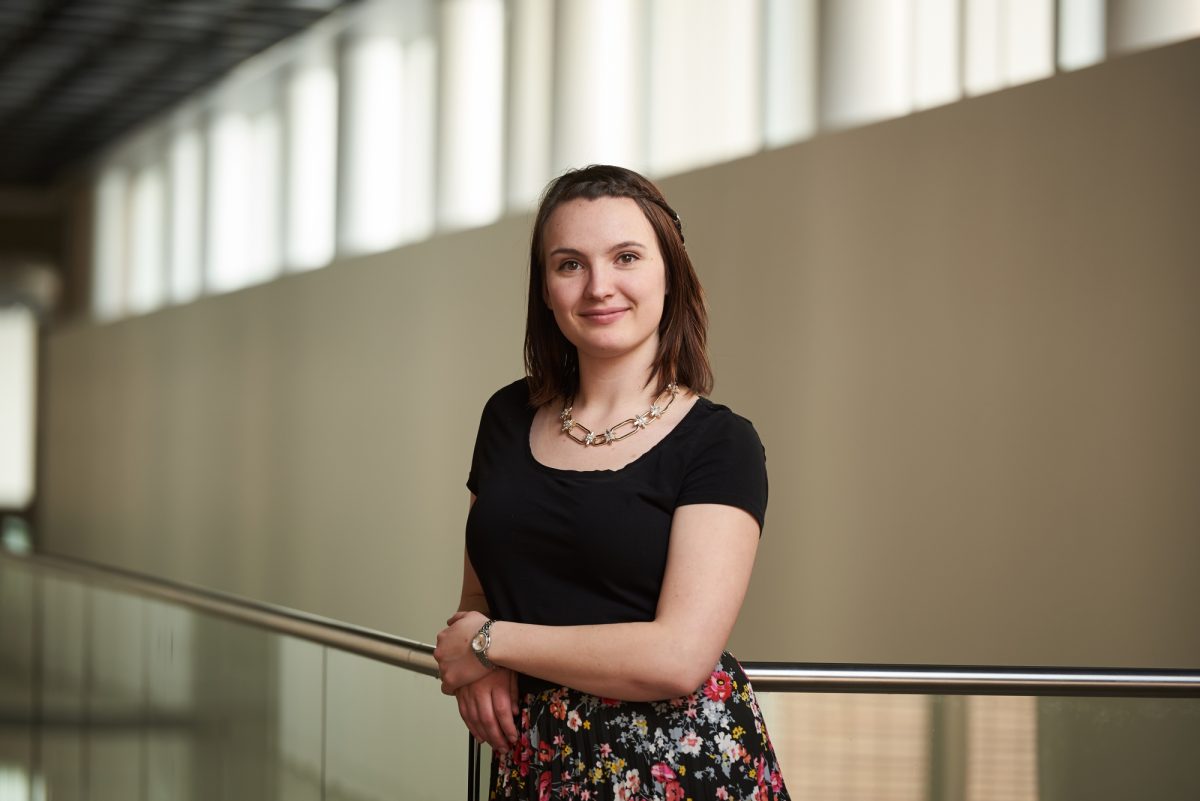 Success through Wellness in Music
November 29, 2019 —
When the call went out for proposals for UM's Success through Wellness grants, the Faculty of Music Student Association (FMSA) knew the grant could help students in the Desautels Faculty of Music.
But there was a problem: they found out about the grant only four days before proposals were due. They got to work, and met over the weekend to brainstorm and craft their vision for the grant, and then drafted the extensive proposal and application.
"Throughout the brainstorming process, we kept coming back to the idea of offering support for the entire musician," says McKenzie Warriner, who was senior stick at the time, and led the initiative.
"While the faculty gives students a fantastic academic and artistic education, we felt that we were missing opportunities to build the wellness and self-care skills that are necessary to sustain an artistic career," continues Warriner, who has since graduated from the Desautels Faculty of Music and is now working on her master's at the Eastman School of Music in Toronto. "Music school culture is built around pushing students to the limit, and it's almost a competition to see who can burn out first."
FMSA was able to get everything in order for their proposal to create the Music and Wellness speaker series, and even submitted it a day before the deadline.
"I was absolutely thrilled when I received the email that our proposal was accepted," says Warriner.
"As our application was so short notice, I wasn't sure we would get approved at all, but they granted us all the funding we asked for! We actually received several comments that our application was very well-thought out, so I think that speaks to the importance of the initiative," she adds.
The Music and Wellness speaker series focused on equipping music students with innovative strategies for maintaining their physical and mental wellness both during their studies and throughout their careers. Speakers addressed a range of topics, from performance enhancement to body awareness.
FMSA designed courses that were inspired by activities students had been exposed to at external summer programs they'd attended, which had included movement exercises like yoga and the Alexander Technique, which focuses on helping participants unlearn the behaviors that negatively affect their posture and can lead to injury.
"Not only does physical awareness prevent stress-related injuries, but it improves musicians' overall well-being. Thus, we really enjoyed bringing in yoga and Feldenkrais classes," Warriner says.
"Another highlight was a presentation by a sports psychologist, who gave us an interesting perspective on performance anxiety and mindfulness," says Warriner. "While the U of M does offer counselling services, there aren't really opportunities to engage with performance psychology, so it was really important to us to give students an introduction to the resources available."
The presentations were so popular that they are running again this year. "We chose to continue with the Wellness in Music series this year because we believe that this topic is so important in every person's life," says Jane Petroff, current FMSA senior stick. "There are unique challenges faced by musicians and music students that need to be addressed."
So far this year, FMSA has hosted two wellness-centred workshops. The first, called "Stress Management for Musicians" was led by mental health counselor Heather O'Neale, who ran two sessions in which she explained the effects of chronic stress on the body and mind, then provided tips for coping with and managing stress, both as a student and a professional musician. Petroff says the turnout was fantastic.
"We were thrilled to see so many students in attendance and participating enthusiastically," she says.
The second workshop focused on self defense, led by trainer Jason Paul, who taught students how to verbally, psychologically, and physically defend themselves against aggression and violence.
In winter term, students can look forward to two yoga sessions with instructor Sam Manchulenko. FMSA is also looking into holding another Feldenkrais workshop, and a presentation on mindfulness to help ease the stress of the end-of-year crunch.
"We hope that students will learn techniques to cope with stress, fatigue, burnout, performance anxiety, and any other mental health struggles that are so common for music students," says Petroff. "We also want them to realize just how normal it is to feel what they are feeling, and how many of their peers are experiencing similar things, so that they feel more connected and less isolated," she adds.
"I hope students leave the workshops with a new perspective on what it means to improve as a musician. Maybe growth doesn't always mean constantly pushing forward – maybe you have to take a step back and put your personal well-being first," says Warriner.
The University of Manitoba is committed to addressing and improving mental health for the campus community. This program was created through the U of M's Success Through Wellness Grants, a part of the Campus Mental Health Strategy. Learn more about what has been done over the past five years by reading the Success Through Wellness 2014-2019 Implementation Report. If you're interested in sharing your feedback, or being a part of the next phase of the U of M's mental health strategy, click here.