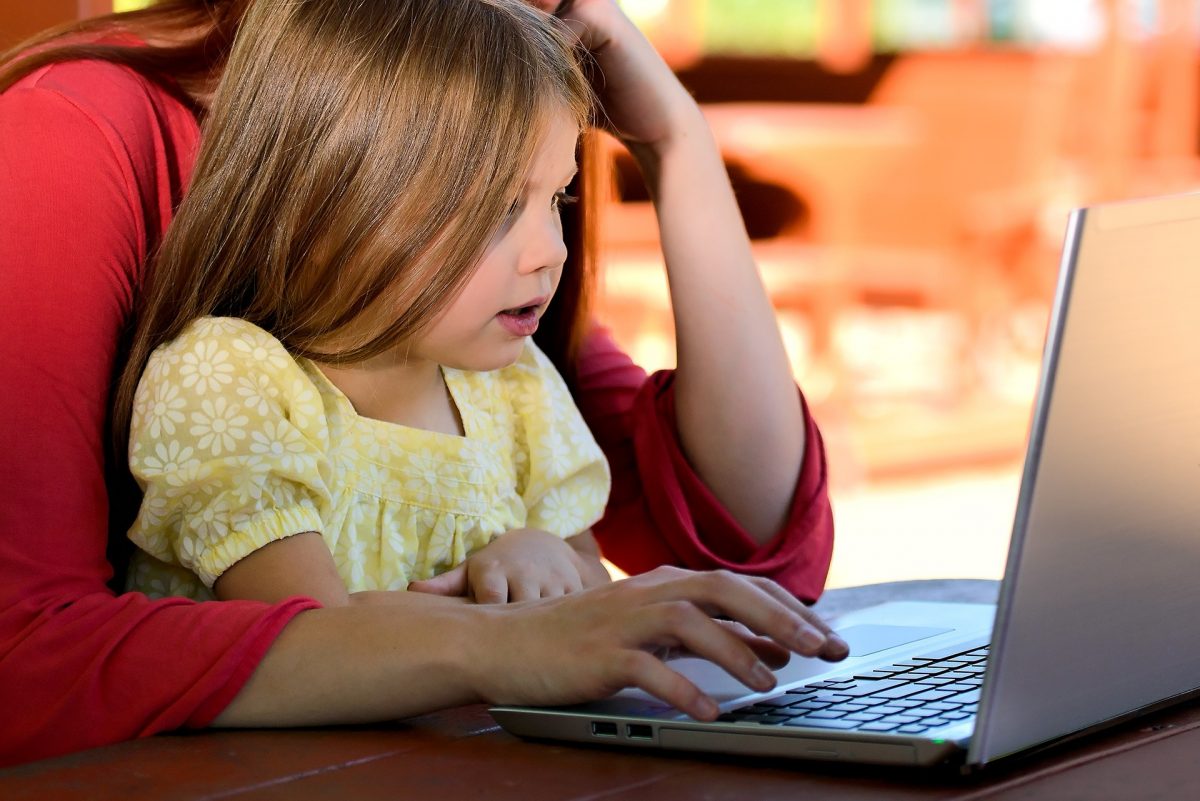 Students finishing Winter Term – with kids at home.
April 23, 2020 —
Finishing the Winter Term is everyone's main goal right now. It's more challenging than ever, but supports are available to you, and the end is in sight. But what about students who can't make their studies their number one priority because that has to be their children? We asked two student-parents how they're balancing the challenging task of finishing their studies with kids at home.
Stacey Netzel: I am a mature student, in my 30s, married with three children. 13, 8 and 5. My oldest has some learning disabilities which adds some challenges during the COVID-19 pandemic while at home. I am currently enrolled in the Bachelor of Science General degree, eventually a major in microbiology.
Beth Glass: I have an 8 month old son named Liam. I am currently on mat leave with him. He is a very happy little boy and keeps me busy. I am in the Family Social Sciences program. I started in 2018 and am working on my degree part time through distance. I am a full time Early Childhood Educator II outside of university.
What are things like for you normally, before COVID-19?
Beth: Normally the balance is difficult but manageable. This is only my second course since having the baby. It was a lot easier when he was a newborn. The older he gets, the less time I have to work on school work. I rely a lot on family and friends to help watch my son when I have assignments or studying to do. I had to find a babysitter when I had an exam on campus.
Stacey: On a "normal" day, prior the pandemic, work/home life balance was easier, while kids were in school, so was I. I worked nights and weekends to keep my weekdays open for classes.
How have things changed in the last month? How are you getting through it?
Stacey: Once the pandemic hit us, the kids' schools closed, university was moved to online, things changed and became stressful. I no longer could work nights; daytime was for my kids. I moved my studies to nighttime, usually between 9 pm-3 or 4 am, which hasn't been easy, I had fallen a bit behind. I was open and honest to all my professors during the challenges, and they have been nothing but supportive and understanding. Some gave me extensions upwards of two weeks on assignments and gave me more tips and focus ideas for studying. Emailing them has been amazing as they reply quickly reliving a lot of stress from my new family life. Huge thank you to my professors during Winter Term 2020.
Beth: I have been trying to include my son in my studies when I can. I read my textbook out loud to him and pretend to teach him my course material to help me study. The biggest challenge is my upcoming exam. I had plans for my mother-in-law to babysit while I wrote but now that is not possible. The exam being online helps a bit but watching an 8 month old and writing a timed exam at the same time is nearly impossible. My son doesn't even nap for 75 minutes at a time. I should mention that my husband works out of town Monday-Thursday so he is only available to help half of the week. I am fortunate that my instructor for the course I am currently in (Lisa Bednar, Family Financial Health) has been very accommodating. My exam is scheduled from 9 am-9 pm on a Thursday. Luckily my husband will be coming home that night so he will be able to watch our son but he wouldn't have returned home until close to 8 pm. Lisa kindly extended my exam writing period to midnight so that I will have enough time to write. Writing an exam late at night after caring for my son all day certainly isn't ideal but I'm just grateful I'll be able to get a couple of hours to focus on it.
Do you have any tips for other students trying to balance priorities?
Stacey: Time and energy do not come easy during these times of uncertainty. That is one thing I learned quickly. My advice to other parent-students (any student) out there, is keep going. These are challenging times, but they help us grow. Discipline and perseverance. Ask for help. Don't lose hope. You will get to the end, and you'll have a heck of a story to go with it.
Beth: I have also lowered my expectations grade-wise. At this point my goal is just to do my best and try to pass. With everything else going on right now you don't need the added pressure of perfect grades.
Beth, as an ECE, do you have any tips for student-parents in particular?
Beth: I think this is an excellent opportunity for parents to role model good study habits and spend time with their children learning while they 'home school'. Create a learning space where you can work together on your school work, enlist your child's help with studying. You could quiz each other and make a fun game out of it. School work can be challenging and frustrating for adults and children on a good day, never mind during a pandemic. Your children can learn a lot about how to overcome adversity and cope with change during this time which might be the most important lesson they learn at home. Finally, enjoy this opportunity to spend time with your children. In a few years it won't matter what grades you got in your courses (especially with the university offering to keep them out of your GPA) but you will remember the special memories you create with your children during this sort of blessing in disguise.
Caregiving responsibilities of children, elders, or other loved ones likely became more challenging with COVID-19. Supports for students, including academic, personal and financial, can be found on our new student Coronavirus webpage. If you are experiencing challenges meeting your academic requirements due to family responsibilities the policies and procedures on the UM's child care website may be applicable. If you encounter difficulty with these policies, please contact Student Advocacy and Case Management.