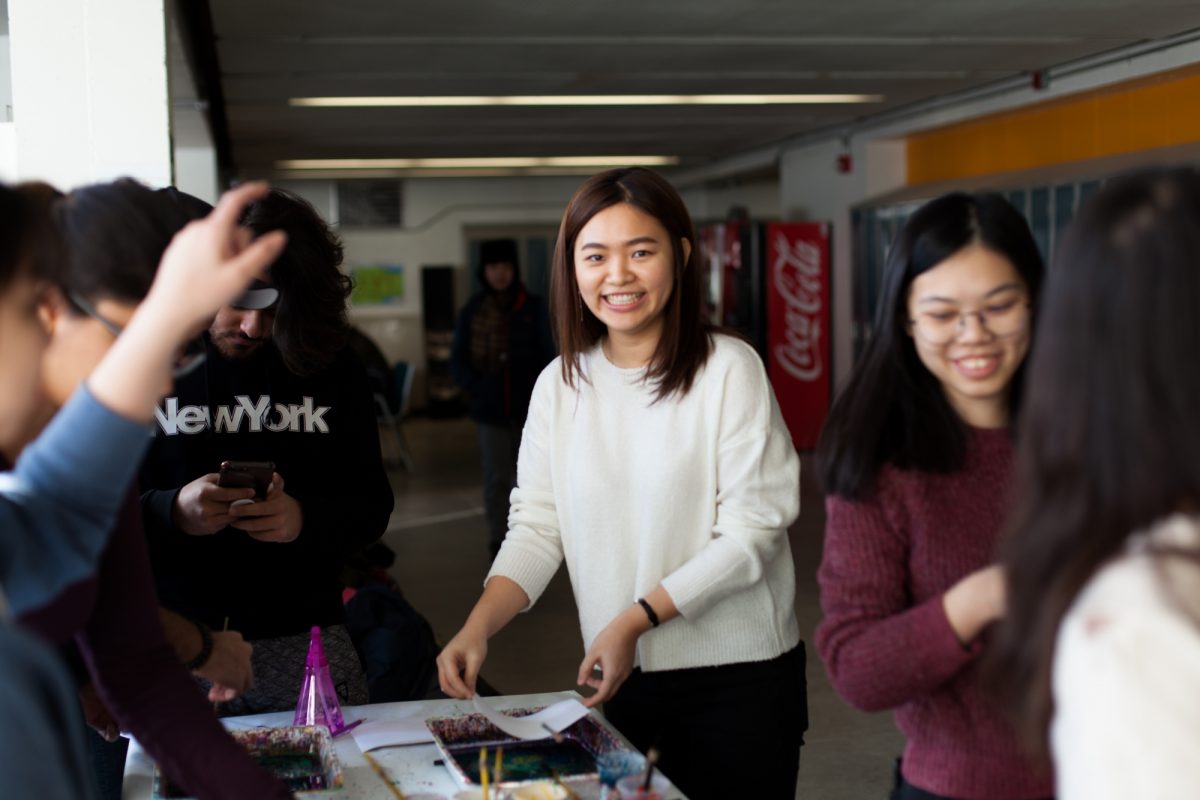 STEAM program provides wellness opportunities for students and staff
Success Through Wellness Grants foster creative STEAM programming in the Faculty of Science
August 9, 2019 —
Science is not only fun, it can make you feel better too. That's the message the Science, Technology, Engineering, Math, plus Art (STEAM) program is sharing with our campus community thanks to a Success Through Wellness Grant it received in 2018.
Five grants valued up to $10,000 were awarded in its inaugural year to areas across the university that foster positive mental health and well-being and create a supportive campus environment.
For their part, the STEAM team worked with a group of multi-disciplinary students and faculty members to generate five projects, all with the goal of helping people find joy, rejuvenate, de-stress and make connections.
"Each project is linked to science in some way," notes Seema Goel, STEAM coordinator at the Faculty of Science. "Mathematics, microbiology, biochemistry, chemistry, physics and botany all played into these projects, highlighting the connections between science and culture."
"The need to make things, be creative, and experiment without anxiety of failure are inherent human desires," says Goel, "not only do they help us shift gears, relax, and help our brains unwind, they also activate new neural pathways, release serotonin and encourage lateral thinking so we remember and learn better. Feeling stressed out? Go make something with your hands, sit in the sun or walk through the greenhouse."
Last fall, STEAM introduced three ongoing programs: Hyperbolic Crochet, Light Up Your Biochemistry and Chair Yoga. In addition to regular programming events, the team also facilitates a number of unique activities throughout the academic year including The Science of Chocolate, paper marbling and holiday card making.
Hyperbolic Crochet is a weekly crochet session on Fridays guided by architecture alumna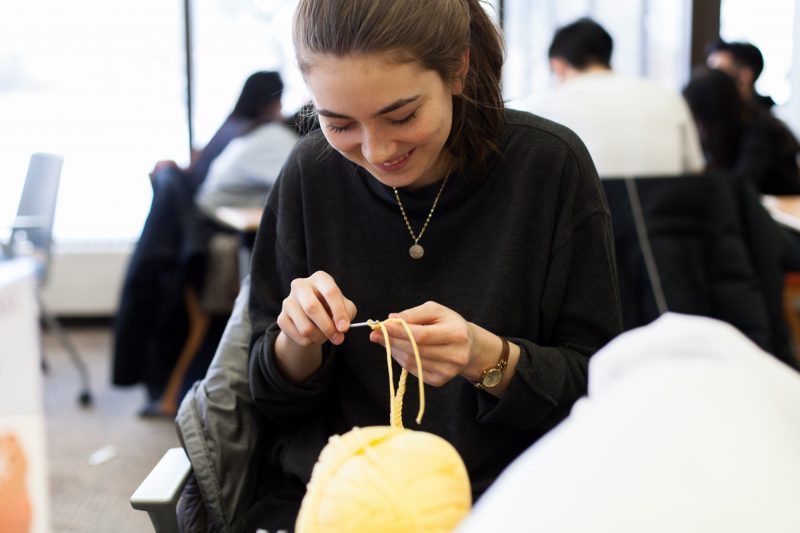 Melissa Van Benthem. It began as an exploration of hyperbolic geometry and quickly gained popularity, expanding to more than 20 regular members. It's an opportunity to gain a skill and work with one's hands, but also a time where friendships are fostered and stress levels drop. Van Benthem produces patterns drawn from microbiology, astronomy and marine biology. This fall the group will be connecting with wildlife conservation groups to make nests for birds and small mammals in rehab centres as part of their crochet fun. This program begins again on September 20th.
Chair Yoga, led by accomplished statistician and certified yoga instructor Dr. Sandra Pereira, offers classes focused on breathing, stretching, relaxation and mindfulness. This rebalancing not only helps the mind, it also affects our biochemistry, by bringing down cortisol levels and increasing serotonin levels. Attended by staff and students, the chair yoga sessions became a weekly retreat.
The Science of Chocolate had two very successful rounds the past two years on Valentine's Day. Hosted by the Buller Greenhouse and collaborating with neurobiology, microbiology, chemistry, genetics and biology, students explored all things chocolate. The event began with a look at the cacao plant, then moved to processing and finally what happens to the brain and body when people ingest chocolate. 200-300 people attended each session and Aschenti Cocoa offered a special tasting opportunity.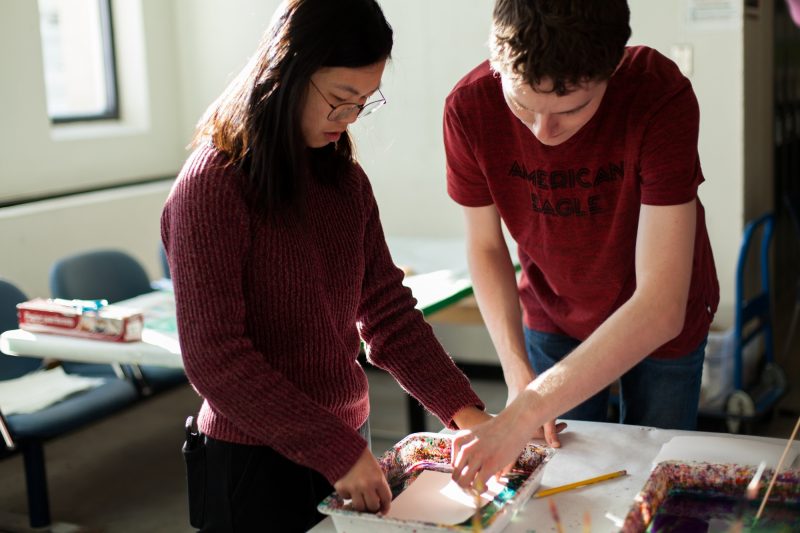 Paper Marbling was the most popular activity held throughout the academic year. After swirling drops of pigment on a viscous surface of carrageenan, participants then pull the colour from the surface onto a piece of paper thus capturing their momentary expressions of fluid dynamics into lasting pieces. Through this activity, the participants experience the physics and chemistry upon which this process relies. Local artist Janet Carroll mentored the STEAM team in this craft and her enthusiasm was infectious.
"Overall, these STEAM programs an opportunity for students and staff to activate their senses," says Goel. "Using science as the lens to engage in these activities and materials reminds us that science is all around us – a way to observe, understand, and effect the world, but also a cultural and social force that relies on dreaming and creativity."
If anyone is interested in getting further info about STEAM events, please email: steam [at] umanitoba [dot] ca
The University of Manitoba is committed to addressing and improving mental health for the campus community. This program was created through the U of M's Success Through Wellness Grants, a part of the Campus Mental Health Strategy. Learn more about what has been done over the past 5 years by reading the Success Through Wellness 2014-2019 Implementation Report. If you're interested in sharing your feedback, or being a part of the next phase of the U of M's mental health strategy, click here.