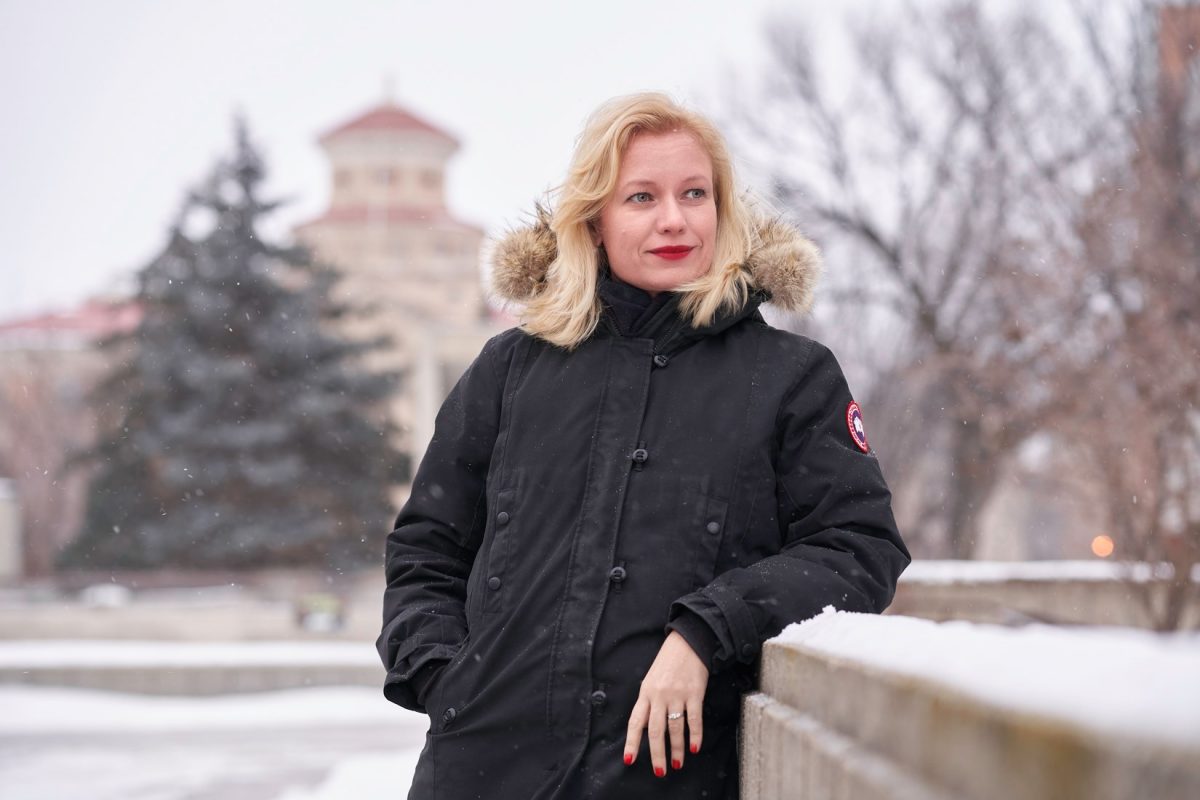 Prof teams up with students for 3 research projects
January 21, 2020 —
Having recently published two journal articles, and a book expected to be released by summer, Assistant Prof. Merli Tamtik credits her students with making research work more enjoyable.
Because education students are often working full time, research projects can be challenging. However, over the past five years, Tamtik has worked with five students through the Undergraduate Research Award program, and Tamtik says each experience has been very positive.
"URAs are great opportunities for faculty members, and the students are committed," Tamtik says.
Tamtik has published two journal articles, including Policy analysis of equity, diversity and inclusion strategies in Canadian universities – how far have we come? in the Canadian Journal of Higher Education in 2019 and this year, the article The political process of international education: Complementarities and clashes in the Manitoba K-12 sector through a multi-level governance lens, was published in Education Policy Analysis Archives. A third publication, an edited book titled, "International Education As Public Policy in Canada," is expected to be released by spring/summer 2020 from McGill-Queens University Press.
Working with then-BEd-student Melissa Guenter was very much a collaboration, Tamtik says.
"She came to me with the idea of looking at internationalization," Tamtik says. "And then, because my work has to do with policy analysis, mostly, I brought in the idea of looking at the policy documents across the U15 to see what initiatives and policy documents that universities put forward in order to enhance equity, diversity and inclusion, including internationalization, across institutions."
Supervisor and mentor
Guenter is thankful for the opportunity to work with a great supervisor and mentor throughout the publishing process.
"I was fortunate enough to not just be part of the research, but also get a glimpse of what it means to organize the findings into an article and summarizing the work we had done over a number of months," Guenter says. "Beyond the rich experiences I have gained through being a URA, having my name on a published article looks great on my resume, especially looking into the future and considering possible MEd programs."
In "The political process of international education…", Tamtik worked with master's graduate Angela O'Brien-Klewchuk, who currently works at a private school that recruits most of their students internationally. Working together, the pair exposes the policy contradictions between Manitoba's previous NDP government and the current Conservative government. They also found diverging policies between the federal Liberal government, which has already fulfilled its commitment to attract 450,000 more international students by 2022, and the provincial Conservative government's contrasting policy capping the number of international students in classrooms to 20 per cent.
A third publication, "International Education As Public Policy in Canada," due to be released this spring/summer, explores the federal and provincial governments approaches to various policies such as global affairs, immigration policy as well as research and innovation policy, as it relates to international education. The book also examines topics such as ethical practices in internationalization, how Indigenization plays a role in international education, among others. Tamtik serves as lead editor for the book, whose editors also include Dr. Roopa Desai Trilokekar, associate professor at York University Faculty of Education, and Prof. Glen Jones, dean at OISE/UT.
A new work-in-progress includes a book chapter in collaboration with Wayne Davies, vice-principal at Glenlawn Collegiate, a 2016 Homecoming lecturer and 2019 Master's of Education graduate. In collaboration with Dr. Tamtik, Davies writes about his experience with the B.O.S.S. Guitar Works Project, a woodworking program he founded while working at Ecole Selkirk Junior High. Students in the program made guitars that were signed by celebrities and auctioned to raise money for the building of the Canadian Human Rights Museum.
"Dr. Tamtik was terrific at explaining what needed to be done and keeping the goal in sight. I found the process challenging yet quite enjoyable as it pushed my understanding of a particularly interesting part of my career by forcing me to reflect deeply upon it," Davies says. "I am excited to see what comes of the work and to read the other chapters in the book. My advice to fellow MEd students and graduates is to accept invitations to write with any of our terrific faculty members if the opportunity arises. You won't regret it!"
The deadline for applications to the Undergraduate Research Award is Friday, Jan. 24. To apply, follow the link at: http://umanitoba.ca/research/experience_research/index.html
Read more about Dr. Tamtik's work and her publications at her website.