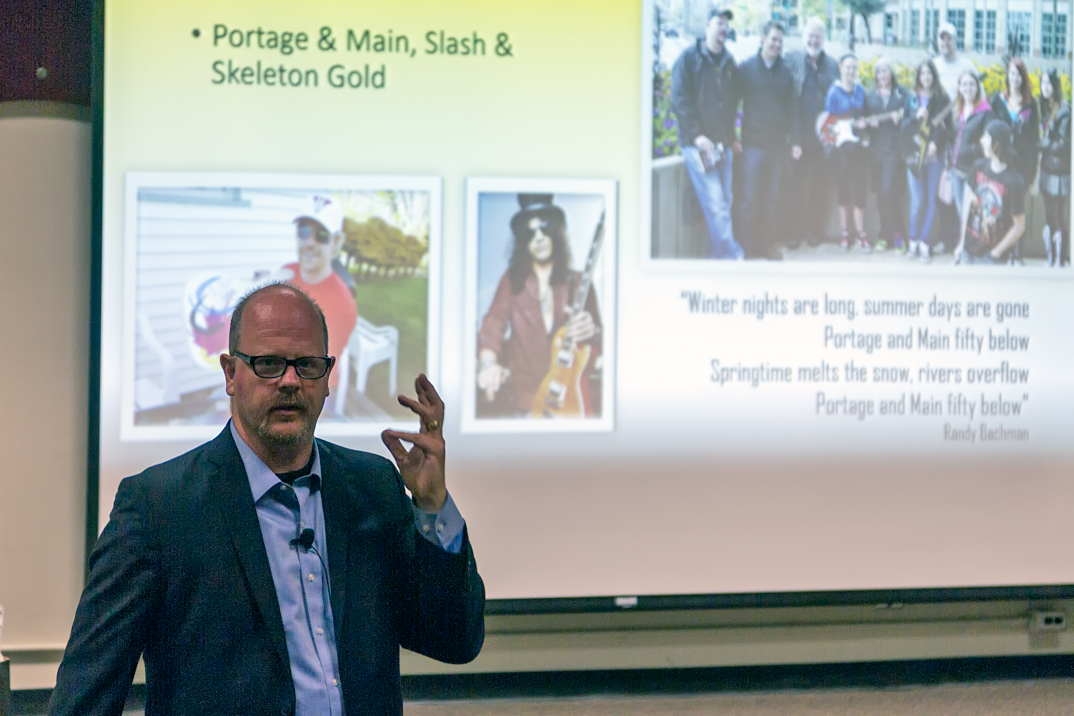 Proud night for former professor
Former prof praises keynote speaker
September 23, 2016 —
Education's Homecoming event was a proud night for former professor Ken Osborne.
Keynote speaker Wayne Davies, a Distinguished Alumni Award Recipient, was one of Osborne's students in the faculty (1989-91).
An instructor for a course called Methods of Teaching History, Osborne also supervised Davies' student teaching.
"I think that the role of the school is to intellectually introduce children to as many facets of the human experience—science, history, literature, languages," Osborne said. "And a big part of that is conditional on exactly what Wayne was talking about—a sense of belonging—whether it's belonging to your class, your school. It's a sense of connectedness with the people who are teaching you and what they're trying to teach you. And for that, it all comes down to the teacher."
A former principal of Ecole Selkirk Junior High, Davies founded the Guitar Works B.O.S.S. program, which saw students at build guitars, get them signed by celebrities and auction them off, raising $175,000 to 65 charities from 2010 to 2013.
Davies shared the story about how the school went from making national headlines from two critical incidents to national fame for the guitar program.
His speech, "Teaching to Create Positive Change," recalled the infamy-to-fame story and shared his secrets with the audience of alumni how he created the cultural changes in his school that made the success of the guitar program possible.
"It takes hard work but it also takes cultural change. It takes relationships," Davies said. "Those kids would have told me to pound salt, but because I had a relationship with them, change happened."
The B.O.S.S. program saw Davies, who now serves as vice-principal at Steinbach Regional Secondary School, named by Toronto's Learning Partnership as one of Canada's Top 40 Principals in 2014, receive the University of Manitoba Distinguished Alumni Award for Community Service in 2015, and a Selkirk Rotary International vocational service award in 2012.