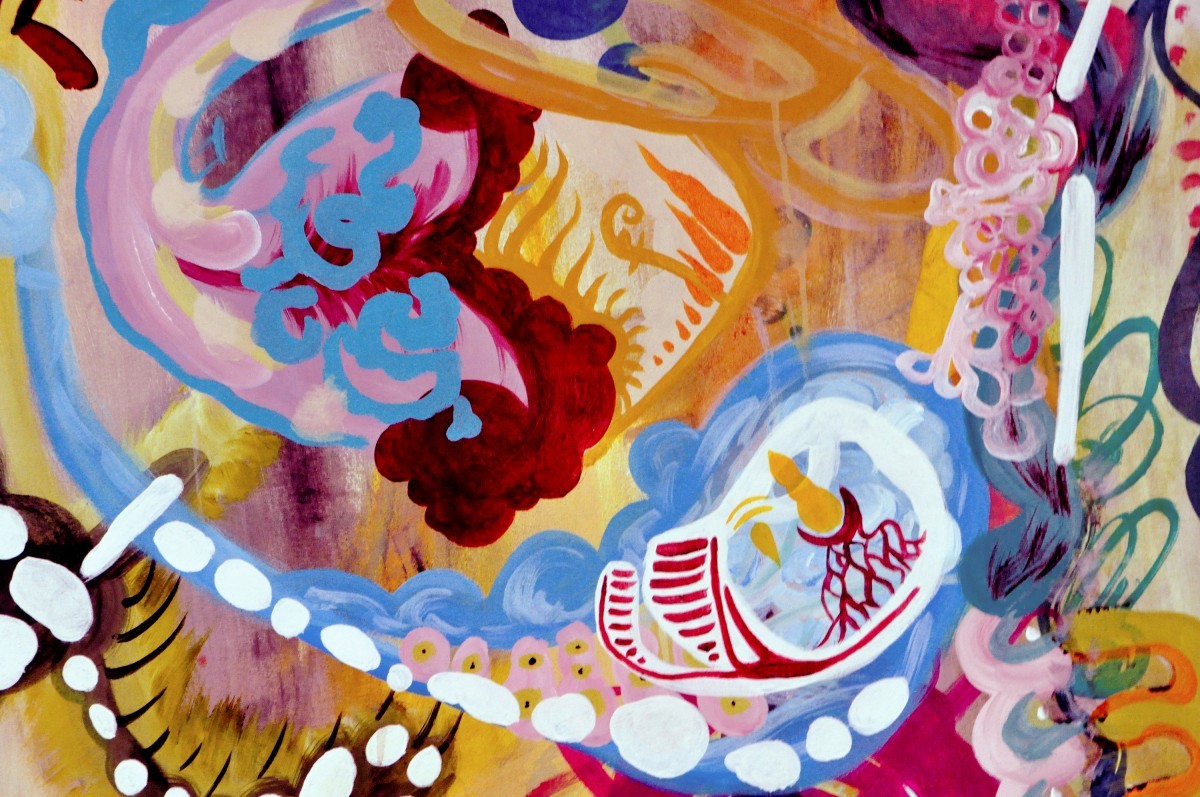 Painting from the unconscious
May 14, 2014 —
If you've walked by the Gallery of Student Art (GOSA) in University Centre over the last week or so, you may have done a double take at the colourful, exuberant paintings inside.
Unconscious Downfall, an exhibition of paintings by Cody Kazimer, is on display at the gallery all this week. A Bachelors of Fine Arts Honours student in the School of Art, Kazimer has just finished fourth year and is set to graduate in June. School of Art painting prof Cliff Eyland taught Kazimer and had this to say about his art: "Cody is a very talented painter. I love his body themed noodling."
UM Today spoke with the painter about this arresting work.
The series has an intriguing title. When did you start thinking about the unconscious in relation to painting and why did you cast these as a series?
The series title is a reference to the way I painted this series. At first I started out with a very basic sketch, but I found that more and more when I was painting them, I would rely less on the sketches and more on my intuition to figure out what went where. So the downfall part is about breaking down the structure of painting to a very basic nature. The unconscious has also had a big influence on how I painted because after I would paint each canvas, I would find more and more patterns and styles that would carry over to each one unintentionally. These paintings are a series just because I had so many ideas about how to approach the concept, I would just run through iterations over and over again until they were done, and then I would move on and on. It became sort of like a production line in my studio, but I still feel I could keep doing them.
How has your painting approach changed over time?
I've painted for about two years now, and I've found I'm more likely to just start painting than to plan out something. The mind does wonderful things by itself without copying from a picture or a sketch! The difference about this series was the scale of them and how many I decided to do, it was ambitious, but I feel like I could have painted hundreds more!


Can you say something about your use of colour and exuberant paint stroke in these pieces? Is this different from previous work you've done?
My use of colour hasn't always been this exuberent. I painted with subtle dull tones when I first started out, but I've found that the longer I paint something the more colorful it gets. I have this bad habit of using every colour in my palette together on one canvas and whenever I'm stuck I just pick a colour that's not yet there.
Who did you work with at the School of Art and can you give one highlight of your program?
The highlight of The School of Art was definitely the other students in my year. In our final year we get studio spaces in the Art Barn, and everyone has their own studio spaces set up, so some have coffee makers, lounge chairs, hammocks, it becomes like it's own village. And when you're stressed out about a painting and you need to take a break, there's always someone to get opinions from, or hang out for an hour or too. I've also had some wonderful professors, people like Cliff Eyland and Deborah Scott, who are some of the most supportive and knowledgeable people I've ever met. The great thing about the classes is that they're small and intimate, so you can really build a relationship with your instructors and get honest feedback.
>> Scroll down for images.