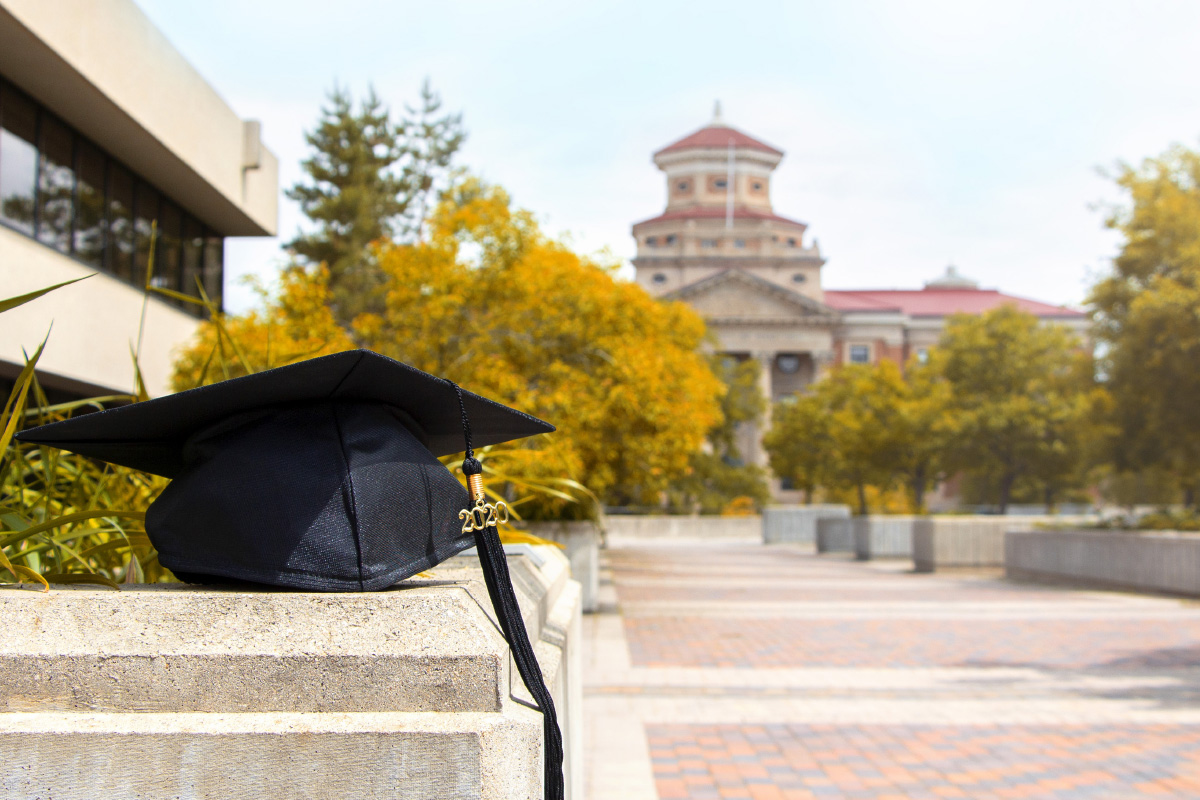 Meet the graduating class of Fall 2020
October 16, 2020 —
Meet some of the incredible members of the University of Manitoba's class of 2020. Fall Convocation will be held this year on October 22, join us via Live Stream (5pm for all degrees and diplomas, 7pm for Extended Education: Certificate Programs).
Karine Martel, Master of Arts, Native Studies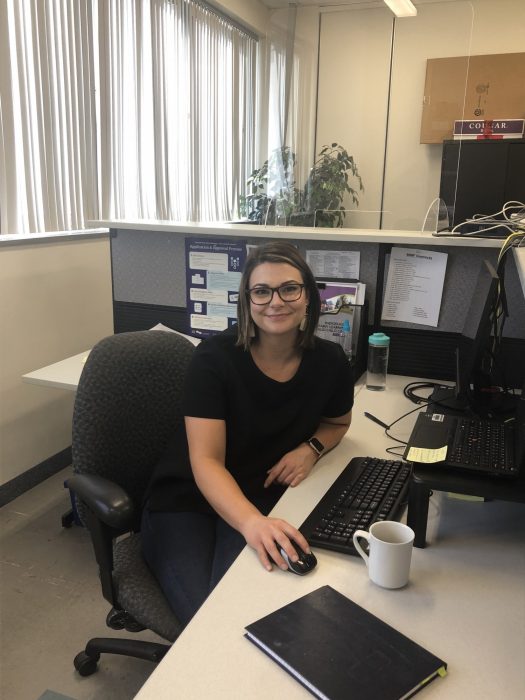 Growing up, Karine Martel always knew she was Métis but was not always able to define her background was because she was always in her small community, surrounded by other similar people with tight-knit families.
She explains: "It was not until I left to go to University in North Carolina that I really came to be able to define what was unique about my experiences and my identity as a Métis woman. I became involved in Indigenous groups there and was always very passionate about explaining my own perception of Métis identity and Métis history to my peers."
Martel did her undergrad at the University of North Carolina at Chapel Hill, majoring in political science and American Indian and Indigenous studies. She came back to UM for the Master's program for her second year was living in the community of God's Lake Narrows, writing her thesis remotely there.
She says that UM afforded her opportunities for growth that greatly impacted her career: "My best memory of attending UM was getting to present my research topic at the Native Studies Colloquium. From the start, my family inspired my research; I wanted to learn more about the Daniels v. Canada case [a Supreme Court of Canada landmark ruling that found Métis and non-status Indians are 'Indians' for the purpose of section 91 of the Constitution Act, 1867] and how it impacted my family, so getting to present that in front of my family in an academic setting brought it all full circle for me."
Martel adds: "It was also a good reminder of how academia and the community must work together, and as scholars engaged in Indigenous research, we must ultimately serve the communities."
Ashlyn Scott, Bachelor of Science in Agriculture, Animal Systems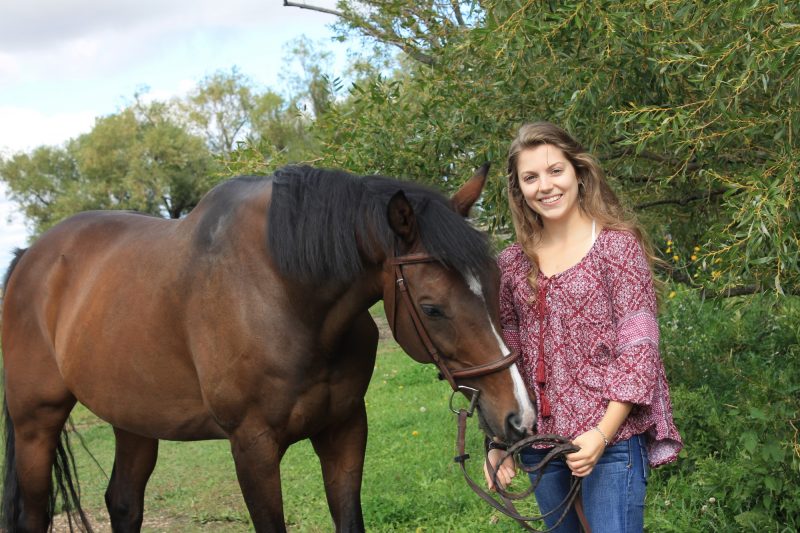 Vincent Massey grad Ashlyn Scott has always been passionate about farming and sustainability since she was young, and always had a love for animals. Graduating this fall from the Faculty of Agricultural and Food Sciences, her career aspirations include the opportunity to teach younger generations about agriculture.
"I would like for future generations to have a better understanding and appreciation of where their food comes from as many people have become disconnected from the agriculture industry," Scott explains.
Scott is already working at a major Manitoba based producer as part of its research and development team. She says it fuels her passion for research and learning while improving production efficiencies within the animal ag industry.
Scott's advice for future students or those just now entering university is simple: "Take your time."
She says: "Whether you're in a two-year diploma program or a program that requires four or more years of specialized schooling, I'd suggest to take time to find your passion. Take your time to learn the material, find a pace that works for you and allows you to enjoy your university experience to its fullest, and take your time in classes and make friends with professors and fellow students."
Matthew Moore, Bachelor of Science in Engineering – Civil
Born in Alberta but raised in Ontario, Matthew Moore says he decided to study at UM mostly because of the ENGAP program for Indigenous engineering students, something very uncommon in Canadian postsecondary education.
"ENGAP helped me immensely with the sense of community that exists in the program," he says.
From a young age, Moore had aspirations to become a civil engineer.
He explains: "I have been aware of the numerous infrastructure deficiencies that many Canadians face, especially those in more rural areas or on Indigenous reserves. Combine this with the effects of climate change that will continue to worsen over the next few decades, and there is a large demand for civil engineers to build and update infrastructure that is resilient to these changes."
Following graduation this month, Moore plans to complete graduate studies here then gain experience and learn on-the-job skills at a company in his field.
He says: "I hope to use the experience I gain to earn my professional engineer designation (P.Eng) in order to make positive impacts on the communities and individuals with whom I am working."
Moore adds: "I hope I can be able to make a positive impact in some way to the people and communities that I am involved with, using the knowledge and credentials I acquired at the University of Manitoba."
Katherine Davis, Asper MBA
Please don't ask Katherine Davis about where she finds her passion.
She finds the question itself difficult to answer.
"I am multi-passionate," she explains, "so it's not an easy answer to provide. I am passionate about interdisciplinary studies because I believe there are many ways to approach problems. I am passionate about learning how individuals and organizations change. And I am passionate about Reconciliation and finding ways that we can move forward to bring about social change."
Davis completed her Bachelor of Arts Advanced degree in Global Political Economy in 2011 and is now graduating with her Asper MBA. Multitalented and a high achiever, she has received a number of scholarships and awards, including the RBC Award in Indigenous Business Education, the Whiting Indigenous MBA Scholarship, the Asper MBA scholarship, and the Schwartz/Reisman Scholarship.
She says one of her best learning experiences in Asper was being a part of the President's Student Leadership Program: "I loved this year-long program because I got to meet so many business and community leaders from across the province, many of whom I continue to be in contact with. I have formed many forever connections and I continue to be inspired to do better."
Among those who inspired and supported her, Davis names two faculty members in particular.
"Peter Pomart, director of the Indigenous Business Education Partners program has guided me along the path of reclaiming my Métis identity," she says. "He was both a classmate and mentor, and always has had a different perspective that made me reflect on the deeper meaning of an issue. He has a great ability to be candid and open, and truly sees the potential in each IBEP student."
Davis also praises the work of Dr. Suzanne Gagnon, Canada Life Chair in Leadership Education, director of the James W. Burns Leadership Institute, and a member of Women Entrepreneurship Knowledge Hub Manitoba.
"Herself passionate about leadership, Suzanne was integral to my last year of the MBA program," Davis notes. "She helped me see my potential as a leader, instilling in me much more confidence."
Davis currently works in change management at UM and says her job aligns very well with her passion, values and skills.
"This world is changing quickly and it needs you to be part of that change. Aligning with your passion and values is more important that sticking to a linear path," she says.
Furthermore, her advice for students training to be new leaders flows directly from her experience at UM: "Be curious and continually seek out opportunities to continue learning. Start taking action before you know the exact path, set high standards for yourself and be open to the many different possibilities of how you can achieve your outcome."
She adds: "If your heart is beating quickly and you are nervous to speak up­­­—speak up anyway. Practice using your voice, because you will get so much more out of your learning by engaging in discussion."
"I hope I can empower individuals to see their potential for change and support them to act in alignment with that potential."
Alexander Hammond, Post-Baccalaureate Certificate in Aerospace Program Management, Extended Education
Alexander Hammond first graduated from UM in 2010 from the Faculty of Engineering mechanical engineering program, with the aerospace option. He was quickly hired with Magellan Aerospace in Winnipeg, settled down, and started a family.
As an engineer and deputy project manager with Magellan, he was encouraged to continue advancing in his field and the company sponsored his return to UM in pursuit of a post baccalaureate certificate in aerospace program management and a cumulative GPA of 4.3.
Hammond explains: "Ever since I went to an airshow as a toddler, I have loved everything about flight; the aerospace industry was not only an instant fit, but was also technically challenging. After a decade in the field, I have learned that the challenges are not only technical and that success in today's world requires a concerted effort from all areas of expertise. I discovered the central role that program management plays in coordinating that effort, and I was drawn to both its multi-disciplinary nature as well as the fresh set of challenges it presents."
He admits, however, that without encouragement from his family and coworkers, he would not have been able to achieve his goal.
He says: "I owe a great deal to my wife, Janelle. As I continued to work full-time, my schooling consumed many evenings and weekends. Not only did she take on a heavier parenting load, her support and encouragement kept me going. The instructors in my program were all highly experienced and brought a wealth of industry knowledge to complement my studies. Their input and guidance was greatly appreciated, as was the support of my employer and sponsor, Magellan Aerospace.'
Hammond adds: "Thank you all for believing in me."
Don't forget to check our UM Student Instagram to learn more about some of the students graduating on October 22. You can also join the 'Convocation conversation' on social media by following #umanitoba2020.