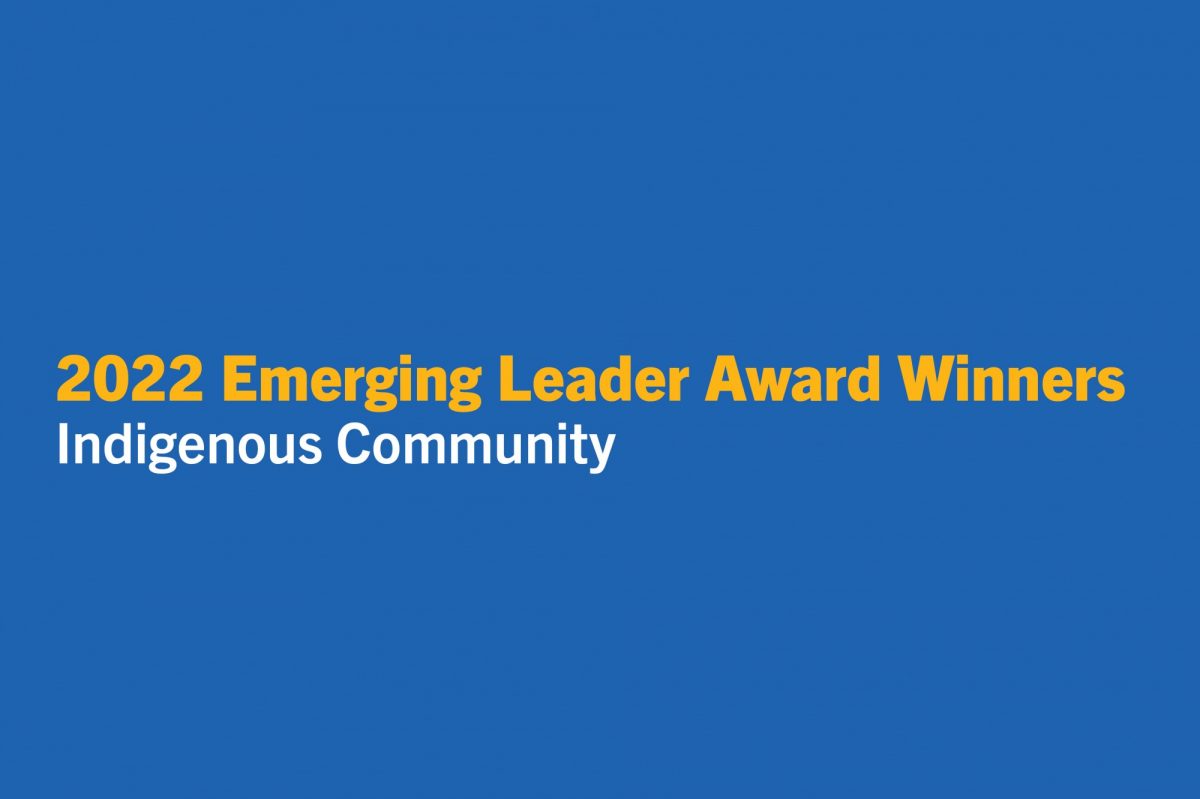 Meet the 2022 Emerging Leader Award Winners – Indigenous Community
June 21, 2022 —
For our final installment of Emerging Leader Award announcements, we will take some time to acknowledge the inspiring Indigenous student leaders that are agents of change within the UM Indigenous community. We caught up with Raven Morrisseau and Ishkode Catcheway to find out more about what their leadership journey means to them.
Morriseau is a fourth year undergraduate student in the Faculty of Arts. She has experience in representing Indigenous students on the Arts Student Body Council and on the University of Manitoba Indigenous Students Association (UMISA). She has been a mentor in the Neechiwaken Indigenous Peer Mentor program, a participant in the Indigenous Circle of Empowerment and the Indigenous Content Committee at UM. When asked what she learned through her leadership involvement at UM, she reflected on how important connection is, especially during the past two years of the pandemic. "I have learned the importance of actively listening, […] in leadership roles, the most important thing you can do is listen. My role is to help and serve students and if I can't do that, I shouldn't be there".
Morriseau said her family and the Indigenous community are who inspire her to continue to lead because they have shaped her into the person she is today. When asked about her life motto, Morriseau lives her life by this encouraging philosophy: "just go for it and see what happens".
Catcheway is a third year undergraduate student studying in the Rady Faculty of Health Sciences and has experience in being a mentor in the Neechiwaken Indigenous Peer Mentor program, a participant in the Indigenous Circle of Empowerment and the communications coordinator for UMISA. When asked about what she learned in her leadership journey at UM, she said, "Throughout all the various associations and clubs I have been involved with at the university, I have learned that there is still a lot of work to be done when it comes to Indigenous relations at the university. Even though it has come a long way, there is still a long road ahead of us".
When asked about what inspires her to continue her leadership, Catcheway shared that she is the oldest of six siblings, the first to graduate high school and university in her family and the first generation to not attend residential or day school. Catcheway added, "I guess what inspires me to continue my academic journey is being able to not only take up spaces where my mom and grandma weren't ever wanted to be in, but also give my younger siblings and cousins something to look at and draw from. That there is more than what they see portrayed in the media and they are more than that".
Congratulations once more to all of the Emerging Leader recipients for the 2021-2022 academic year. Emerging Leader Award applications will open again next year for those interested in applying.
Learn more about the Emerging Leader Award here.
SELECTION COMMITTEE
Rebeka Gauthier
Katherine Chimney
Jaclyn Forbes
Judy Piasta
Justin Rasmussen
Leah Deanne
Lisa Tinley
Matthew Semchyshyn
Sherry Peters
Bailey Hendry
UNDERGRADUATE STUDENT RECIPIENTS:
Gillian Laninga, College of Nursing
Randi Roy, Faculty of Science
Lauren Slegers, I. H. Asper School of Business
Aseespal Sehgal, Faculty of Science
Alex Rana, Faculty of Arts
Fardeen Zareef, Faculty of Arts
Miray Eskandar, Rady Faculty of Health Sciences
Shawn Singh, Faculty of Law
Camryn Anderson, Faculty of Arts
Chloe McElheron, Faculty of Science
Michael Badejo, Faculty of Law
Joseph Geodisico, Rady Faculty of Health Sciences
Amy Spearman, Faculty of Arts
Juanita Garcia, Faculty of Science
JR Salinas, Dr. Gerald Niznick College of Dentistry
Cassadra Lu, I. H. Asper School of Business
Raven Morriseau, Faculty of Arts
Rebecca Seales, Faculty of Science
Hannah Belec, Faculty of Arts
Neelam Shahzadi, I. H. Asper School of Business
Robin Mann, Faculty of Science
Rohit Gupta, Faculty of Arts
Ameerah Andaya, Faculty of Social Work
Celeste Petrick, Faculty of Arts
Cleche Kokolo, Faculty of Arts
Esfir Goncharova, I. H. Asper School of Business
Geoffrey Pagcaliwagan, Faculty of Science
Hajrah Ata, Faculty of Science
Kasen Neufeld, Faculty of Social Work
Sophie George, Faculty of Arts
Cindy Atayan, Faculty of Science
Takudzwa Mushosho, Faculty of Arts
Annie Jiang, Faculty of Science
Morgan Traa, School of Art
Olivia Plotnik, Faculty of Arts
Rashi Chhabra, Faculty of Science
Taylor Catcheway, Rady Faculty of Health Sciences
Towani Mutale, Faculty of Arts
Megan Crooks, Faculty of Science
Prabhleen Maingi, I. H. Asper School of Business
Zackary Holmberg, Faculty of Science
Doris Goubran, Rady Faculty of Health Sciences
Fares Hossain, Faculty of Science
Kevin Wong, I. H. Asper School of Business
Rushie Tyagi, Faculty of Science
Serena Phillips, Faculty of Science
Amirali Paknahad, Dr. Gerald Niznick College of Dentistry
Andrea Abellera, Faculty of Science
Arko Dutta, I. H. Asper School of Business
Adam Kowal, Faculty of Law
Faith Olarinde, Faculty of Kinesiology and Recreation Management
GRADUTE STUDENT RECIPIENTS:
Bonn Alvarez, College of Nursing
Vimala Bharathi, Faculty of Agricultural and Food Sciences
Thilini Dissanayake, Faculty of Agricultural and Food Sciences
Graham Taylor, I. H. Asper School of Business
Pamela Ryan, Faculty of Science
Kristine Doell, Faculty of Graduate Studies
Kevin Oliver, Faculty of Graduate Studies
Kayla Kostal, Rady Faculty of Health Sciences
Renée Boily, College of Nursing
Mehraz Sarker, Faculty of Arts