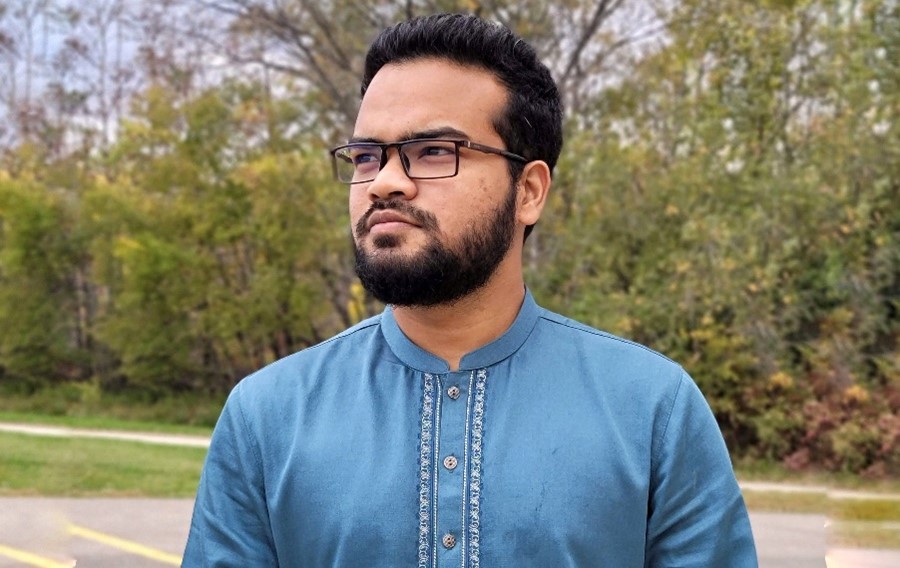 Meet the 2022 Emerging Leader Award Winners – Graduate Students
June 15, 2022 —
The Emerging Leader Award was introduced in 2006 to recognize the important work and outstanding contributions that student leaders make at UM and our communities. After 16 years it is a honour to recognize this year's cohort of student leaders for their commitment to furthering UM's educational mission by contributing to the social, cultural and economic well-being of communities on or off-campus. These students encourage cross-cultural understanding and demonstrate sustained leadership and initiative. Today we feature one of our outstanding Emerging Leaders: Mehraz Sarker, Second year graduate student in Sociology and Criminology (Faculty of Arts).
Mehraz Sarker's leadership journey started in 2015, where he gained experience leading a team to build a school and mosque in the small community of Nawapara, Bangladesh. The experience inspired him to get involved with the UM Community Engaged Learning (CEL) program where he volunteered with community organizations and participated in CEL's Land and Water Based Education program.
Throughout his leadership involvement at UM, Sarker noted, "For me, leadership starts with community and change. To practice leadership, engage and share experiences with diverse communities is significant."
When asked what inspires him to continue his work Sarker indicated it's the drive to bring meaningful change to the community. He said, "Leadership is a hard and complex journey, which does not always give you what you want. However, even a small change within the community is a significant source of hope for me, […] throughout my leadership journey, the responsibility to share knowledge, experiences and build capacity with the next generation keeps me moving."
Upon reflection on how UM has supported his leadership journey, Sarker said, "The University of Manitoba provides extensive scope and opportunities for students to exercise leadership, such as workshops, various engagement programs, volunteer positions and most significantly, a diverse meeting place for various community members."
Congratulations to all the students who received the award this year and thank you to the selection committee for your work choosing this year's Emerging Leaders. Learn more about the Emerging Leader Award here.
SELECTION COMMITTEE
Rebeka Gauthier
Katherine Chimney
Jaclyn Forbes
Judy Piasta
Justin Rasmussen
Leah Deanne
Lisa Tinley
Matthew Semchyshyn
Sherry Peters
Bailey Hendry
UNDERGRADUATE STUDENT RECIPIENTS:
Gillian Laninga, College of Nursing
Randi Roy, Faculty of Science
Lauren Slegers, I. H. Asper School of Business
Aseespal Sehgal, Faculty of Science
Alex Rana, Faculty of Arts
Fardeen Zareef, Faculty of Arts
Miray Eskandar, Rady Faculty of Health Sciences
Shawn Singh, Faculty of Law
Camryn Anderson, Faculty of Arts
Chloe McElheron, Faculty of Science
Michael Badejo, Faculty of Law
Joseph Geodisico, Rady Faculty of Health Sciences
Amy Spearman, Faculty of Arts
Juanita Garcia, Faculty of Science
JR Salinas, Dr. Gerald Niznick College of Dentistry
Cassadra Lu, I. H. Asper School of Business
Raven Morriseau, Faculty of Arts
Rebecca Seales, Faculty of Science
Hannah Belec, Faculty of Arts
Neelam Shahzadi, I. H. Asper School of Business
Robin Mann, Faculty of Science
Rohit Gupta, Faculty of Arts
Ameerah Andaya, Faculty of Social Work
Celeste Petrick, Faculty of Arts
Cleche Kokolo, Faculty of Arts
Esfir Goncharova, I. H. Asper School of Business
Geoffrey Pagcaliwagan, Faculty of Science
Hajrah Ata, Faculty of Science
Kasen Neufeld, Faculty of Social Work
Sophie George, Faculty of Arts
Cindy Atayan, Faculty of Science
Takudzwa Mushosho, Faculty of Arts
Annie Jiang, Faculty of Science
Morgan Traa, School of Art
Olivia Plotnik, Faculty of Arts
Rashi Chhabra, Faculty of Science
Taylor Catcheway, Rady Faculty of Health Sciences
Towani Mutale, Faculty of Arts
Megan Crooks, Faculty of Science
Prabhleen Maingi, I. H. Asper School of Business
Zackary Holmberg, Faculty of Science
Doris Goubran, Rady Faculty of Health Sciences
Fares Hossain, Faculty of Science
Kevin Wong, I. H. Asper School of Business
Rushie Tyagi, Faculty of Science
Serena Phillips, Faculty of Science
Amirali Paknahad, Dr. Gerald Niznick College of Dentistry
Andrea Abellera, Faculty of Science
Arko Dutta, I. H. Asper School of Business
Adam Kowal, Faculty of Law
Faith Olarinde, Faculty of Kinesiology and Recreation Management
GRADUTE STUDENT RECIPIENTS:
Bonn Alvarez, College of Nursing
Vimala Bharathi, Faculty of Agricultural and Food Sciences
Thilini Dissanayake, Faculty of Agricultural and Food Sciences
Graham Taylor, I. H. Asper School of Business
Pamela Ryan, Faculty of Science
Kristine Doell, Faculty of Graduate Studies
Kevin Oliver, Faculty of Graduate Studies
Kayla Kostal, Rady Faculty of Health Sciences
Renée Boily, College of Nursing
Mehraz Sarker, Faculty of Arts