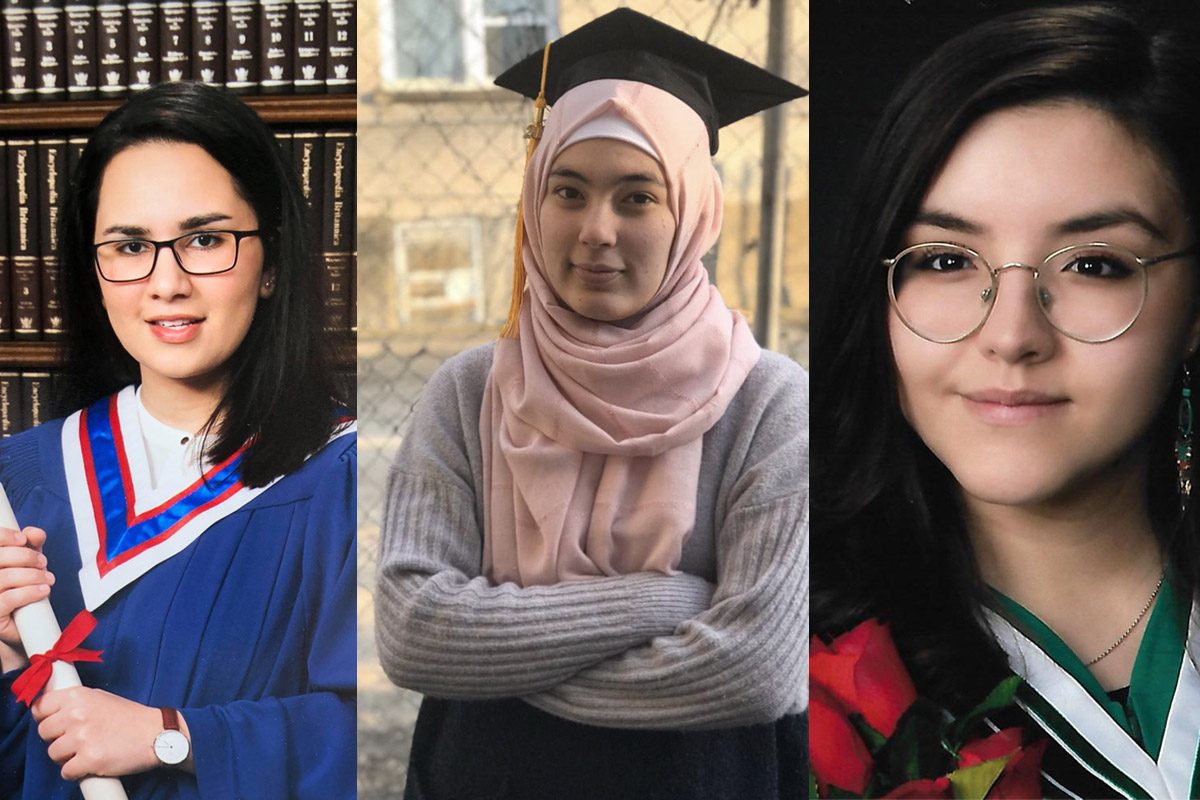 Meet the 2020 Leaders of Tomorrow
May 26, 2020 —
University of Manitoba's BMO Financial Group Leaders of Tomorrow and Indigenous Leaders of Tomorrow scholarship recipients were awarded to nine individuals who showed far-reaching abilities.
The recipients are high school students who showed continued community involvement, academic giftedness and outstanding leadership potential in order to receive the scholarship. Recipients were required to present a minimum 90% average based on a specific list of grade 11 courses. Each scholarship is valued at $16,000, allocated over four years of study.
"Our recipients this year made impactful impressions on the interview panel," said Jane Lastra, Director, Financial Aid and Awards. "They demonstrated countless hours of community engagement and strong leadership qualities. Each one of them show far-reaching abilities, and the passion to be future leaders of tomorrow. They are excited to begin their studies with the University of Manitoba and continue to volunteer both on and off campus."
The 2020 BMO Financial Group Leaders of Tomorrow Scholarship recipients are Aya Alshareh, Chinemerem Chigbo, Toni Koshowski, Liat Schultz, Hayley Turner, and Josephine (Sijun) Zhao.
"This will make my university path much easier," said Leaders of Tomorrow recipient Aya Alshareh. She plans on eventually applying for a master's degree and says this will help her get there financially, "I don't have to delay my graduation by adding extra years because of the pressure of working and studying at the same time."
Alshareh will be pursuing her dream of becoming an engineer with the goal of one day helping rebuild infrastructure in cities devastated by war and unrest. Originally from Syria, Alshareh spends her time supporting refugee children and students through volunteering as a group leader with Kurdish Initiatives for Refugees Assocation. "Being involved in these leadership activities allow me to give back to newcomers who may be experiencing challenges like I did when I first arrived in Canada."
The 2020 BMO Financial Group Indigenous Leader of Tomorrow Scholarship recipients are Amanda Chambers (Métis), Elora Cromarty (First Nations), and Alicia Jost (Métis).
"To me, this award means that all my hard work has finally paid off," said recipient Elora Cromarty. "I am so grateful for this opportunity. This award will allow me to focus on my studies instead of worrying about financial issues."
Cromarty plans to utilize the supports provided by Migizii Agamik – Bald Eagle Lodge, Access Program, and other supports for Indigenous students at UM while pursuing linguistics.
"The linguistic program works with Indigenous languages in the area of Manitoba, which is important to me because my mother tongue is the N dialect of Cree in Northern Manitoba." Cromarty hopes to better understand how languages are structured, so she can hopefully one day develop resources and prevent the extinction of Indigenous languages.
UM is excited to announce its first BMO Financial Group National Leader of Tomorrow Scholarship recipient, Habibba Mohamed.
"We are absolutely thrilled to be welcoming Habiba to the University of Manitoba this fall," said Kerri Gregoire, Lead Student Recruitment Officer. "As our first national recipient we are excited to diversify our Leaders of Tomorrow society and we know Habiba will represent us well back in her hometown, Surrey BC."
Habiba Mohamed lived in Egypt during her middle school years and saw first-hand how many people were living below the poverty line. After witnessing how impoverished her community was, she began volunteering for numerous non-profits including the Egyptian Food Bank. In the past year, she raised over $2000 and has traveled to Egypt to distribute meals for those in need.
"This award is undoubtedly an exceptional foundation for me to build on and will definitely help me in taking steps to pursue my career goal to establish a non-profit to rally against the injustices keeping so many people living in poverty."
Become a Leader of Tomorrow
Visit the Financial Aid and Awards website for more information on the BMO Financial Group Leader of Tomorrow scholarships and the BMO Financial Group Indigenous Leader of Tomorrow scholarships.