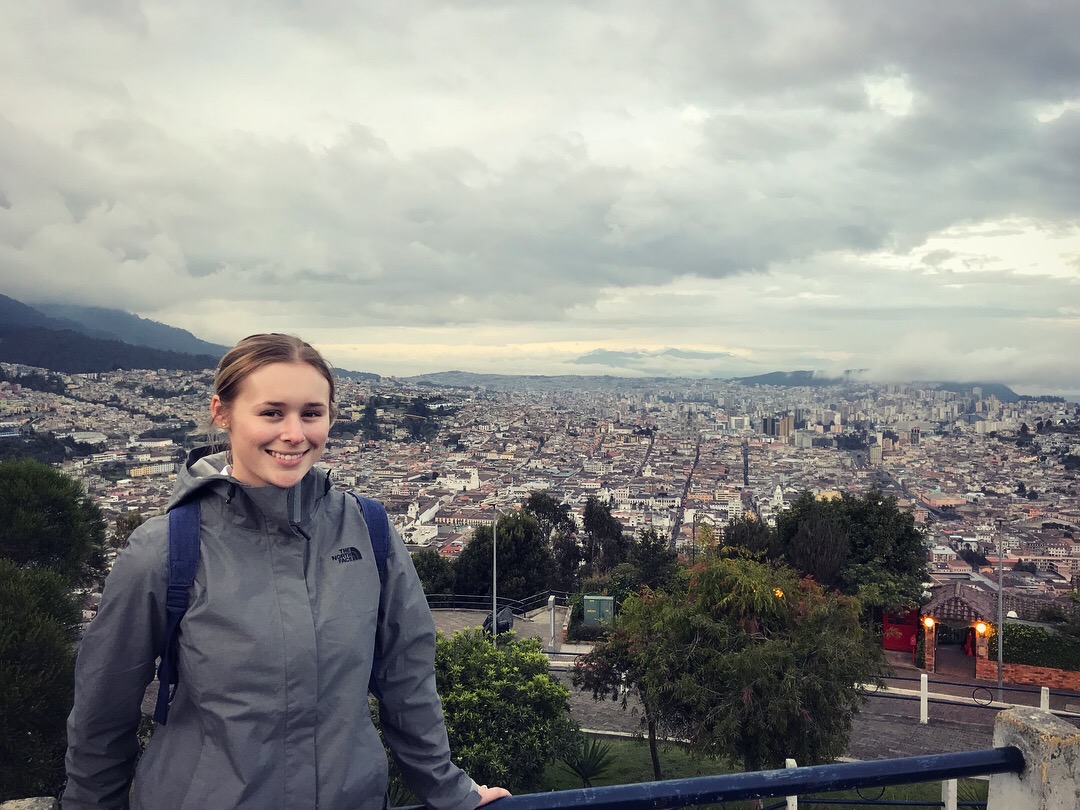 Meet the 2020 Emerging Leaders – Part 3
Congratulations Again to this Year's Emerging Leader Award Recipients and Thank-you to the Selection Committee
July 24, 2020 —
This is the final article of the three-part Meet the 2020 Emerging Leaders series. Congratulations again to all the recipients of the Emerging Leader Award.
Among the 2020 Emerging Leaders recipients is Jennifer Simone, an undergraduate student in the Faculty of Science. Simone recognized the need for a free on-campus cooking class, and worked with the Campus Food Strategy Group to help provide University of Manitoba students this opportunity. Simone as a Student Ambassador for Science Co-op worked diligently to encourage networking between potential employers and students, as well as prepared students for these employment opportunities by aiding them in their professional development. The commitment and enthusiasm Simone showed in this Student Ambassador role allowed her to be selected for the UM Co-op Student Champion Award.
When asked how has the University of Manitoba supported her leadership journey Simone said "The U of M has facilitated this journey of self-discovery for myself and many others by offering ample sub-communities for students to learn from and give back to, in addition to opportunities to recognize and celebrate students' achievements in areas beyond academics, such as this award."
Laura Lucas from the Clayton H. Riddell Faculty of Environment, Earth, and Resources leadership experiences began with a 2018 trip to Ecuador where she was able to facilitate workshops through Community Service-Learning (CSL), and in the Welcome Program as a Mentor to new international students. Lucas has volunteered at the Australian Progress Conference, and a climate change festival called ART+CLIMATE=CHANGE while on exchange in Australia. On campus, Lucas has hosted drop-in informational sessions at the International Centre, promoted her CSL experience on Instagram and in-class presentations. Lucas has even received an undergraduate research award for her project on the Rainbow Community Garden, where she showed how the garden helps Winnipeg's refugee and immigrant population transition into the community, and the sort of challenges they experience. Lucas has also pursued another project for the Southern Chief's Organization Youth Council related to language revitalization among Indigenous youth.
When asked what inspires Lucas to continue she said "I'm inspired to continue being an advocate for cross-cultural exchange because, as an environmental studies graduate, I know that a lot of the problems facing the world require global cooperation. The more we can understand what is going on in different parts of the world, the more empowered we will be to work together to find solutions."
Sari Glow has served as the head programming coordinator for Science Rendezvous for two years, leading a team of ten individuals over the course of 8 months, collaborating with other faculties and community members. As a liaison between the public and volunteers within this role, Glow has shown excellent interpersonal and problem solving skills.
When Glow was asked about a quote or philosophy to live by Glow said "A quote that inspires me is: "If you have some power, then your job is to empower somebody else" – Toni Morrison. My personal philosophy is to lead by example with patience, kindness and open-mindedness, and to support and empower others as they develop into leaders. Collaboration and mentorship are key components of leadership. Leadership, as I have experienced as the Head Programming Coordinator for Science Rendezvous, involves seeding an idea in a group of people and giving others space to help grow that idea. It has been imperative that as a leader I am able to direct but also listen to direction and adapt my approach based on suggestions or constructive criticism from others."
Nathan Wilson a Price Faculty of Engineering student joined the University of Manitoba Engineering Society (UMES) in 2017 as a Frosh Integration team member in the interest of practicing his values relating to student engagement and inclusion. Later, Wilson invested himself further into UMES as Head Director of the Publications team, and was elected as Vice Stick Communications (VSC) in 2019. In the VSC role, Wilson led a sponsorship package overhaul and website update, while implementing strategies that saw a 37% increase in UMES social media engagement. This led to Wilson accepting a position as the Media & Marketing Director for the student-led 2020 Canadian Engineering Competition, where he experienced many facets of leadership. Currently, as the newly appointed Vice Stick Corporate Relations, Wilson has plans of improving UMES visibility within the community, and bringing the Conference on Diversity and Engineering (CDE) to Manitoba with help of the recently established CDE Development Committee.
Wilson was asked what he learned through leadership involvement at the University of Manitoba, and he stated "Through my experience in the University of Manitoba community, I have found that the rewards of involvement are only limited by the contributions you are willing to make. Many of the most valuable experiences in my academic career have come from attending and organizing national and regional student conferences, which foster collaboration and willingness to embrace new perspectives. I believe the exposure to the duties and challenges of participation in student organizations result in a more well-balanced engineer and person."
Lastly, we also want to acknowledge that this year's awards would not have been possible without our amazing selection committee. Thank you for all your contributions!
Selection Committee for the 2020 Emerging Leader Award:
Leah Deane (Director, Student Services Bannatyne, Student Support)
Jasmine Frost (Grad Student, Rady Faculty of Health Sciences: Medical Microbiology)
Kayla Lariviere (Undergrad Student, Robson Hall Faculty of Law)
Jaclyn Obie (Communication Officer, Marketing Communication Office)
Sherry Peters (Registrar/Confidential Assistant, St. John's College).
Judy Piasta (Communications Coordinator, Graduate Studies)
Justin Rasmussen (Student Advisor, Indigenous Student Centre)
Sarah Saunders (Lead Coordinator, Student Life)
Matt Semchyshyn (Marketing and Communications Officer, St. Paul's College)
Lisa Tinley (Associate Director of Athletics and Recreation, Active Living Centre)

Learn more about the Emerging Leader Awards here.
UNDERGRADUATE STUDENT RECIPIENTS:
Chinenye Akaluka, Faculty of Science
Aderonke Mariam Akinloye, Asper School of Business
Arij Al Khafagi, Faculty of Arts
Ameen Alnaser, Faculty of Science
Bilal Ansari, Asper School of Business
Charisma Castel, Rady Faculty of Health Sciences: Health Sciences
Kyra Cebula, Faculty of Science
Tabitha Clavecillas, Faculty of Arts
Nick de Hoop, Faculty of Science
Danielle Desjarlais, Faculty of Architecture
Ishaanee Didwania, Faculty of Arts
Kirsten Fleury, Faculty of Science
Taylor Galvin, Clayton H. Riddell Faculty of Environment, Earth, and Resources
Jhannine Geronimo, Faculty of Science
Ava Rose Glesby, Faculty of Kinesiology and Recreation Management
Sari Glow, Faculty of Science
Avery Hallberg, Faculty of Arts
Haya Izhar, Faculty of Science
Sarah Jensen, Science, Faculty of
Antonina Kandiurin, Rady Faculty of Health Sciences: Health Sciences
Carlie Kane, Faculty of Arts
Megha Kaushal, College of Pharmacy, Rady Faculty of Health Sciences
Ahmed Kidwai, Faculty of Science
Abby Koch, Price Faculty of Engineering
Laura Lucas, Clayton H. Riddell Faculty of Environment, Earth, and Resources
Elbereth Luo, Faculty of Arts
Bruna Maciel, Faculty of Science
Stephanie Molloy, Faculty of Arts
Nick Noonan, Robson Hall Faculty of Law
Oghogho Okoro, College of Nursing, Rady Faculty of Health Sciences
Taylor Orchard, Faculty of Science
Dhanvi Prajapati, Faculty of Science
Tony Quach, Asper School of Business
Bradley Reichardt, Asper School of Business
Jennifer Simone, Faculty of Science
Kaylee Smith, College of Nursing, Rady Faculty of Health Sciences
Angela Soulsby, College of Nursing, Rady Faculty of Health Sciences
Iqra Tariq, Faculty of Science
Taylor Tutkaluke, Faculty of Kinesiology and Recreation Management
Shayla Welechenko, School of Dental Hygiene, Rady Faculty of Health Sciences
Nathan Wilson, Price Faculty of Engineering
Samuel Jeffrey Woode-Amissah, Faculty of Arts
Brandon Wozniak, Faculty of Science
GRADUATE STUDENT RECIPIENTS:
Kevin Boreskie, Faculty of Kinesiology and Recreation Management and Rady Faculty of Health Sciences: Applied Health Sciences (PhD candidate)
Kenneth Brezinski, Price Faculty of Engineering: Electrical and Computer Engineering (PhD candidate)
Jacqueline L. Hay, Faculty of Kinesiology and Recreation Management: Applied Health Sciences (PhD candidate)
Kavisha Mehta, College of Rehabilitation Sciences, Rady Faculty of Health Sciences (Master's candidate)
Anna Mikhailitchenko, Faculty of Science: Biological Sciences (Master's candidate)
Shirin Moossavi, Rady Faculty of Health Sciences: Medical Microbiology (PhD candidate)
Daniel Plourde, Price Faculty of Engineering: Civil Engineering (Master's candidate)
Sakib Rahman, Faculty of Science: Physics and Astronomy (PhD candidate)