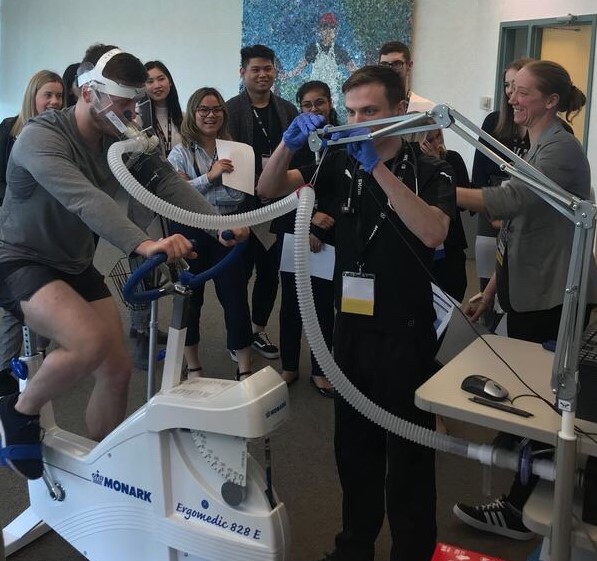 Meet the 2020 Emerging Leaders – Part 1
51 recipients recognized for outstanding contributions
June 25, 2020 —
The Emerging Leader Award is a way the University of Manitoba recognizes the outstanding contributions that students make to the enhancement of the institution and our community. It was introduced in 2006 to recognize students who are committed to furthering our educational mission by contributing to the social, cultural or economic well-being of communities on and/or off campus, while encouraging cross cultural understanding and demonstrating sustained leadership and initiative that is worthy of recognition.
Here are some of the recipients of the 2020 Emerging Leader Award.
Jacqueline Hay is a PhD Candidate and Clinical Exercise Physiologist, who is passionate about advocating for individuals facing health challenges and barriers to health. Hay's presentations at the 2019 Manitoba Undergraduate Health Care Symposium and 61st Annual Scientific Assembly emphasized how health care providers can support patients in leading physically active lifestyles to alleviate health challenges. Hay is involved with Clinical Exercise Physiologist in the Canadian Society for Exercise Physiology (CSEP), and mentors kinesiology students interested in pursuing certifications through CSEP. This recipient has also been involved in developing the education and evaluation of prospective exercise professionals nationally, has contributed to over twenty published papers, and has been cited in the United States Physical Activity Guidelines and International Society for Hypertension Global Hypertension Practice Guidelines.
When asked how the University of Manitoba has supported her leadership journey Hay said, "I have had the freedom to find my own path while supported by initiatives such as the President's Student Leadership Program, and, most importantly, people. The mentorship and support of colleagues, supervisors, and researchers across campus along the way has been invaluable."
Kirsten Fleury from the Faculty of Science joined the Prairie Indigenous Knowledge Exchange Network (PIKE-Net) in 2018, through their Indigenous summer internship award that focuses on health and wellness research experience. Through her position as a Research Assistant, Fleury learned how to support leaders in the Metis communities she worked with. This experience led to a leadership role on the Project Manager team for the Bannock and Backpack initiative run by the Indigenous Circle of Empowerment (ICE) in partnership with Althea Guiboche. As a Project Manager, Fleury helped obtain 115 backpacks filled with essential items for Winnipeg's houseless population. In 2019, Fleury was elected as the Female Co-President of the Metis University Students' Association (MUSA), and in this role coordinated Michif Language events, a holiday toy drive for a North End elementary school, and the Metis of the Month Campaign.
When asked what inspires her to continue Fleury stated "What inspires me most is the strength and support of the Indigenous community, both on and off campus. By getting involved in the Indigenous community on campus, I have been able to grow as a student and a leader. But most importantly to me, I have been able to reconnect with my Metis culture, Indigenous spirituality, and make strong connections with my relations that have in turn increased my personal strength and resiliency. I continue to do the work I do to give back to the people that have given me so much in order to hopefully give to my community some of what they have given to me."
Nick Noonan is a student at Robson Hall Faculty of Law. Noonan was recently elected Student Body President of the Law School, and has previously served as the Academic Affairs Committee Student Representative, President of the Robson Hall Debate Society, and Vice President of the Law Symposium. In these roles, Noonan attended the Oxford Program and supported the implementation of the pass-fail grading system for students during COVID-19. Outside of these roles, Noonan is also heavily involved with the University of Manitoba's dodgeball league, curling league, and Movember team.
When asked about was he has learned through his leadership involvement Noonan said "Being a leader is a multifaceted, challenging role, but one that is incredibly rewarding. Leading is far less about simply having great ideas, and far more about recognizing that you are in a position of service to those around you; in that sense, leading is about being understanding and personal – knowing what is in the best interest of those you lead, and advocating strongly for those interests."
Oghogho Okoro is a College of Nursing student whose first leadership experience was on the Dean's Advisory Board in the College of Nursing, where Okoro ensured the needs of students were communicated with the board at every meeting and helped organize Orange Shirt Day 2019. Following this, Okoro was appointed and elected as the Charitable and Health Promotions Chair (CHP) to the Nursing Students' Association, where her role comprised of planning and executing charitable events such as the feminine hygiene drive. Again in this role, Okoro ensured that the opinions and needs of the students within the Nursing Students' Association were heard, while also having office hours, and recruiting volunteers.
When we asked about her leadership philosophy Okoro stated, "My motto or philosophy is the common adage 'Give a man fish and you feed him for a day but teach a man to fish and you feed him for a lifetime.' I lead by these words because I believe a good leader should aim to develop the potential and talents of the group members. This will be more beneficial to them in the end as opposed to telling them what to do. Good leaders are interested in the personal growth of those they lead."
Learn more about the Emerging Leader Awards here.
UNDERGRADUATE STUDENT RECIPIENTS:
Chinenye Akaluka, Faculty of Science
Aderonke Mariam Akinloye, Asper School of Business
Arij Al Khafagi, Faculty of Arts
Ameen Alnaser, Faculty of Science
Bilal Ansari, Asper School of Business
Charisma Castel, Rady Faculty of Health Sciences: Health Sciences
Kyra Cebula, Faculty of Science
Tabitha Clavecillas, Faculty of Arts
Nick de Hoop, Faculty of Science
Danielle Desjarlais, Faculty of Architecture
Ishaanee Didwania, Faculty of Arts
Kirsten Fleury, Faculty of Science
Taylor Galvin, Clayton H. Riddell Faculty of Environment, Earth, and Resources
Jhannine Geronimo, Faculty of Science
Ava Rose Glesby, Faculty of Kinesiology and Recreation Management
Sari Glow, Faculty of Science
Avery Hallberg, Faculty of Arts
Haya Izhar, Faculty of Science
Sarah Jensen, Science, Faculty of
Antonina Kandiurin, Rady Faculty of Health Sciences: Health Sciences
Carlie Kane, Faculty of Arts
Megha Kaushal, College of Pharmacy, Rady Faculty of Health Sciences
Ahmed Kidwai, Faculty of Science
Abby Koch, Price Faculty of Engineering
Laura Lucas, Clayton H. Riddell Faculty of Environment, Earth, and Resources
Elbereth Luo, Faculty of Arts
Bruna Maciel, Faculty of Science
Stephanie Molloy, Faculty of Arts
Nick Noonan, Robson Hall Faculty of Law
Oghogho Okoro, College of Nursing, Rady Faculty of Health Sciences
Taylor Orchard, Faculty of Science
Dhanvi Prajapati, Faculty of Science
Tony Quach, Asper School of Business
Bradley Reichardt, Asper School of Business
Jennifer Simone, Faculty of Science
Kaylee Smith, College of Nursing, Rady Faculty of Health Sciences
Angela Soulsby, College of Nursing, Rady Faculty of Health Sciences
Iqra Tariq, Faculty of Science
Taylor Tutkaluke, Faculty of Kinesiology and Recreation Management
Shayla Welechenko, School of Dental Hygiene, Rady Faculty of Health Sciences
Nathan Wilson, Price Faculty of Engineering
Samuel Jeffrey Woode-Amissah, Faculty of Arts
Brandon Wozniak, Faculty of Science
GRADUATE STUDENT RECIPIENTS:
Kevin Boreskie, Faculty of Kinesiology and Recreation Management and Rady Faculty of Health Sciences: Applied Health Sciences (PhD candidate)
Kenneth Brezinski, Price Faculty of Engineering: Electrical and Computer Engineering (PhD candidate)
Jacqueline L. Hay, Faculty of Kinesiology and Recreation Management: Applied Health Sciences (PhD candidate)
Kavisha Mehta, College of Rehabilitation Sciences, Rady Faculty of Health Sciences (Master's candidate)
Anna Mikhailitchenko, Faculty of Science: Biological Sciences (Master's candidate)
Shirin Moossavi, Rady Faculty of Health Sciences: Medical Microbiology (PhD candidate)
Daniel Plourde, Price Faculty of Engineering: Civil Engineering (Master's candidate)
Sakib Rahman, Faculty of Science: Physics and Astronomy (PhD candidate)